Print
Vieux Carre
As cocktails go, the Vieux Carre' is a relative youngster compared to many of the classics. Pronounced Voo ka-RAE, the name literally translates as "old square", which we know today as the French Quarter.
Walter Bergeron, head bartender at the Monteleone Hotel in New Orleans invented it in the mid 1930's. Some incorrectly state it was created at the Carousel Bar within the hotel, but that opened in 1949, well after documented references to the drink.
New Orleans is the birthplace of many popular cocktails, and has a history of robust cocktail culture. The sazerac, gin fizz and hurricane are just a few that originated there and the vieux carre' adds to the tradition.
It's a complex but potent libation. Benedictine liqueur adds a subtle sweet note over the whiskey and the lemon peel garnish adds a refreshing citrus note for a layered, mouth pleasing taste.
Enjoy!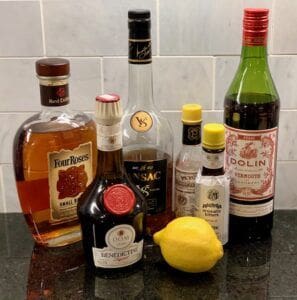 3/4 oz

Rye or Bourbon whiskey

3/4 oz

Sweet vermouth

3/4 oz

V.S.O.P Cognac

1

barspoon Benedictine liqueur
Dash of Angostura bitters
Dash of Peychaud's bitters
Slice of lemon peel garnish
Instructions
Chill a rocks glass in the refrigerator
Combine all ingredients in a mixing glass filled halfway with ice and stir
Cut your lemon peel slice
Rub the interior rim of the rocks glass with the peel
Fill the rocks glass with ice
Strain your drink into the glass and garnish with the lemon peel
And just one more thing…
Enjoy one of these at the Carousel Bar. It rotates one revolution every fifteen minutes, so drink wisely or that first step can be hazardous.