Print
Togarashi Cheesecake
Togarashi Cheesecake gets its name from a blend of Japanese spices. It lends a very subtle flavor to the cake that makes you go hmmm, but the harmonious flavors make you go yummm.
This, with a couple of tweaks is based on the recipe of a favorite chef, Ed Lee of Louisville, KY. I'm ashamed to say although it has been on his menu at Milkwood for years, I never had room for dessert until recently. How special can cheesecake be? The answer is very special, especially with the pineapple chutney and miso caramel!
History of Cheesecake
Togarashi cheesecake was invented circa 2012, but it's predecessor originated in Greece over 4000 years ago. The first recipe was recorded in 230 A.D. and after Roman Conquest, began to spread throughout the world. Each culture modified and added their touch, reaching U.S. shores in the 19th century where New York style cheesecake was born. Read more at Cheesecake.com.
Why Ed Lee?
Several people asked, so I thought it's time to explain why I feel a connection to Ed. He's from New York, of Korean lineage and migrated to my hometown. He's adopted Louisville and Kentucky as his own, and has become an ambassador for everything culinary related. That includes our beloved bourbon, so the answer is simple. I admire that and enjoy watching his exploits like beating Bobby Flay and competing on Top Chef. Oh yeah, I also like his food.
And just one more thing…
Ed calls his a "Southern Kitchen" and it certainly is, with a decidedly Asian influence. Some might call this "cultural appropriation", but I call it really good food.
Author:
Yield:

8

-

10

Slices

1

x
2 cups

graham cracker crumbs

2

–

1/2

TBL sugar

5

TBL melted butter

14 oz

goat cheese

6 oz

cream cheese

1/2 cup

whole milk – combined with the lemon juice

1/2

TBL lemon juice – combined with the milk

4

eggs

1/2 cup

+

2

TBL sugar
Juice and zest of 1 lemon

1 tsp

bourbon smoked Togarashi spice – divided. Substitute cayenne pepper with toasted white sesame seed if you can't find the togarashi
Instructions
Preheat the oven to 350
Crush the graham crackers and mix in 2-1/2 TBL sugar and melted butter with a fork until evenly moistened
Press the mixture into the bottom of a 9″spring-form pan
Bake until golden brown and crisp, about 10 minutes, then cool completely
After it cools, wrap the bottom of the pan extending up the sides with over-size aluminum foil to prevent leakage when placed into a water-bath
Reduce oven temp to 325
Stir together the lemon juice and whole milk and let set for 5-10 minutes to make the equivalent of buttermilk
In the bowl of an electric mixer, mix the goat cheese, cream cheese and buttermilk until smooth and fluffy, 4-5 minutes. Don't over-beat it! If you introduce too much air it will puff and crack
Gradually and slowly beat in the sugar
Add the eggs one at a time until incorporated
Add the lemon juice, zest and 1/2 tsp of togarashi spice, continue to mix until smooth
Pour the filling into the pan and sprinkle with the remaining togarashi spice
Place the aluminum foil wrapped pan inside a large roasting pan and pour enough hot water into the roasting pan to come 1/3 of the way up the sides of the cake pan
Bake for 1 hour and 10 minutes, OR, until the top has turned a light brown. The cake should be only slightly puffy when done
Remove the cake pan from the water bath
Cool on a rack for 1-1/2 hours
Chill in the refrigerator for 4 hours
Cut around the sides of the pan, release and carefully remove the spring-form sides
Use a thin metal spatula to slide under the cake and separate from the bottom
Slide the cheesecake onto a serving platter
Moisten a knife with hot water, dry and slice the cake into individual pieces
Garnish with pineapple chutney and drizzle with miso caramel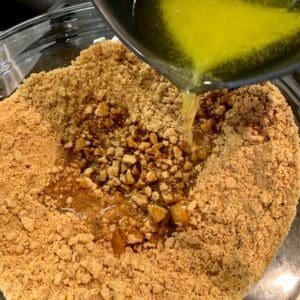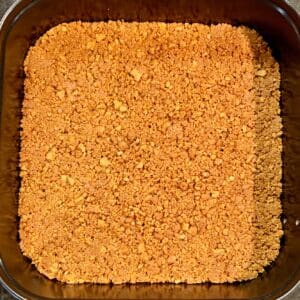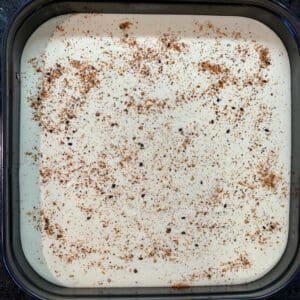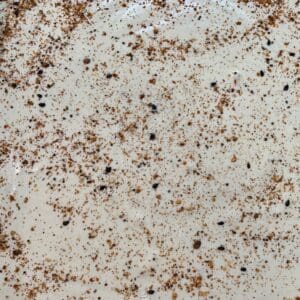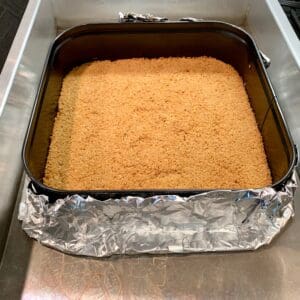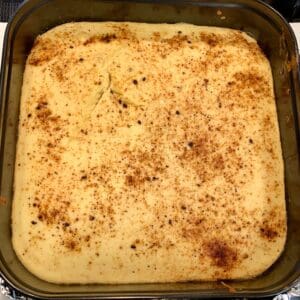 Print
Grilled Pineapple Chutney
This makes the perfect topping for togarashi cheesecake, but it's one place I deviated from Ed's recipe. He blackens pineapple in a skillet with vegetable oil, but I prefer the cleaner, smokier flavor of using a barbecue grill. I also left out the lime zest which I thought, combined with the lime juice overpowered the pineapple.
Author:
Yield:

1

-

1/2

cups

1

x
1

fresh pineapple

1/4 cup

fresh lime juice

3

TBL packed dark brown sugar

1

TBL dark rum
Instructions
Cut off the top, bottom and slice off the sides, including the "eyes of the pineapple
Slice into 1/2″ rounds
Use an outdoor grill on highest heat and grill the rounds 6-10 minutes per side, until blackened
Remove and cool briefly, then cut out the core from each slice and discard
Cut into 1/8″-1/4″ pieces
Whisk together the brown sugar, lime juice and rum in a bowl
Add the pineapple and mix gently to coat all the pineapple with the sugar mixture
Cover and chill until ready to use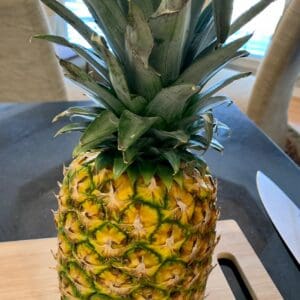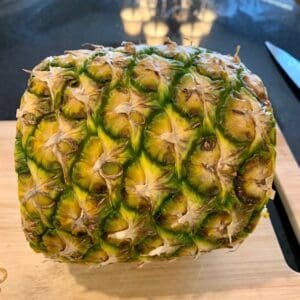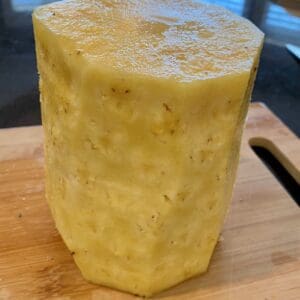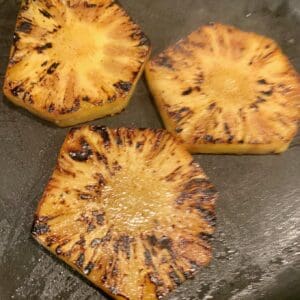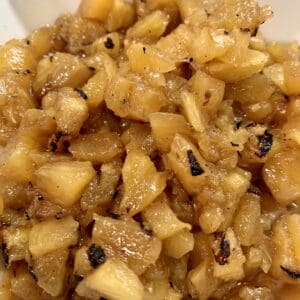 Print
Miso Caramel Sauce
This is a perfect complement for togarashi cheesecake. Miso gives the caramel a salty component without adding salt. Brilliant.
Making caramel has always been tricky for me and I always screwed it up. Occasionally, I find instructions that make the crucial difference between success and failure. Ed's directions for this made something click and now I can repeat it flawlessly.
Author:
Yield:

1

-

1/4

cups

1

x
1 cup

granulated sugar

1/4 cup

water

2

TBL unsalted butter

1/2 cup

heavy cream

1

TBL light miso paste
Instructions
Set out butter, cream and miso paste to warm to room temp
When ready to make the sauce, fill a small bowl with ice water
Spread the sugar evenly over the bottom of a 10″ heavy saucepan
Add the 1/4 cup of water to the sugar and wait until it is saturated evenly – no dry sugar left
Heat on medium high and stir gently until sugar is dissolved
Use a pastry brush dipped in the ice water to wash down the sides of the pan to remove any sugar crystals
Gently boil the sugar mixture without stirring. You may gently swirl the pan occasionally ( once per minute). Continue until the water has boiled off and the sugar caramelizes and turns golden brown – about 7-8 minutes.
Immediately remove from heat to avoid burning the caramel. It will continue to cook.
Cool for 2 minutes, then whisk in the butter, then the cream, and finally the miso paste
Whisk vigorously until it is completely smooth
Transfer to a bowl, cover and chill until ready to use.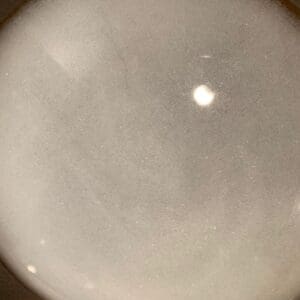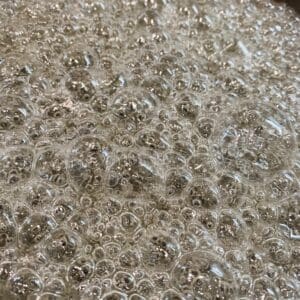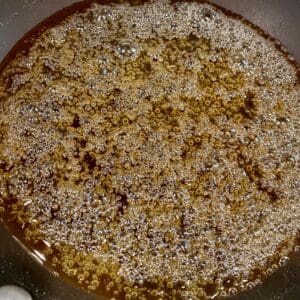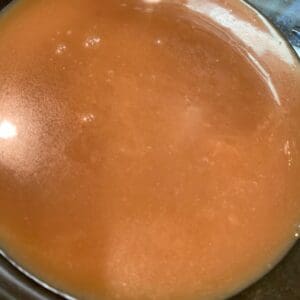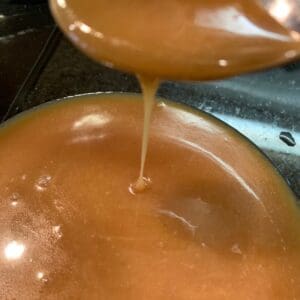 Notes
Warning! Excess agitation causes sugar to re-crystallize. Don't stir it and always wash down the sides of the pan or your caramel might turn to concrete when it cools! and will turn into concrete when it cools.
Warning! Do not overcook, because caramel will go from perfect to burnt in seconds.