Print
Seared Spicy Tuna with Balsamic Reduction
I hope seared spicy tuna with balsamic reduction sounds as good to you as it tastes to me! We start with a tuna steak, the name it deserves because it's firmly fleshed. Think of it as beef, but with fins. Seared well on the outside and medium rare on the inside retains all the great flavor and engaging texture. If you're not a fan of medium rare it's okay to finish it medium, Slice it, return it to the pan and give a quick sear on the sides of each individual piece.
Regardless how you cook it choose high quality fresh tuna from the market, especially if you like it rare. Serve it on a bed of greens or with fresh asparagus. Both pairings work equally well.
The Rub and The Reduction
We create a spice rub like we would use for a pork roast and use it to thoroughly coat the tuna on all sides. The two peppers, coriander, paprika and salt provide the spicy flavors.
Aged balsamic vinegar with lemon juice and garlic add a touch of sweetness that perfectly complement the spicy tuna. This is quick and easy, but tastes like an expensive meal dining out.
Basalmic reduction
2

garlic cloves – peeled and thinly sliced

6

TBL aged balsamic vinegar

2

TBL freshly squeezed lemon juice
Seared Spicy Tuna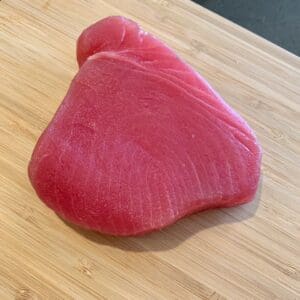 (4) 4-6 oz ahi tuna steaks

1

–

1/2

tsp sea salt

1 tsp

ground coriander

2

–

1/2

TBL olive oil

1

–

1/2

tsp smoked paprika

1/4 tsp

cayenne pepper

1

–

1/2

TBL coarsely ground black pepper
Instructions
Balsamic Reduction
Combine the ingredients in a sauce pot
Bring them to a simmer for about ten minutes
Set aside and keep warm until ready to serve
Seared Spicy Tuna
Combine the cayenne, coriander, smoked paprika, and sea salt in a small bowl
Divide and evenly coat the tuna steaks on all sides with the spice mix
Divide the black pepper on a plate and press each tuna steak into it firmly enough to make it stick on top and bottom
Add the olive oil to a skillet on medium high heat and sear each steak for 1-2 minutes on the first side
Flip and sear them another minute on the second side
Turn on end and sear for 10-15 seconds on the ends
Plate and drizzle with the balsamic reduction