Print
The Tallulah – Liquid Nostalgia
There are two versions of the Tallulah and this one pays homage to our southern roots. For those of us a certain age and raised below the Mason-Dixon Line, RC Cola & Peanuts was a rite of passage. I watched and learned as grandpa took a swig and funneled the nuts into the bottle with his hand. That's right, salty, crunchy and sweet all in one.
Thanks to Zak Kittle, bartender at Ollie and Irene's in Birmingham we have a grown up version of that venerable refreshment. It's smooth and nutty, enlivened with cola, whiskey and topped with the same salted nuts.
I love this drink for the taste and memories, but Yogi Berra said it best, "It's deja vu all over again."
Escher's Market
Our neighborhood market was in a big old house with a veranda around two sides and a dirt basketball court behind. The Escher family lived upstairs and operated their store on the main level. They didn't need a bell or buzzer because they easily heard the screen door bang every time someone entered.
We played basketball there until we were sweaty and filthy. When it was time for a break we sat on the veranda with a cold RC and a sleeve of peanuts.
The "Other" Tallulah
The London Ritz Hotel offers their own Tallulah and it's the polar opposite of our humble drink. Reminiscent of the opulent Art Deco period, they serve it in a Christian Louboutin designed glass slipper. The inspiration comes from actress Tallulah Bankhead, who famously sipped a cocktail from her shoe upon arrival in London. Check it out here.
The Cocktail
2 oz

wheated bourbon whiskey

1 oz

peanut orgeat

2 oz

RC Cola
Salted cocktail peanuts – garnish
Peanut Orgeat
1

–

1/2

cups granulated sugar

1

–

1/4

cup water

2 cups

dry roasted, unsalted peanuts

1 oz

brandy

1/4 oz

cointreau
Instructions
Tallulah Cocktail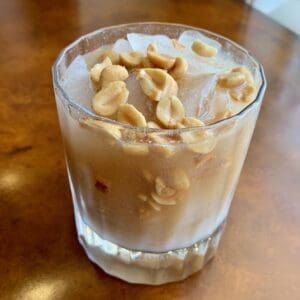 Pour the bourbon and peanut orgeat into a double rocks glass and stir to combine
Fill with ice and top with cola
Garnish generously with salted peanuts
Peanut Orgeat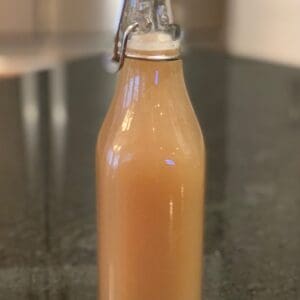 Pulse and finely chop the peanuts in a food processor, but do not pulverize them into a powder
Mix the sugar and water in a heavy bottom pot over medium heat
Stir constantly until all the sugar is dissolved and bring it to a low boil for about 2 minutes
Add the chopped peanuts, allow it to regain temperature and simmer for 3-4 more minutes
It will Thicken and the peanuts will darken in color
Remove from heat and cover
Let it rest in the pot for 5-6 hours
Place a chinois or large strainer over a bowl and line it with cheesecloth
Let the mixture drain into the bowl and when it stops, use the cheesecloth to squeeze out as much liquid as possible from the peanut mixture
Save the remaining sugary peanuts for topping ice cream, if you can resist eating them by the spoonful!
Add 1 ounce brandy and 1/4 oz cointreau to the peanut liquid and whisk it together
Store in a swing-top bottle and refrigerate until ready to use. It will keep for two weeks