Shrimp ceviche was an obvious choice when sifting through recipes for our Latin themed dinner. The fresh, crisp and acidic flavor with Argentinian red shrimp paired perfectly with a Spanish Albarino white wine. This followed fiery tomatillo and mild roasted tomato salsas enjoyed with a strawberry mezcal margarita. Ceviche left room for the soup, mains and dessert to come.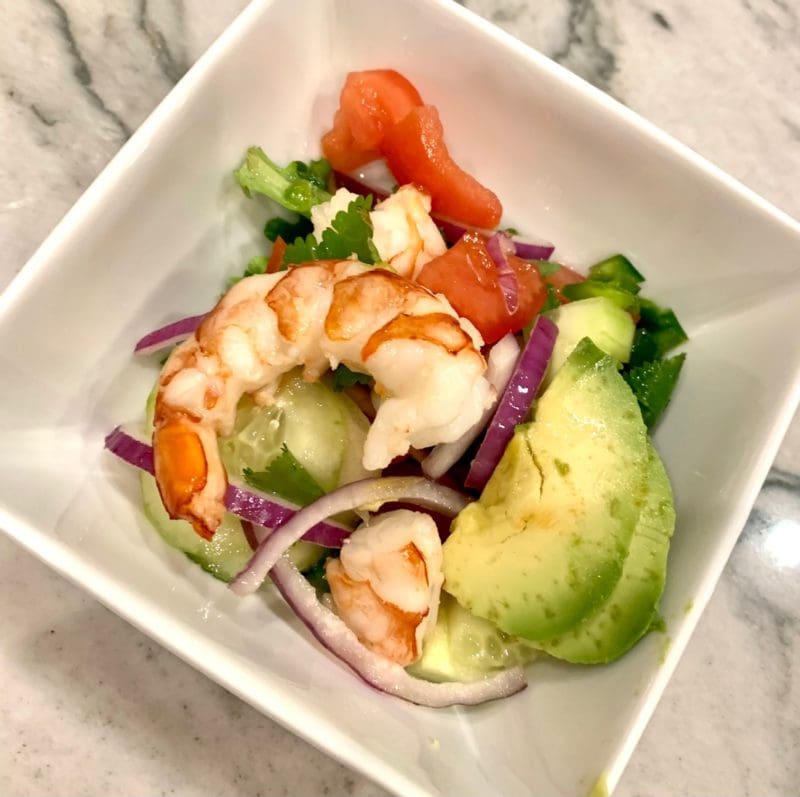 Ceviche Options
Traditional vegetables include onion, radish and chilies with tomato and cilantro. I also love to add a little cucumber and sliced avocado.
Chilies and their heat are a personal choice and depend upon your taste. Jalapenos are a mild option, losing much of their heat when seeded and marinated, but they add major flavor. For a hotter option use serrano peppers, because they will retain potency, adding a flash of heat in each bite.
Juices
Juices are a critical component for "cooking" the shrimp. Lemon and lime are the traditional choice, but I like to add a little orange juice that leaves a sweet background note.
Shrimp
Fresh are best, but if you are landlocked you can use previously frozen. Either way take the time to de-vein the shrimp. That black vein is not a secret sauce. It's poo and no one likes to eat poo.
Marinate the fresh shrimp immediately after prep, but I use an additional step for frozen shrimp. As a precautionary measure I start a rolling boil of salted water. Next I dunk the shrimp for 1 -2 minutes and then immerse them in ice water to immediately stop the cooking process. When cool, it's time to marinate them.
Print
Shrimp Ceviche
Shrimp Ceviche – Inspired by Chef Anthony Lamas
Author:
Prep Time:

30

Cook Time:

60

Total Time:

1 hour 30 minutes

Yield:

6

1

x
1

–

1/2

cups fresh lime/orange juice (

12

–

16

limes, 1 orange)

18

large royal red shrimp fresh or frozen – de-veined

2

small radish – thinly sliced on a mandoline

1/4

large red onion – sliced and separated

1/2 cup

cucumber – thinly sliced or roughly chopped

2

roma tomatoes seeded and roughly chopped

2

jalapeno or serrano chilies – seeded and diced

1/4 cup

loosely packed cilantro leaves
Olive oil
Greens for bed under the ceviche

1

avocado – sliced, 2-3 slices pre serving
Salt to taste
Instructions
Juice the limes and orange and reserve the juice
Pre-cook previously frozen shrimp 1-2 minutes in boiling water, the transfer to an ice and water filled bowl to stop the cooking process
Peel shrimp, reserve 6 whole shrimp, chop the remaining 12 into 1″ pieces, immerse all the shrimp in the juice and refrigerate 1/2 hour
Prep the onion, peppers, cucumber, tomato and radish
Add the veggies to the shrimp, make sure all is submerged in the juice and refrigerate an additional 1/2 hour
Fold in the cilantro leaves
Prepare to serve by slicing the avocado and straining all the shrimp and veggies out of the juice. Reserve the juice
Pour a half teaspoon of olive oil in each serving bowl and top with greens
Evenly divide the ceviche among the bowls and add the avocado slices as garnish
Drizzle 2 tablespoons of juice over each serving
Sprinkle with a pinch of sea salt and top with a whole shrimp