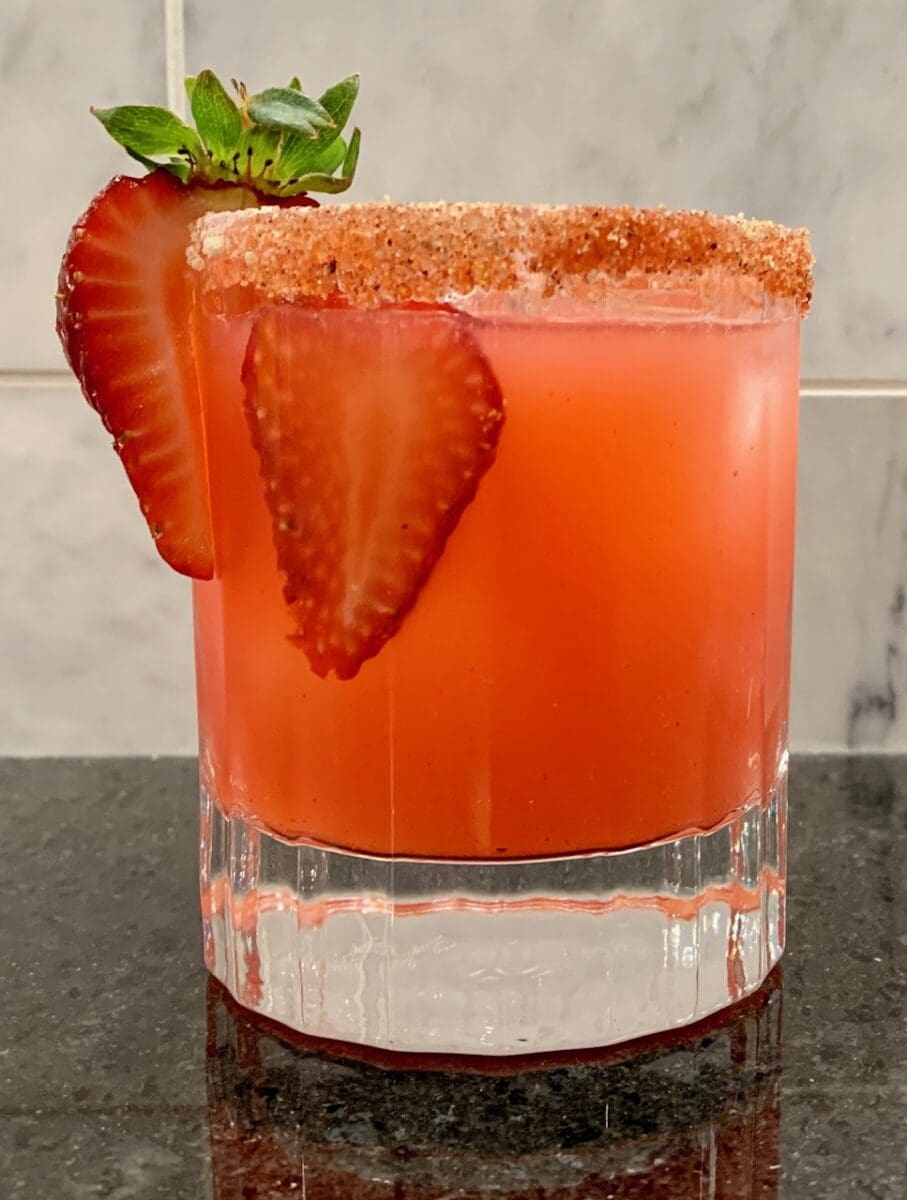 A strawberry margarita is the perfect, refreshing spring and summer drink. Our journey along the Margarita Trail took us to the heart of the Altaplanicie Mexicana, and first stop was Maximo Bistro. We enjoyed our first delicious strawberry margarita there and settled in for dinner. Made with fresh syrup and excellent mezcal, we learned there is more than one way to "pelar un gato". Yes, there are many wonderful and different margaritas.
Tequila or Mezcal?
Tequila is the popular spirit of choice in the United States. It's made from a single variety of agave and baked in ovens that preserve a clean crisp flavor. The finished product from young clear silver to aged golden expressions earned their place as a major spirit classification. Mezcal however, is a well-kept, but growing secret outside Mexico and the southwestern U.S.. The Oaxacan spirit is made from multiple varieties of agave and baked in underground pits that impart a smokier, more nuanced aroma and flavor. It is very popular in Mexico and it's used in many delicious margaritas. Tequila and mezcal can be used interchangeably in any recipe because the choice is yours!
A Word about Margaret
Margaret who? Legends claim the margarita is named after actress Peggy (Margaret) Lee or a Dallas socialite, but it's more than just a woman's name. A traditional one is made with tequila, orange liqueur and lime juice. It's served in a specially shaped cocktail glass with a salt covered rim and garnished with a slice of lime. Like most cocktails, its invention is hotly debated, but most agree it was in the late nineteen thirties. Since then, mixologists have experimented with everything imaginable, creating a rainbow of flavor.
And just one more thing…
Taste the rainbow on The Margarita Trail with me this summer!
Print
Strawberry Margarita
Mezcal, Strawberry, Orange and Lime
1 oz

strawberry syrup

2 oz

mezcal or tequila

1/4 oz

cointreau

1/4 oz

fresh lime juice

2

strawberry slices – for garnish
Roses grenadine – to rim the glass
Half sugar, half spicy margarita salt
Instructions
Fill a shaker halfway with ice
Add the strawberry syrup, mezcal, cointreau and lime juice
Shake with vim and vigor until cold
Use grenadine to rim a double rocks glass with the sugar – spicy salt mix
Strain and pour into the glass
Drop 1 strawberry slice into the drink along the side and garnish the rim with a slice of berry