Print
Smoked Salmon Creole
Smoked salmon creole may sound odd because New Orleans is 2000 miles away from the nearest wild salmon fishery. The pacific salmon fishery is even further away, so how did New Orleans develop a creole dish when salmon is not native to Louisiana's waters? The short answer is they didn't, I did.
Is Salmon a Creole Ingredient?
I found salmon recipes in Galatoire's cookbook among others from decades ago. Regardless I think it's safe to say that's a relatively new development given NOLA is over 300 years old. Today there are many restaurants there that offer salmon seasonally, because the supply chain can deliver and people love salmon.
Creole food is known for its amalgamation of ingredients and flavors, but primarily uses local game, meat, fish , poultry and shellfish. There-in lies the inspiration for smoked salmon creole. While dining at Arnaud's in the french quarter I fell in love with their smoked pompano. Then I developed a craving while at home with no chance of traveling there in the immediate future. Further complicating matters, the Arkansas river is utterly devoid of pompano, so there is no chance of catching my own.
Craving Satisfied
If not pompano, what suitable substitute might I use? Native Arkies were quick to suggest their beloved catfish, but even the thought of that seemed terribly wrong. I do have access to fresh salmon and it's easily smoked, so that became the answer. The flavor is more pronounced than pompano but delicious in every way.
This became the first course of our men's gathering, paying homage to New Orleans French Creole heritage. It's a fine substitute for the real thing and I don't have to wait until visiting Arnaud's for a taste. Perhaps with my craving satisfied, I can explore other menu offerings the next time I dine there.
2 oz

smoked salmon per person

1

–

2

tsp olive oil per portion
Red onion – chopped into 1/8″-1/4″ pieces
Capers – drained
Sour cream – in a squeeze bottle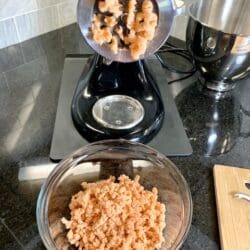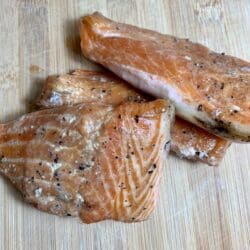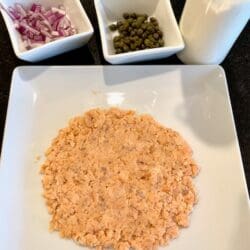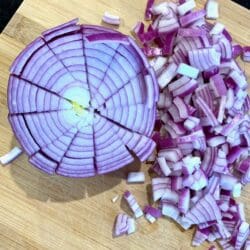 Instructions
Discard the skin and coarsley grind the smoked salmon
Mix in 2 tsp olive oil per portion on lowest speed in a mixer or by hand
Divide the prepared salmon into portions and place each in the center of a serving plate
Flatten and form the salmon into the desired shape with a spatula, fork or spoon
Place a piece of olive oiled parchment paper over the salmon and finish by tapping with the flat side of a meat tenderizer from the center, outward until it is uniformly thin and shaped to your liking
You may refrigerate, covered until ready to serve
Serving
Discard parchment paper
Squeeze a decorative design with sour cream onto the salmon
Sprinkle capers and onion onto the salmon in your desired quantity
And just one more thing…
The one and only time I fished for salmon we got bageled. I had to ask the fishmonger to throw one at me before returning to the house. Couldn't show up without a "catch".