Print
King Cut Steak au Poivre
Chicago is renowned for great steak and my hosts were taking me to their favorite steakhouse. My mouth was watering from anticipation when  I spied king cut steak au poivre on the menu.
I'm also a card carrying pepper-head. The combination of the best cut of meat and creamy peppercorn sauce looked like a marriage made in heaven. That filet called to me like a siren luring a sailor to his demise and I could not resist.
Since then, I found that a good version of this was hard to come by. In my hometown, where there are a couple of restaurants where a good steak can be had, there is not an au poivre option. When you can find it on any menu there are lots of pretenders, but few winners. Most lack the correct cooking technique or the sauce is hastily made and poorly flavored. There is no better way to solve the problem than to tackle it at home.
Seared on the outside and red in the center, juicy but not bloody is my ideal filet. Seeking advice, I found many restaurants sear the meat over fire or in a pan then finish it in the oven to achieve that perfect balance. Some reverse the process, but either way you have to have an available oven. My problem, is that my oven is usually occupied with a baked potato or roasting vegetables. The temp is too high for finishing a steak.
I'm going to teach you how to make perfect king cut steak au poivre. Read my solution below and pair this with a good Cabernet Sauvignon for maximum enjoyment.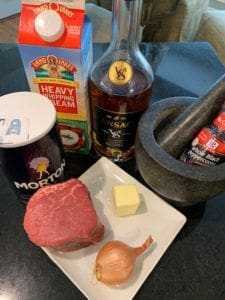 1

King Cut Prime Black Angus filet per person

2

strips bacon

1

TBL vegetable oil

2

TBL unsalted butter – divided

2

TBL black peppercorns – coarsley crushed

1/3 cup

shallots – thinly sliced
kosher salt

1/2 cup

cognac

3/4 cup

heavy cream
Cabernet Sauvignon – to drink of course!
Instructions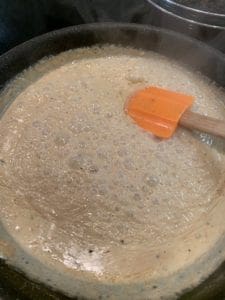 Place a skillet on low/warm heat with a cover
Pat steaks dry and season both sides with kosher salt
Coarsley crush peppercorns, then press steaks onto pepper to coat bottom, top and sides evenly
Start with a cold pan and fry the bacon on medium high heat to render the fat
Remove bacon and reserve two teaspoons of the fat in the skillet (treat yourself to the bacon while cooking!)
Reduce heat to medium high, add the vegetable oil and swirl the skillet to mix with the bacon fat
Sear the filet(s) about 3 minutes per side and about 20 seconds on the ends for rare
Transfer steaks to the warm (not hot) skillet and cover while making the sauce
Add shallots and 1 TBL butter to the skillet and cook over medium low heat, scraping brown bits off the pan, until shallots are browned, 2-3 minutes
Pour cognac in carefully because it could ignite, especially if your are cooking on a gas stove with an open flame, and bring to a boil, stirring until liquid is reduced, about 3 minutes
Add cream and return to a boil, stirring until reduced by about half, 3-4 minutes
Add remaining 1 TBL butter and cook over medium heat until the butter is incorporated and sauce thickens, about another 3 minutes
Serving
Plate, spoon sauce over steaks and serve
Pour any remaining sauce into a gravy boat on the side. It's good enough to sop up with some bread
And just one more thing…
If you really like pepper and steak, just pass on anything from a steakhouse. Once you D.I.Y. following this recipe nothing else will taste as good!