My first dinner in Mexico was at Maximo Bistrot, ranked #20 in the Latin America top 50. As we arrived, I wondered what new flavors I would experience. Seated first for that evening's dinner service we found ourselves in clean, smart but modest surroundings. Our server quickly approached with menus and asked if we would like to begin with something to drink. The choice was easy because earlier, at our hotel, we had been introduced to Mezcal and were immediately smitten, but that's another story.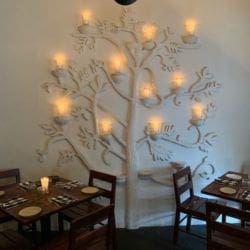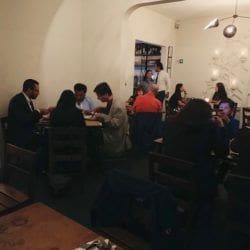 Drinks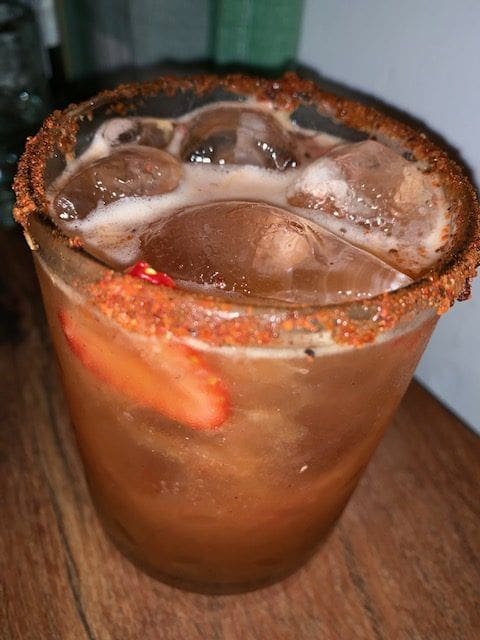 The bartender created a mezcal strawberry margarita when I asked for his "dealer's choice"
The Menu
Apps began with mushroom soup, two salads and nine appetizers . Hungry and anxious to begin, we quickly ordered the octopus ceviche a la Mexicana and the stone crab tostada with heirloom beans and salsa tatemada. The ceviche contained a generous portion of octopus, cured with a combination of citrus fruits. It had the perfect texture of a good al dente pasta with bright fresh flavor. The crab with beans, salsa and  hoja santa, a Mexican leafy herb, was very nice with the crunch of the tostada, the creamy earthiness of the beans and the tang of the salsa.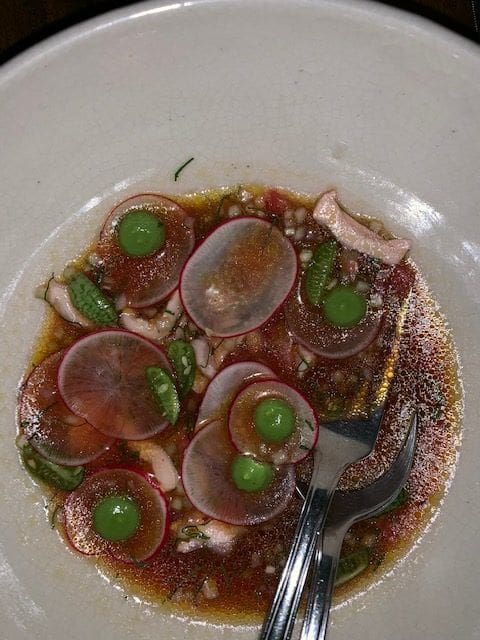 Octopus Ceviche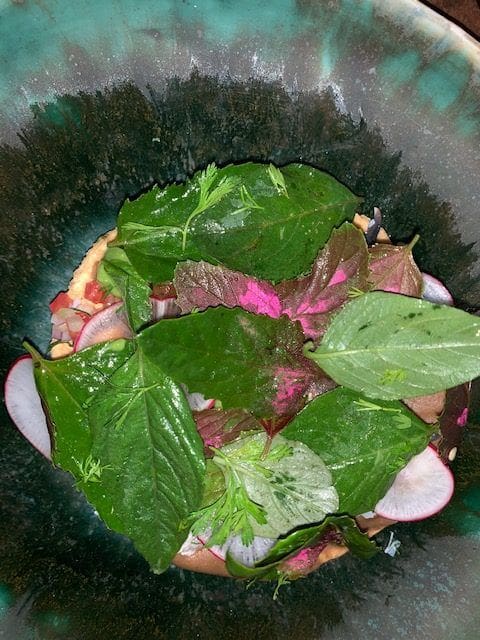 Stone Crab Tostada
We were pleasantly surprised when kampachi in x.o. sauce with avocado and marinated radish arrived at the table compliments of the chef. Kampachi, a.k.a. yellowtail or amberjack in the wild, is delicious. This was no exception and the texture and flavors were something to linger over and savor between each bite.
Our next course was grilled young corn with hollandaise sauce, notable because it is totally edible, cob and all. It was coated in a silky, buttery hollandaise and easily my favorite.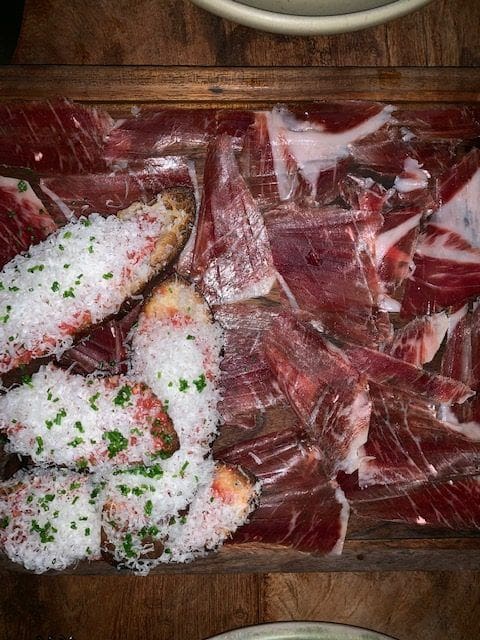 The final app was jamon iberico carrasco. It's a special ham from pigs raised on acorns served with tomato bread, what I lovingly call Mexican bruschetta. The bread topped with sauce, was toasted over an open wood fire and had the wonderful flavor and smell of smoke. The ham, cured and sliced thinly enough to read through, melted in your mouth. There is a satisfying contrast in texture and flavors combining a crunchy bite of bread with a piece of ham. My dining companion and I sparred over every piece of it, but no blood was spilled.
Mains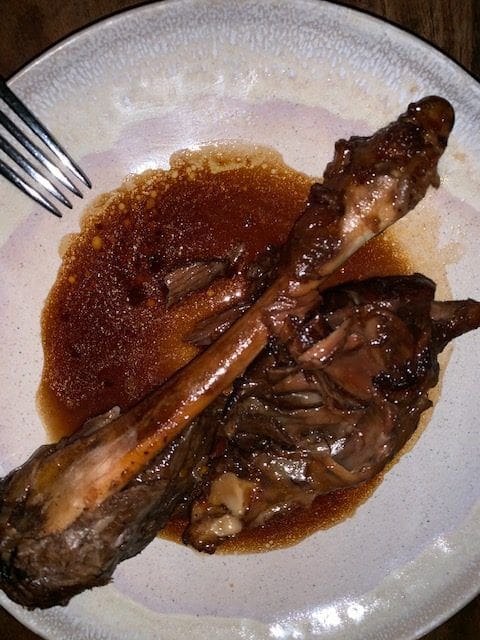 There was a choice of five different mains. The seabass in pesto broth, charcoal grilled flatiron steak, grilled octopus, and buttered stone crab all were tempting but I chose the red wine braised lamb. The largest and tastiest leg of lamb I have ever enjoyed. It was slow cooked until falling off the bone, with au jus so flavorful it's beyond my vocabulary to describe. A fine Ostatu Rioja accompanied this dish and complemented it perfectly.
Cost
Prices ranged between $150 and $800 pesos for each dish. With an exchange rate of about 19 pesos per dollar, our total bill for two was $3464 pesos including tax and tip. Even though I knew the exchange rate, I found looking at such large numbers a little disconcerting. At $184 U.S. dollars for two, it was a bargain.
And just one more thing…
Dessert offerings were tempting but we had no room! Listed were tarte tatin, triple cream cheesecake, passion fruit with meringue and basil, or french toast with blueberry compote. We simply settled back, finished our wine and discussed the low-cal, but high energy treat to follow.
I was scheduled to meet and interview Chef Eduardo "Lalo" Garcia!
Read my  Interview with Eduardo Garcia