Print
Strawberry Daiquiri
I'm sipping a strawberry daiquiri as I write and it's been awhile since I enjoyed this classic rum cocktail. Don't worry friends, I'm not day-drinking. It's cocktail hour and I'm working overtime just for you.
The occasion is triggered by a gift of fresh berries that reached peak ripeness. I made some delicious strawberries and cream shortcake until reaching my fill, but there were more berries, so here we are!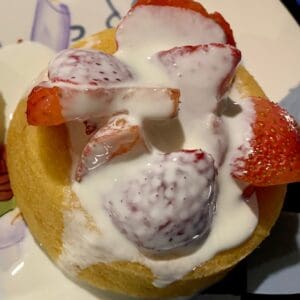 The Daiquiri (Dak-uh-ree)
This is a family of cocktails with main ingredients of rum, lime juice and sugar. Heck, let's be real and admit there are so many variations that a taxonomist might call it a kingdom. Ernest Hemingway and President John F. Kennedy both called it a favorite drink and we examined Papa's in a previous post.
British sailors enjoyed grog in the 18th century to prevent scurvy and that recipe is similar to the daiquiri. It needed water, citrus and sugar to temper the flavor of poor quality rum. It has evolved into the flavored cocktails we know today over the last 200 years.
If you're curious about the name, there are two likely sources. Created during the Spanish-American War, there's an iron ore mine and a beach of the same name near Santiago, Cuba.
Flor de Cana Rum
This is a blend of aged Nicaraguan rum that captured my attention because of its delicious flavor. The distillery was established in 1890 by Italians and is operated by 5th generation descendants of the Canessa family. They produce a spirit that is carbon footprint neutral and fair trade certified. They distill using 100% renewable energy and their employees enjoy free healthcare and schooling for their children.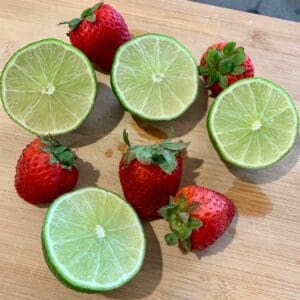 2 oz

anejo white rum

3/4 oz

lime juice – freshly squeezed

3/4 oz

simple syrup

1/2 oz

grenadine

5

–

6

fresh ripe strawberries

7

–

8

ice cubes (mine are the semi-circular type)
Granulated sugar – for the glass rim
Lime juice for rimming the glass
Flower or a lime wheel – garnish
Instructions
Freeze a margarita glass for 30 minutes
Rim the glass with lime juice and sugar
Add all the ingredients to a blender and blend until smooth
Pour into the glass and garnish