Print
Prime Rib Stroganoff
Prime rib stroganoff is a great way to enjoy leftover roast, but if none's left, use other meats. Top sirloin, beef or pork tenderloin, and even chicken taste wonderful enrobed in this delicious sauce.
Making sauce from scratch takes a little extra effort, but the reward is better flavor from the mushrooms and onions. It's easier to control the seasonings and customize it to your personal taste instead of using canned ingredients.
Prime Rib Stroganoff – A Little History
The name is credited to a member of the Stroganov family as prepared for them mid- 19th century. The recipe however, has older roots in Tsarist Russia made with sauces influenced by the French and Europeans.
The first written recipe used unspecified cuts of beef, cubed and made without onions or mushrooms. Traditional versions are served with mashed potatoes or fried straws. Egg noodles are a western adaptation of the dish and my favorite, because it's what I grew up eating. Asian versions are served over rice as you might expect. The addition of onions, mushrooms and brandy are also modern variations of the early recipes.
1

lb prime rib roast or top sirloin – thinly sliced

1

medium size yellow onion – sliced

8 oz

whole cremini mushrooms – thickly sliced

1 cup

beef stock

1

TBL olive oil

3

TBL butter – divided

1

bay leaf

1

garlic clove – minced

8 oz

smetana (Russian sour cream)

1 tsp

dijon mustard

1/2 tsp

salt

8 oz

heavy cream

1/4 tsp

black pepper

2

TBL worcestershire sauce

12 oz

egg noodles – cooked and lightly buttered

1

TBL flour

4

green onion shoots – sliced or parsley leaves for garnish

1/4 cup

cognac, brandy or Kentucky bourbon
Dill pickle spears – optional
Dark rye or pumpernickel bread – optional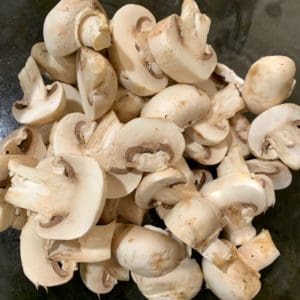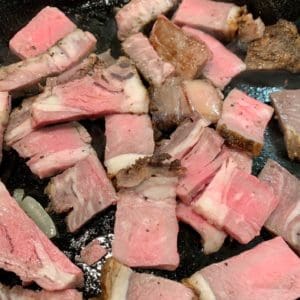 Instructions
Cook the onions and mushrooms in a cast iron or carbon steel skillet using in 1 tablespoon of olive oil and 2 tablespoons of butter 7-8 minutes
Add the garlic and cook another 1-2 minutes until the liquid evaporates, set aside and keep warm in a non-stick pan
Raise heat to medium high and when the skillet is hot sear the meat 1-2 minutes per side
Lower heat to medium low and deglaze the skillet with the liquor to get all the burned bits into the sauce
Add the beef stock, mustard, bay leaf, salt, pepper and worcestershire sauce
Stir in the flour and cook 1-2 minutes
Add the onions and mushrooms back to the pan and cook until it is bubbling and everything is hot
Reduce heat to medium low, stir in the heavy cream and simmer 1-2 minutes
Lower the heat to low and slowly add the sour cream while stirring constantly
Adjust the salt and pepper to taste and let it reduce to your desired thickness
Remove from heat and serve over egg noodles
Garnish with parsley or chopped green onion shoots
Serve with dill pickles and dark buttered bread on the side