Print
Venezuelan Cilantro Sauce
The beautiful, bright green condiment that accompanies meats with Latin American cuisine is cilantro sauce. It's a close cousin to chimichurri, but cilantro is the primary ingredient instead of parsley. It's also kin to guasacaca sauce that's similar to guacamole, but thicker for use as a dip.
We use a little avocado for the fat and to add body to our sauce, but cilantro is the star of the show. A visit to the Santarepa Cafe in Santa Fe, NM reminded me how tasty this sauce really is.
Favorite Uses
Venezuelan cilantro sauce is a perfect match for sweet corn cachapas topped with pork belly chicharrones or carne mechada. It's a great addition to tacos and tortillas with almost any filling, adding a tart, spicy, but creamy flavor. Grilled beef, pork and chicken are all complimented by this sauce, but it can even be used for salad dressing.
It is extremely easy to make and takes only minutes, but will make you look like a real saucier. Bottle this and refrigerate to maximize the shelf life and it will keep for a week.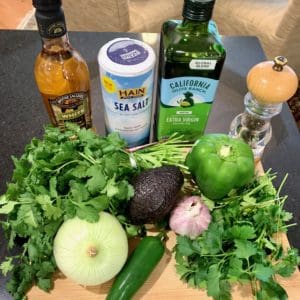 1

–

1/2

packed cups fresh cilantro leaves and stems – chopped

1/4

packed cup fresh parsley leaves and stems – chopped

4

cloves fresh garlic – chopped

1/2

green bell pepper – chopped

1/2

small white onion – chopped

2

TBL white wine vinegar

1/2 cup

water

1/2

jalapeno pepper – seeded and chopped (optional)

3

TBL olive oil

1/4 tsp

fresh, finely ground black pepper

1

ripe avocado – peeled and pitted
Sea salt – to taste, start with 1/2 teaspoon
Instructions
Blend all the ingredients until your sauce is smooth and bright green
Taste and adjust salt and pepper, if needed
If the sauce is thicker than you like, add more water a little at a time and blend again