It's fun dining at three star Michelin restaurants, but it's even more fun dining at restaurants like Temporis. They have only one michelin star, but they have the heart and soul of a restaurant with four. Before you overwhelm my inbox, yes I know Michelin's highest rating is only three stars, but there's nothing like hyperbole to get a point across. Led by their service captain Laura Bonetti, they won the 2019 Jean Banchet award for best in Chicago.  Imagine standing outside, looking through their window. It was 9 degrees, the wind was howling off lake Michigan and sleeting sideways. Once we were safely indoors, we experienced why that honor was deserved on a cold January night.
The Origin of Temporis
The idea was hatched from a series of pop-up dinners hosted by Sam Plotnick, the General Manager-Proprietor of Temporis. He wanted to recreate the intimacy of those dinner parties in a small venue where staff could coddle guests to the Nth degree. Donald Young, then joined him as executive chef and co-founder in 2017. The current location with only 20 seats is where they decided to begin.
Early days were tough and between Sam and Donald they did almost everything, including answer the phone. While making our reservation, I spoke first with Sam, then later with Donald not knowing their positions until we arrived. It was refreshing, because they were both friendly and patient answering questions. Some highly rated restaurants don't even publish a phone number – no questions asked please, without the please.
Their first Michelin star came in 2018 and then things changed. They booked over 300 reservations the next day and have retained their star this year. Challenges in the restaurant business are unrelenting however, and Temporis faces another with the recent departure of Chef Young. Troy Jorge, with a resume including Acadia and Grace restaurants in Chicago is the new executive chef and tasked with leading the culinary team into the future.
Our Menu
We chose the reserve wine pairing to accompany our tasting menu and unbeknownst to us it was a "bottomless" pour. When we became thirsty, Don Coen the sommelier lived up to his motto "we'll top you off".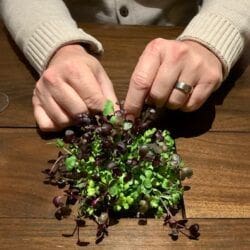 Our palate cleanser was a living salad of microgreens grown in the restaurant's own hydroponic garden.
Accompanied by: Billecourt Salmon Rose', Mareuil-sur-ay, Champagne, Pinot Meunier, Chardonnay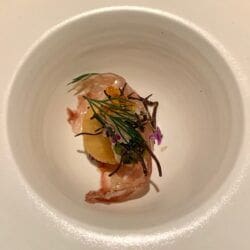 First Course: Mangalica (domestic Hungarian pig that's wooly like a sheep), Kombu (edible kelp) and Dill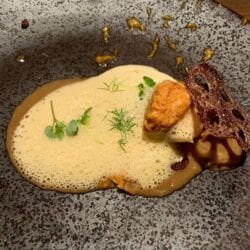 Second Course: Turbot, Eggplant, Uni and Vermouth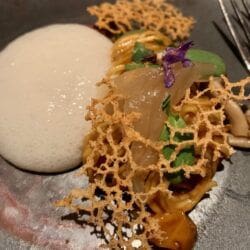 Third Course: Capellini, Beech Mushrooms and Gooseberries
Accompanied by: 2011 Eladio Piniero, Frore de Carme Reserve, Albarino, Rias Baixes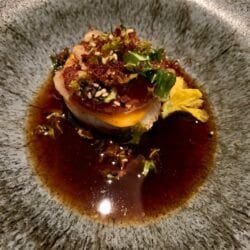 Fourth Course: Scallop with Soy, XO and Pineapple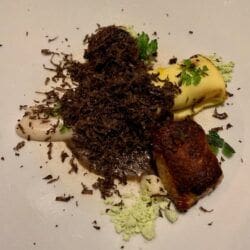 Fifth Course: Portobello with Rye, Sunchoke and Fines Heros (ground herbs)
Accompanied by: 2015 Domaine Mongeard- Mugneret, Pernand Vergelesses 1er Les Vergelesses, Burgundy, Pinot Noir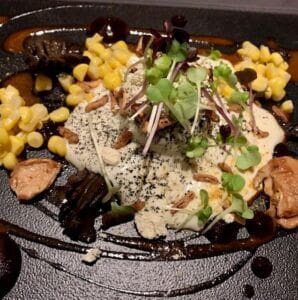 Sixth Course: Rabbit with Corn, Potato and Chasseur (hunter's sauce)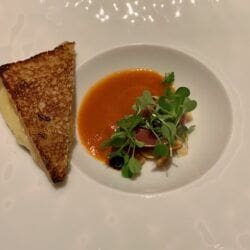 Seventh Course: Comte' (french cheese) with Tomato, Balsalmic and Thai Basil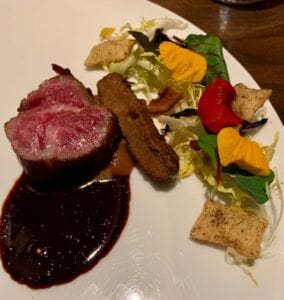 Eighth Course: Miyazaki Wagyu with Celery Root, Apple and Red Wine
Accompanied by: 2007 Marques de Murrieta, Rioja CastilloYgay Gran Reserve Especial, Rioja, Temperanillo & Manzueto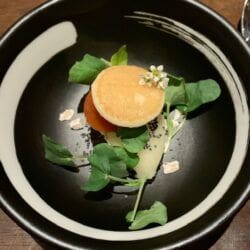 Ninth Course: Meyer Lemon with Poppy,Gin and Buckwheat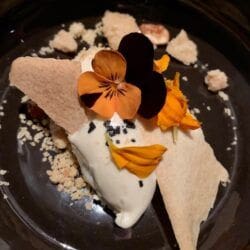 Tenth Course: Foie Gras with PB&J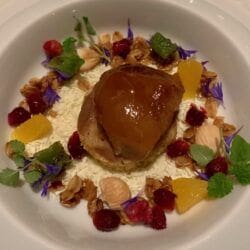 Final Course: Pear with Marcona Almonds and Granola
Accompanied by: 2001 Chateau Rabaud-Promis, Sauternes, Bordeaux, Semillon & Sauvignon Blanc
One more thing…
At dinner's end we were quite toasty, even in the dead of winter.
And just one more thing…
This post has been updated from the original to reflect the addition of Troy Jorge to the Temporis team.
And one last thing…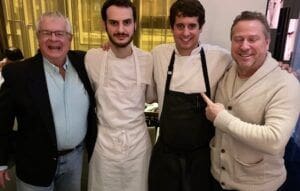 Myself, Sam, Donald and KevintheTraveler