Print
The Virgin Man
Andy Cohen introduced me to the concept of dry January and my first thought was, he's cray-cray. That was then, this is now and I'm ready to embrace it. The Virgin Man (certainly not Andy) cocktail is my answer to the conundrum of making a Manhattan sans alcohol.
My creation features Ritual Zero Proof's whiskey alternative and home-rectified vermouth. This is proof positive it's possible to enjoy an artfully crafted, delicious drink made with non-traditional ingredients. The name is an obvious nod to its non-alcoholic nature, but whatever you do, DON'T call it a…
Mocktail
I can't imagine a worse name for a cocktail category. The definition of mock means inauthentic, something to laugh at in a scornful manner or as an object of derision. There are many other suggestions, all equally unappealing and I'll stick with calling this a (non-alcoholic) cocktail.
Dry January
The holiday season presents many opportunities to indulge and the New Year is the perfect time to reign ourselves back in to a healthier lifestyle. I'm taking the opportunity to debunk the myth that no alcohol means no fun with delicious libations that still allow us to enjoy our evening ritual.
Don't be surprised if you and your friends feel a little something while drinking one of these. The recipe includes a full measure of placebo!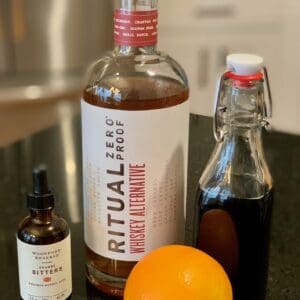 2

–

1/2

oz Ritual Zero Proof Whiskey Alternative

1 oz

rectified vermouth rouge

2

dashes orange bitters

1

generous dash of placebo effect
Rose petal orange peel – garnish
Instructions
Process the Vermouth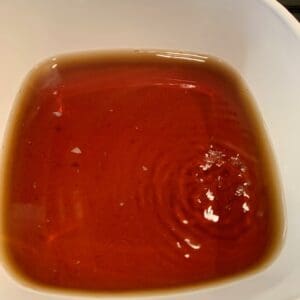 Pour 1 cup (8 oz) into a small ceramic or other non-reactive sauce pan
Slowly heat  while monitoring the temperature with an instant read thermometer
Maintain a temp between 174 and 210 because alcohol boils above 174 and water begins to boil at 212
Continue for about 30 – 45 minutes until the vermouth stops "popping" and remains still
Some water will evaporate with the alcohol so expect to lose about 50% of your liquid, but that's O.K.
This will remove almost all the alcohol and reduce the vermouth to concentrate the remaining flavor
Remove from heat and allow it to cool
Refrigerate until ready to use and it's good for 1-2 weeks
Make the Virgin Man
Chill your cocktail glass in the cooler
Make your orange peel garnish
Add the Whiskey alternative, rectified vermouth and bitters to a mixing glass with ice
Stir until well chilled
Strain and pour
Add your orange peel garnish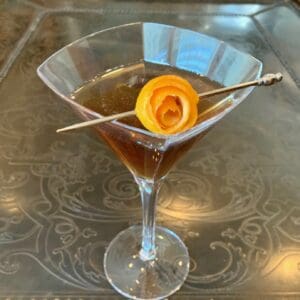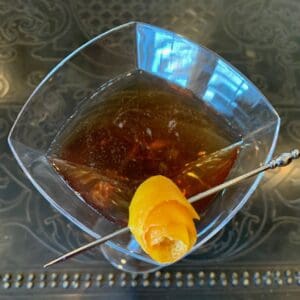 Notes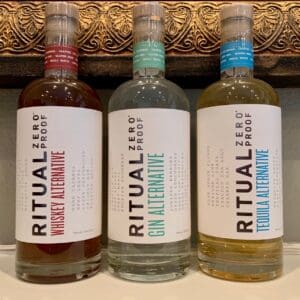 My friends at Ritual Zero Proof provided the alternative whiskey and these are the notes from my tasting panel:
This is an alternative to a distilled spirit and Ritual recommends substitution on a 1:1 basis
The nose is full of vanilla, oak, root beer and a hint of tobacco that is familiar and comforting
Flavors of smoke, vanilla and red pepper are prominant on the palate
It has long legs consistent with a higher viscosity than distilled whiskey that gives it a big mouthfeel
There is a medium peppery, lomg and spicy finish reminiscent of that alcohol "burn"
This makes a tasty non-alcoholic Manhattan, worthy of a second cocktail.
For a discount to cooksavorcelebrate.com readers now through February 15th, use the passcode "CelebrateRitual" at ritualzeroproof.com