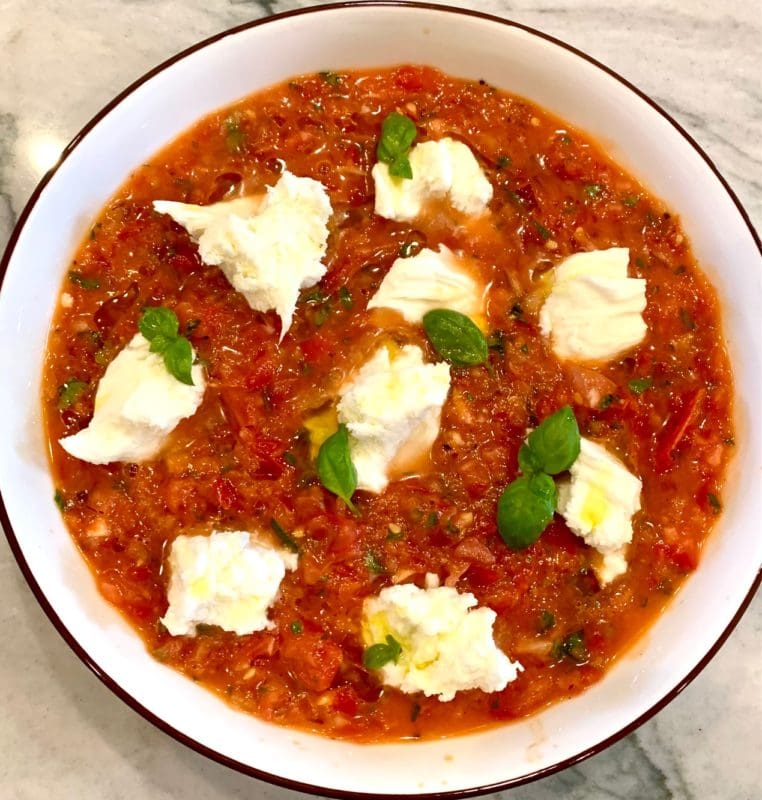 There are few things like fresh tomatoes that scream sum-sum-summertime and tomato caprese gazpacho is one of them. I love tomatoes fresh off the vine, sliced with a little salt, but this recipe elevates them another notch. The fresh basil and mozzarella are reminiscent of a caprese salad and the red onion adds pizzazz.
Tomatoes and Combinations
This recipe uses a combination of roma and heirloom, but any ripe tomatoe will work for gazpacho. I used what was on hand, seeded the roma and used the heirlooms whole. You may leave the seeds or remove them and process it chunky or a smooth puree to your preference. Beyond that I encourage you to season it liberally to taste.
Lunch or Dinner?
A chilled gazpacho is perfect on  hot summer days and a bowl with a chunk of baguette makes a great lunch. However, a cup makes a great dinner app.
Tomato Caprese Gazpacho Step By Step
Chop your basil, crush it with a muddler and refrigerate for two to three hours and allow the flavor to infuse the oil. Strain out the basil before use.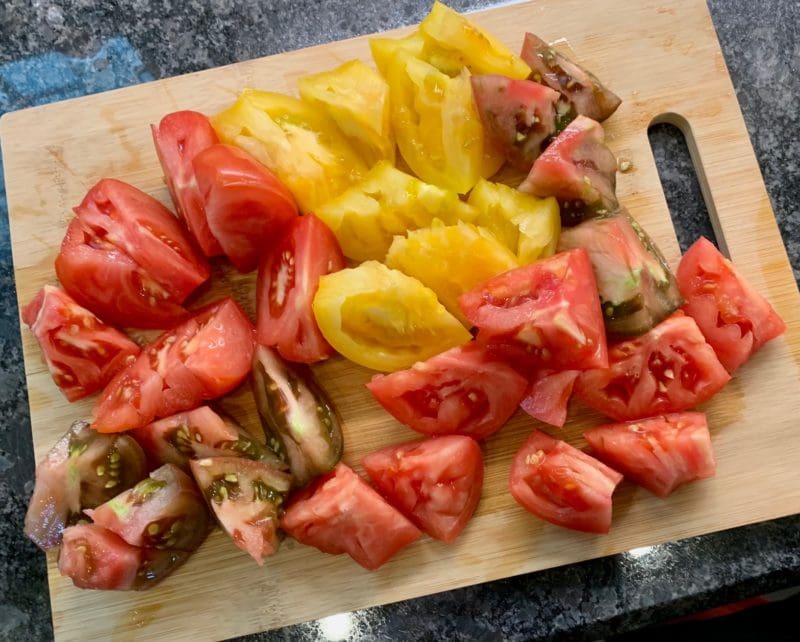 Roughly chop your tomatoes and seed them (optional)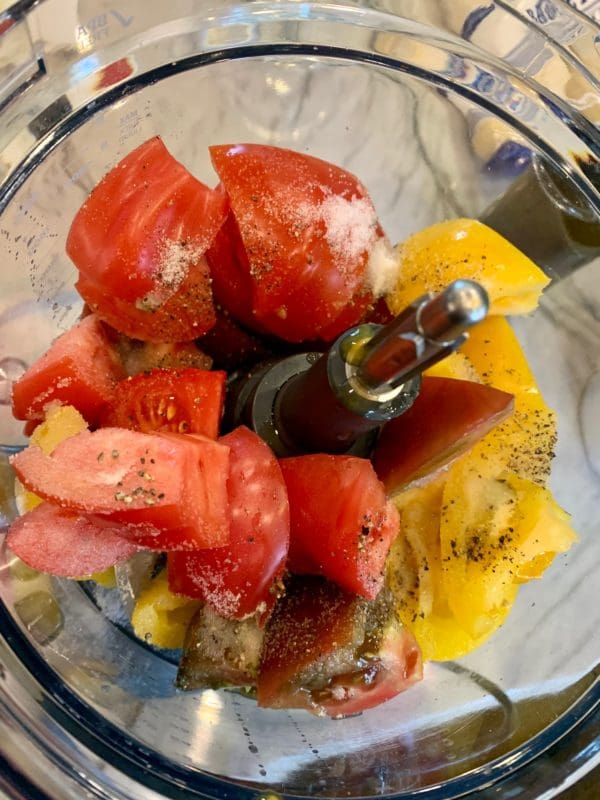 Place the tomatoes, 1/3 cup olive oil, garlic, onion and all the spices, everything but the chopped basil in the food processor. Pulse until chunky.
Add the basil and pulse enough to incorporate it into the gazpacho and it is as chunky or smooth as you like.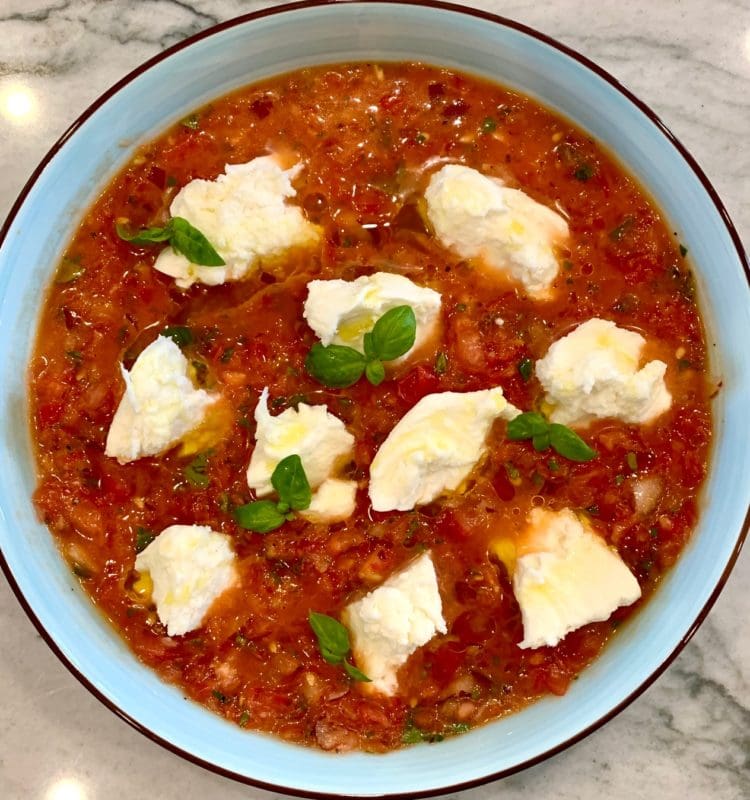 Tear the fresh mozzarella into chunks and place them into the gazpacho, drizzle with a tablespoon of basil infused olive oil, then garnish with a few fresh tiny basil leaves.
Print
Tomato Caprese Gazpacho
Delicious sum-sum-summertime soup!
Author:
Prep Time:

30

Cook Time:

120

Total Time:

2 hours 30 minutes

Yield:

2

1

x
1

lb heirloom tomatoes

1

lb roma tomatoes

8 oz

fresh mozzarella

1/2

red onion – diced

1

clove garlic – minced

3/4 tsp

salt

1/4 tsp

freshly ground black pepper

2/3 cup

olive oil divided

1

TBL white wine vinegar

1/2 cup

fresh basil leaves

1

baguette
ile de Re fleur de sel sea salt – to taste
Instructions
Basil Infused Olive Oil
Chop 1/4 cup fresh basil leaves and cover with 1/3 cup olive oil in a bowl
Crush the leaves in the oil with a muddler thoroughly, cover and set aside for 2-3 hours
Strain through a fine mesh screen with a rubber spatula and reserve the oil until ready to use or refrigerate
Gazpacho
Core the heirloom tomatoes, roughly chop and place into a food processor
Cut the ends, quarter and seed the roma tomatoes, and add to the processor
Add 1/3 cup olive oil, red onion, garlic, salt, pepper, white wine vinegar and 1/4 cup basil leaves to the processor
Pulse 2-5 times for a chunky, but combined mix – or – until it reaches your preferred consistency
Taste and adjust the salt and pepper if necessary
Chill in the refrigerator for 1-2 hours
When ready to serve, divide the gazpacho into bowls, tear the mozzarella into bite-sized chunks and divide equally.
Drizzle a spoonful of basil olive oil over each bowl and garnish with tiny basil leaves
Place a tiny pinch of sea salt on each piece of mozzarella
Accompany with a chunk of french baguette