Print
Winter Red Kimchi
Winter red kimchi brought me full circle from 1970 to the present. While in college I watched my Vietnamese neighbor bury things in her yard, sometimes for a few days and sometimes a week or more. We couldn't communicate because she didn't speak English and I didn't speak Vietnamese, but her husband, a war veteran told me she was making kimchi.
Kimchi is closest to our southern coleslaw. It utilizes the natural moisture of the vegetables and a little fish sauce instead of mayonnaise for the binder. Mother nature takes over and fermentation creates the tangy delicious flavor.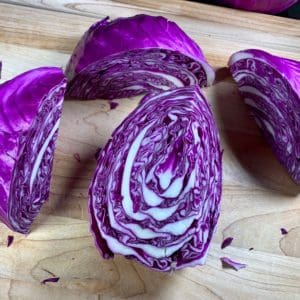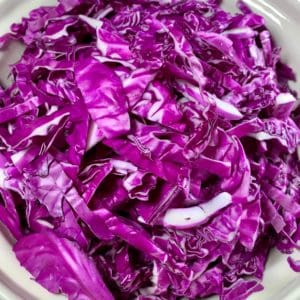 What I Learned
This is my first experience fermenting anything other than sour mash and therefore a little scary. It introduced me to gochugaru, a Korean chili pepper flake. I found them intoxicatingly delicious, mild, sweet and spicy, but not overpowering.

Complications, Missteps and Mistakes
Warning: This recipe creates a boatload of kimchi! I severely underestimated the sheer volume of ingredients and had to upsize the bowls mid-stream to avoid spilling everything, everywhere. That and hand grating the carrots made it harder than it needed to be. I will avoid both mistakes next time!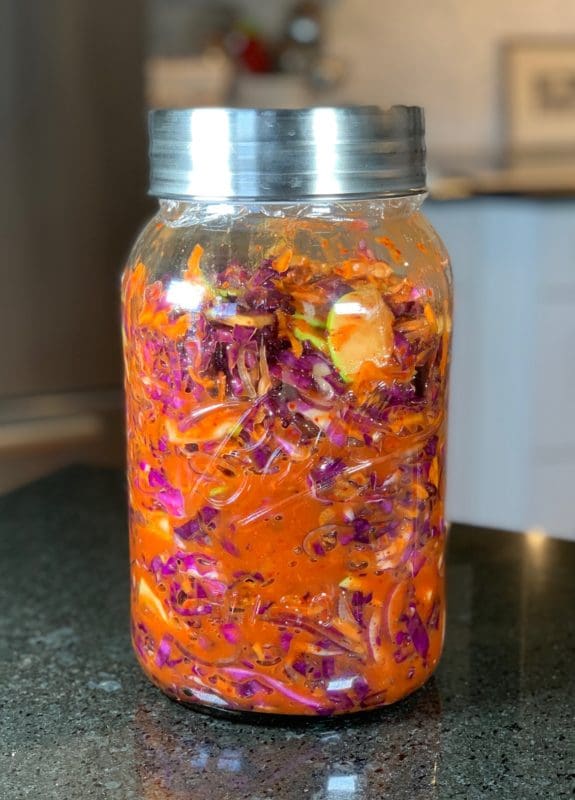 How to Enjoy Winter Red Kimchi
This is a great side for many dishes. Roasted pork, fried chicken or any marinated grilled meat pairs perfectly. I ate a lot while dieting by itself and found it filling and satisfying in every way.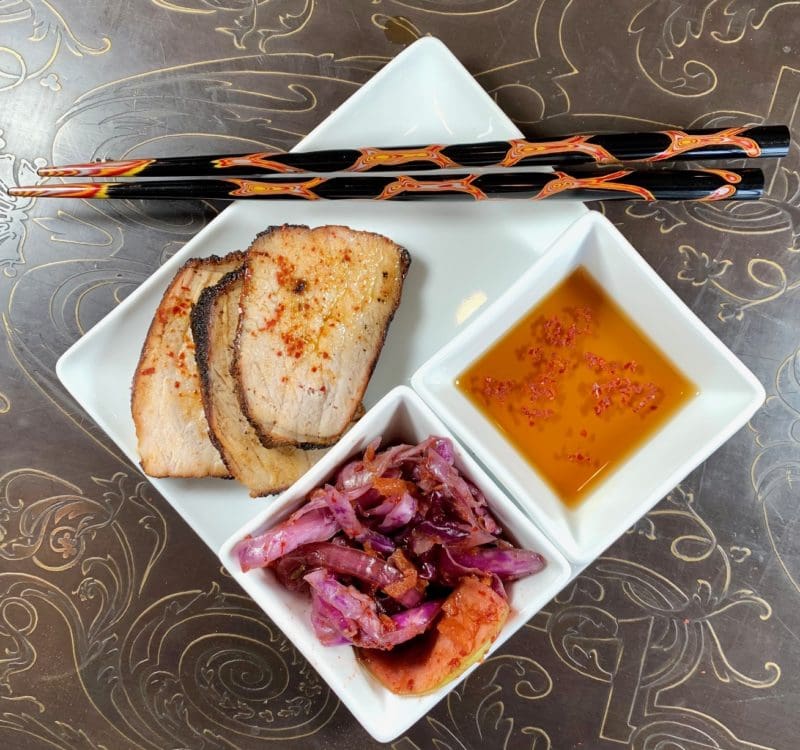 And The Verdict Is…
A delicious and easy to prepare recipe that I recreated closely to his original. Ed includes three other kimchi recipes for spring, summer and fall in his book and I can't wait to try them.
Cabbage
2

red cabbages

1/2 cup

kosher salt
Paste
3 cups

water

1/2 cup

sweet (glutinous) rice flour

1/4 cup

sugar
Guts
2

small red onions – thinly sliced

12 oz

carrots – peeled and grated with large holes in a food processor

3

green apples – coredand thinly sliced into

1/2

"-3/4" strips

3

garlic cloves – micro-planed

1/2 cup

Korean gochugaru chili flakes (not powder)

1/2 cup

fish sauce

2 oz

fresh ginger – micro-planed

3

strips bacon – fried crisp, drained and crumbled
Instructions
Prep the onions, apples, carrots, ginger and bacon
Shred the cabbage – slice in half and in half again, core and slice thinly to finish
Place in a GIANT bowl, sprinkle and toss with salt thoroughly and set aside for 40 minutes
While resting the cabbage, make the paste
Place the water, rice flour and sugar in a saucepan and bring to a simmer
Stir constantly until the mixture thickens, 1-2 minutes, into a paste
Remove from heat and let it cool
Drain and rinse the cabbage and return it to the giant bowl
Add the red onions, carrots, green apples, chili flakes, fish sauce, garlic and ginger to the cabbage and mix by hand using clean latex gloves
Fold in the paste mixture and the bacon
Mix everything thoroughly by hand
Transfer the kimchi to an airtight gallon glass jar
Let it stand at room temperature for 24 hours, then refrigerate
Wait 4-5 days and it will be ready to eat!
Keep refrigerated and it will keep for 2 more weeks.
Notes
Courtesy of Chef Edward Lee of Louisville, Kentucky from his best-selling cookbook Smoke & Pickles – Recipes From A New Southern Kitchen, 2013.