Print
African Peanut Butter Soup
African peanut butter soup, aka groundnut stew, maafe or domodah is for peanut lovers. Originating with the Mandinka and Bambara peoples in Mali, it's spicy and highlights peanuts and tomatoes with a protein. There is no single, traditional recipe, but can be made with a host of different ingredients. I find flavor similarities with Indian peanut based curries, but can find no specific reference to a common origin.
A Plethora of Options
I chose to make my African peanut butter soup with roasted chicken, but you can use lamb or beef.  Root vegetables, potatoes and okra or corn are routinely included. Cinnamon and tumeric are two additional spices that appear frequently in recipes and many serve it with rice or couscous.
You can make this vegetarian by leaving out the protein and even a carnivore will devour it. Regardless of the myriad combinations, if it has peanuts and  tomatoes with spices it will fit a West African profile.
This is a hearty and satisfying meal that has rocketed to the top of the charts in my household. If you're a peanut lover, this is required cooking!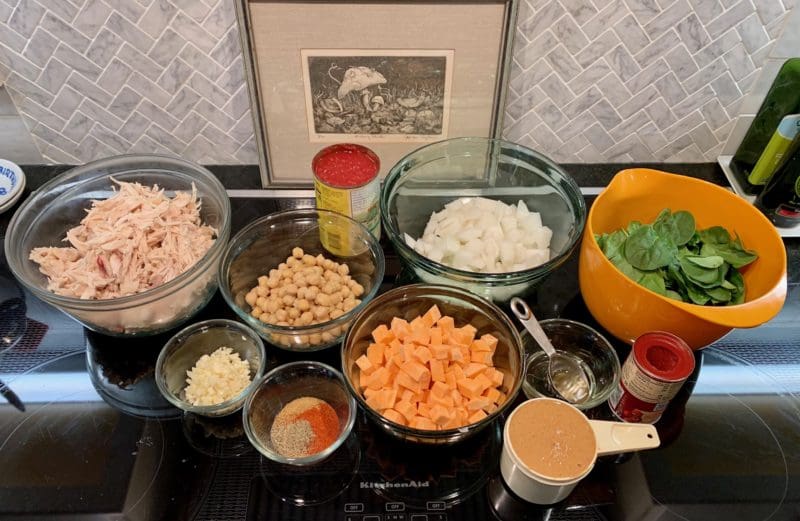 2

TBL peanut oil

1

–

1/2

medium yellow onions – chopped

1

TBL fresh ginger – peeled and minced

4

garlic cloves – minced

1 tsp

cayenne pepper

1/2 tsp

ground black pepper

2 tsp

cumin

2

TBL tomato paste
(1) 14 oz can crushed tomatoes

1

sweet potato – peeled and diced

5 cups

chicken stock + more to thin if necessary
(1) 14 oz can of chickpeas – drained and rinsed

1

–

1/2

cups creamy, natural peanut butter

4

loosely packed cups baby spinach – de-stemmed

2

roasted chicken breasts – shredded
Sea salt to taste
Baby spinach or chopped parsley – garnish
White rice – optional
Cocktail peanuts – garnish
Dusting of Cayenne pepper – garnish
Instructions
Heat the olive oil over medium heat in a large pot
Saute the onions until softened – about 3-4 minutes
Add the ginger and garlic, stir and cook until fragrant, about 1-2 minutes more
Add the cayenne and black pepper, cumin and tomato paste and cook for another 2 minutes, stirring until the paste darkens
Pour in the crushed tomatoes and chicken stock
Stir in the sweet potatoes, chickpeas and peanut butter
Bring it to a boil and stir until fully combined
Lower the heat and simmer for 15 minutes or until the sweet potatoes are tender
Add the shredded chicken and baby spinach and cook for another 5 minutes until everything is hot
Taste and adjust seasoning with salt and pepper
Use chicken stock to thin if necessary and stir it in for 2-3 minutes to give the flavors time to meld
Serve in a soup bowl and garnish with baby spinach, cocktail peanuts and dust with cayenne pepper
Serve over or alongside rice – optional