Print
Argentinian Flan
Argentinian flan differs from caramel custard or creme caramel in several ways, with use of sweetened condensed milk and dulce de leche topping instead of caramel.
This recipe from Palermo Viejo restaurant in Louisville, Kentucky is my favorite. They closed in 2015 after a successful 14 year run when the owners Francisco and Federico Elbl decided the long hours took too great a toll on family. When they closed this delicious flan went with them. I tried to duplicate it, but nothing seemed to work, so I tried to contact them directly.
The Search for Argentinian Flan
The internet is a wonderful thing. Bits and pieces remained from their former website and facebook pages. I found tidbits like their recipe for banana crepes, but nothing about their flan or dulce de leche. Then I stumbled across a facebook comment from a man that claimed there was always dulce de leche in their fridge because he was family. His account wasn't very active but I sent a message anyway, and waited.
A month or so later I was about to give up, when he messaged back. Yes, he was related to the Elbls. Yes, he would ask Frank if he was willing to share the recipes. Again I waited and again thought it was a dead end when I received another message. Yes, he was happy to share his recipe if I would be patient.
Patience is not my strong suit and waiting was torture, but I sat tight. Finally, I received the recipes with a warning that it was for vats of dulce de leche and pans of flan. They had to break it down for small batches. He failed to say the recipe was a couple of tiny, fuzzy photographs unreadable to my naked eye. Panic ensued, but I was able to parse and magnify it until it could be deciphered. Through trial and error I expanded the instructions to include things that as professional cooks they considered unnecessary to write down.
The flan at Palermo Viejo may be gone, but it's not forgotten.  Thanks to the Elbls, who gave permission to share this recipe. I'm tickled to do so, particularly with dining forum friends in Louisville. This is for you, Robin Garr and the rest of the HotByters.
4

eggs

14 oz

sweetened condensed milk

1

–

3/4

cup water

3/4 cup

sugar

1/2 tsp

vanilla extract

1/2 tsp

salt
Blueberries, raspberries or sprig of mint for garnish (optional)
Instructions
Preheat the oven to 350
Heat a teapot of water to barely a simmer
Coat the bottom of each ramekin with dulce de leche sauce
In a large lipped bowl combine the eggs with a whisk
In a separate bowl mix the water, sugar, vanilla extract and salt until the sugar and salt are dissolved
Add the condensed milk to the water mixture and combine
Now add that to the eggs and gently mix to avoid creating bubbles
Slowly strain the mixture into another lipped bowl
Fill the ramekins equally with the custard mixture
Let set for a few minutes to allow any bubbles to surface
Place the baking dish in the oven on a pull out rack
Pour the hot water into the baking dish until there is about 1″ up the side of the ramekins
Bake uncovered for 45 minutes or until a toothpick inserted in the middle comes out clean
Remove the baking dish and let set for 5-10 more minutes
Remove each ramekin from the water bath and set on a rack to cool for 45 – 60 minutes
Serve or cover with plastic wrap and store in the refrigerator
If serving immediately, un-mold it by running a knife around the inside edge. Place a small plate over the top, turn over and jiggle the ramekin. It should drop onto the plate.
If serving after refrigeration, warm the flan in the microwave for 45-50 seconds which will loosen the dulce de leche from the bottom of the ramekin then follow the instruction above.
Warm and spoon some dulce de leche over the flan
Garnish with berries and/or mint (optional)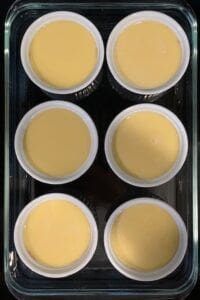 And just one more thing…
I would be remiss if I didn't mention that Palermo Viejo's meats were superb, worthy of all the legendary praise associated with Argentina.
Notes
Special thanks to Craig Newman, brother-in-law of Frank and Federico Elbl for getting the recipe and sharing it with me.