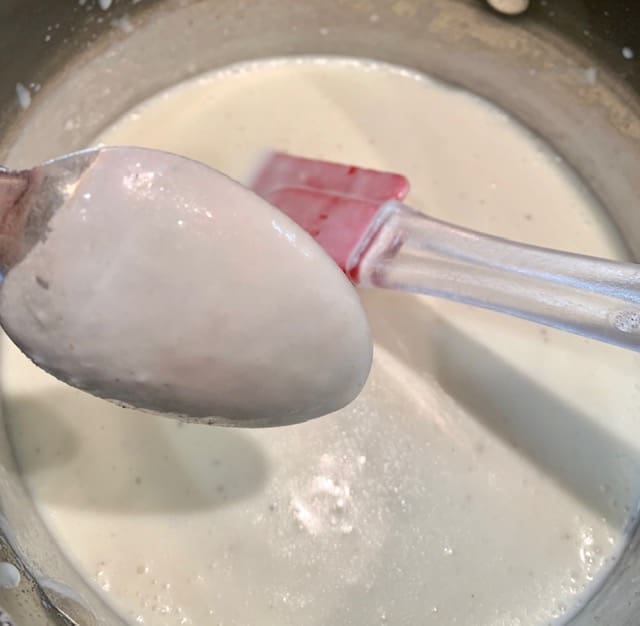 Bechamel Sauce is one of the five "mother sauces" of french cuisine. It's a basic building block for other sauces like soubise, corn soubise, mornay and cream sauce.
This is also an essential ingredient for lobster thermidor and lasagna bolognese. Leftover bechamel also makes a fancy mac and cheese!
Origin and Name
The simple white sauce of butter, flour and milk called bechamel came from Italy. It was later introduced to France in the early 1500's and eventually took the name of the Marquis Louis de Bechamel, the chief steward of King Louis XIV.
Link to Southern Cooking
We southerners have our own version of bechamel and it's called milk gravy. It's made with the same ratio of fat to flour, but substitutes rendered sausage or bacon fat for the butter. Like bechamel, milk is added but then reduced further to achieve a thicker consistency.
Recipe
Remember that this is nothing more than butter, flour, and milk seasoned with salt and white pepper. Simplicity is its secret. Some recipes add wine and some heavy cream, still others add stock or cheeses. Bechamel is called a mother sauce because it easily morphs into many others.
Print
Bechamel Sauce
One of the five "Mother Sauces"!
4

TBL unsalted butter

4

–

5

TBL AP flour

3 cups

whole milk

1

big pinch nutmeg
Salt and ground white pepper to taste
Instructions
Melt the butter in a heavy bottom sauce pot over medium heat
Whisk or stir in the flour to make a roux and cook for 2-4 minutes until the foam begins to subside, without burning or adding color to the mix
Stir in the milk and bring to a boil, then lower the heat to warm
It's ready when it coats the back of a spoon
Stir in the nutmeg, then the salt and pepper to taste
Put a few dots of butter on top to prevent a film from forming until ready to use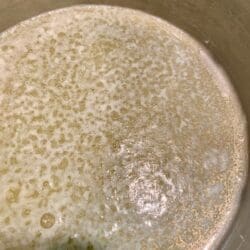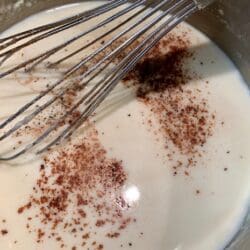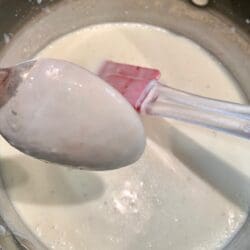 And just one more thing…
If you are breaking new ground with a recipe of your own, bechamel is the perfect sauce to experiment with!