Print
Gougeres
Gougeres are the stars in my bread basket and disappear faster than Cartman eats a cheesy poof. Wait, these are cheesy poofs! Mix up your basket with cornbread, focaccia and sourdough, but your guests will pick through them to eat these first. A favorite local restaurant rations them like gold, but you can have as many as you want at home.
Making and Eating Gougeres
I love these because they taste wonderful and are so easy to make. I prefer to make them in advance and freeze them until ready for a batch. Pop them into the oven and 25 minutes later you have a foolproof pre-dinner app, or accompaniment for soup and salad.
These are equally delicious with butter or with Italian butter, better known as herbed olive oil. Regardless which one you choose, do your best to eat them warm because, well – just because!
1 cup

water

8

TBL unsalted butter

1/2 tsp

kosher salt

1 cup

all-purpose flour

4

large eggs – room temperature

1

–

1/2

cups finely grated gruyere cheese (or parmesan – optional)
Instructions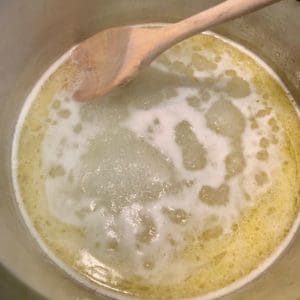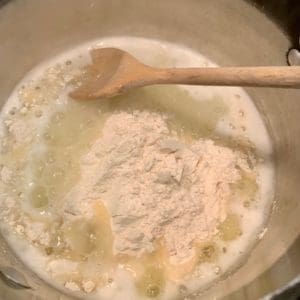 Don't forget to bring your eggs to room temp!
Line 1 large or 2 small baking sheets with parchment paper (to fit in your freezer)
Bring the water, butter and salt to a boil in a heavy bottom pot
Add the flour all at once and stir vigorously with a wooden spoon until all the liquid is absorbed
Lower the heat to medium low, remove the pan from the heat and continue to stir until it looks like mashed potatoes
Return the pan to the heat and stir for 3-5 more minutes until it is nice and doughy
A film may form on the bottom of the pan – don't worry, that's okay
The dough is ready when it's thick and smells nutty
Transfer the dough to a stand mixer with a paddle attachment and beat on low speed for 1 minute to cool the dough
Add 1 egg at a time, incorporating each egg into the dough before adding the next egg
The dough will come together after adding the last egg
Add the grated cheese and blend it in. Don't over mix the dough
Scoop out gougeres onto the baking sheet using 2 big spoons or an ice cream scoop to form uniform size balls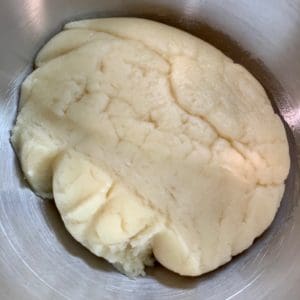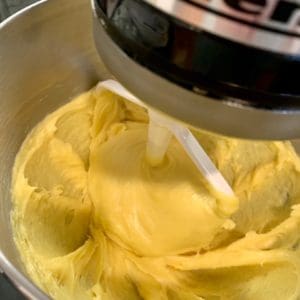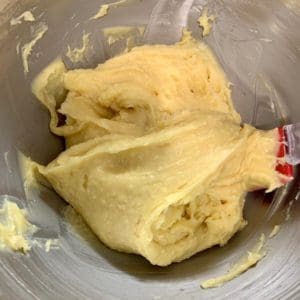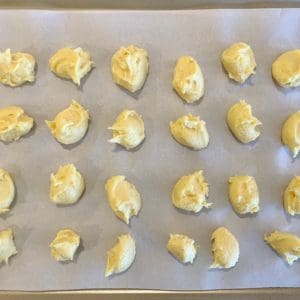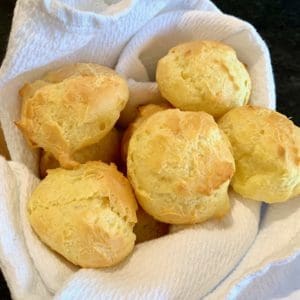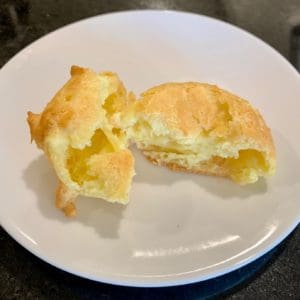 Freeze and Bake Later – Recommended
Freeze on the baking sheet(s) overnight
Bag them in serving portions of 6-8 per bag. They will keep for two months
When ready to serve, preheat the oven to 375
Bake for 25-30 minutes on a parchment lined baking sheet until the tops are golden brown
Serve warm with Italian Butter! Get the recipe HERE
Bake Immediately
Preheat the oven to 400 and bake for 5 minutes
Reduce the heat to 350 and bake 20-25 minutes more without opening the oven
Warning: Be careful of burning the tops. There is a fine line between done and over-cooked
Wrap in a towel in a bread basket. Serve warm