Print
Italian Butter
Italian butter is a misnomer used to convey the importance of olive oil to the rest of us. Butter is used to cook, more in some regions than others, but you won't find it on the dinner table. Italians love their olive oil and that's what's for dinner.
It's the primary cooking ingredient, the salad dressing, garnish and if it were possible, the sunscreen for the beach. The low SPF is the only thing in the way.
I recall the first time I heard the phrase Italian butter in a sleepy southern town. It was at a popular Italian chain restaurant as our server poured it onto a small plate with a flourish. We were amused by the show and it took some processing to understand why. The short answer was to encourage us and our ilk to embrace it as if it were our beloved butter.
While I do love my butter, I also love a good olive oil, especially seasoned well and sopped up with a profiterole or gougere. Now, plain olive oil is just fine. Telling you to simply pour olive oil onto a plate makes a very short post.
1/4 tsp

red pepper flakes

1/4 tsp

coarse ground black pepper

2

garlic cloves – minced

1/4 tsp

coarse salt

1/4 tsp

dried oregano leaves
Sprig of rosemary – optional garnish

1/8 tsp

fresh rosemary leaves- chopped

1/8 tsp

dried basil

4

TBL olive oil

1

drizzle of balsamic vinegar – per plate
Instructions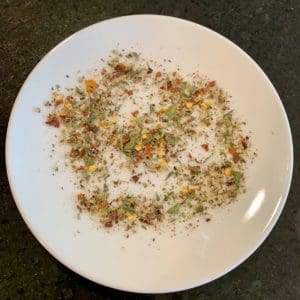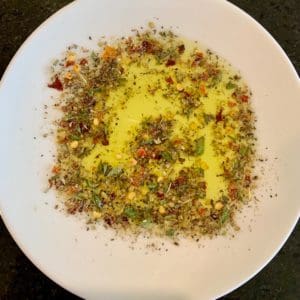 Use small individual saucers or condiment bowls
Combine the dry ingredients in a small plastic container and shake well to mix them
Mince the garlic and divide between 4 saucers
Divide and distribute the spice mix between the saucers
Pour over the olive oil and add a drizzle of balsamic vinegar to each saucer
Serve with warm focaccia, profiteroles or gougere