Print
Grasshopper Chronicles – Three Ways
The grasshopper chronicles lead us down the evolutionary path of a delicious cocktail from pre-prohibition to present day.  Its popularity initially soared, then flagged post prohibition and later enjoyed a resurgence. In the 1970's and 80's. Today, sadly it has almost disappeared and I never see it on a cocktail menu.
It's too good to leave it for dead and by good, I mean fabulous. If you have never tasted one and I can convince you to give it a chance, you will call me Master Po.
The Original Grasshopper
Philip Guichet created this luscious after dinner drink at his New Orleans bar Tujagues, in 1919. The name comes from its green color and no, there aren't any real grasshoppers in the recipe. It's the least alcoholic of the three hoppers and I prefer it garnished with shaved chocolate.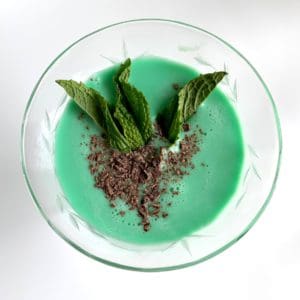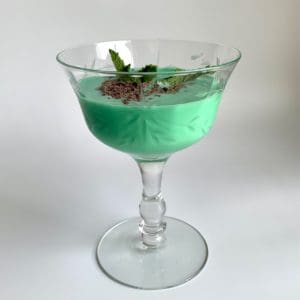 The Flying Grasshopper
This took flight in the 70's, perhaps inspired by David Carradine's "young grasshopper" on television's Kung Fu. Adding vodka to the basic recipe makes it slightly more alcoholic and enhances the sweetness, perfectly.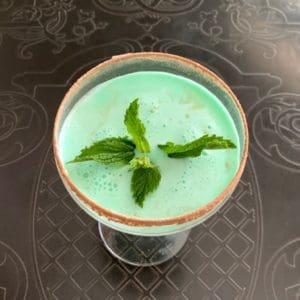 The Interstellar Grasshopper
Vodka replaces the cream and is rocket fuel to the outer limits. Little green men are mesmerized by the crystal clear color of the perfect peace offering in the twilight zone. Rod Serling would be proud.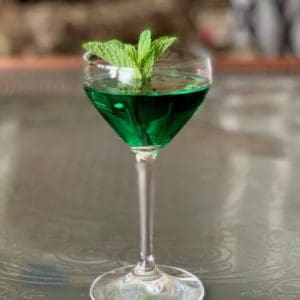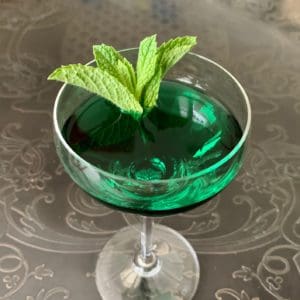 Variations
Mint ice cream, preferably with chocolate chips turns this beauty into a "Frozen Grasshopper" blended with a malted milkshake machine.
Replacing the creme de menthe with peppermint schnapps turns it into a "Girl Scout Cookie". It's for adults only and gets better with a thin mint on the side.
Grasshopper
Equal parts white creme de cacao, creme de menthe and heavy cream – about 1 oz each
Shaved bittersweet chocolate and mint – garnish
Flying Grasshopper
3/4 oz

vodka

3/4 oz

white creme de cacao

1 oz

heavy cream

3/4 oz

creme de menthe
Powdered confectioner's sugar
Powdered cocoa

1

sprig of mint – garnish
Interstellar Grasshopper
1 oz

vodka

3/4 oz

creme de menthe

3/4

white creme de cacao

1

sprig of mint
Instructions
Original Grasshopper
Chill a coupe glass in the cooler
Pour the liquid ingredients into an ice filled shaker and shake vigorously
Strain and pour
Garnish with a pinch of ground nutmeg
Flying Grasshopper
Rim a coupe glass with equally mixed powdered sugar & powdered cocoa
Combine the liquid ingredients in an ice filled shaker and shake until ice cold
Strain and pour into the coupe glass
Float a mint sprig on top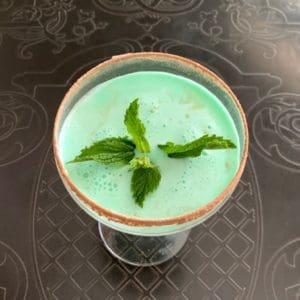 Interstellar Grasshopper
Chill a Nick & Nora glass in the cooler
Combine the liquid ingredients in a mixing glass with ice and stir until ice cold
Strain and pour
Garnish with 2-3 mint leaves or a sprig of mint