Print
Stuffed Bell Peppers With Sausage and Beef
Stuffed Bell Peppers are a treat for my son, because his grandma made them especially for him. They ate them together and that's what's called quality time. While reminiscing about his grandmother recently, he mentioned how much he loved those stuffed peppers.
Her recipe is long gone, but I recall it used green peppers. I prefer red and yellow because they have a sweet, milder flavor. This mixed dish uses all three so there's something for everyone and the colorful beauty can't be denied.
We're both pepper-heads so I used hot Italian sausage and hot breakfast sausage with ground beef. Then, I added a dash or two of hot sauce for good measure – optional of course.
My first few efforts were met with disdain and it took a few more tries before this recipe passed muster. This one's a winner and he says it's almost as good as grandmas. Something about her touch turned everything to gold, but that's pretty high praise and I'll take it.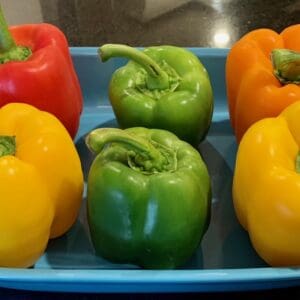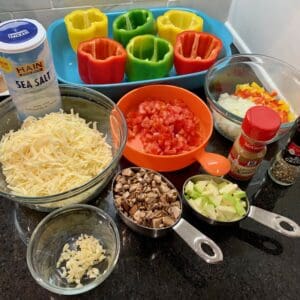 2

each – red, green and yellow bell peppers

2

TBL olive oil – divided

8 oz

lean ground beef

1

link hot Italian sausage

4 oz

hot breakfast sausage

1

medium size yellow onion – diced

1 cup

fresh mushrooms – diced

3

cloves garlic – chopped

1/4 tsp

cumin

4

roma tomatoes – seeded and diced
salt and black pepper – to taste

2 cups

cooked brown and wild rice

12 oz

monterey pepper jack cheese – shredded
Instructions
Preheat the oven to 400 degrees
Cut the tops off the peppers, dice the edges of the tops and reserve, discard the stems
Remove the seeds and as much of the membrane as possible
Set the peppers upright in a baking dish and lightly brush both the inside and outside with olive oil
Season the peppers with salt and pepper and bake for 20 minutes at 400 degrees
While the peppers are baking, heat 1 TBL of olive oil in a large skillet over medium high heat
Remove the italian sausage casing and scrape it into the pan.
Add the breakfast sausage and the ground beef to the pan
Season with cumin, a dash or two of hot sauce and liberally with salt and pepper
Break up the meats and cook until it's cooked through and browned, 8-10 minutes
Remove the meat with a slotted spoon and drain on a paper towel lined plate
Cook your rice while preparing the vegetables that follow
Retain 1 TBL of the rendered fat in the skillet and add 1 tablespoon of olive oil
Saute the onions and dicaed peppers for 3-4 minutes until they soften
Add the mushrooms and garlic and cook for another 2 minutes
Cook everything until it is heated through, and stir in the meat and rice
Remove from the heat, taste, make a final adjustment to the seasonings, then add half the cheese
Stir it all together until the cheese melts
Stuff the peppers and top each one with an equal amount of the remaining shredded cheese
Bake for an additional 20 minutes at 375 until the cheese is melted and lightly browned on top