Print
Gnocchi In Ricotta Cream Sauce With Truffles
Gnocchi in ricotta cream sauce with truffles is inspired by Spiaggia in Chicago. Our meal there was wonderful and their soft pillowy gnocchi, smothered in cream sauce with truffles is heavenly.
Time To Make The Gnocchi
I had to learn to make gnocchi for this and it's not hard, but it is tricky. I studied Sarah Gruenberg's video and read everything I could before my first attempt. Sarah's cryptic comment about being a two day process  hoodwinked me into resting the dough overnight. That made a sticky mess and ruined my first attempt. Two more tries, testing red and gold potatoes yielded edible gnocchi, but on the fourth I got it right.
I'm going to shepherd you through the process, so you only have to do it once.
Soft, pillowy gnocchi begin with the potatoes. You can use red or gold, but the lightest, most tender gnocchi are made with russets. Reds and golds are too waxy and while they are easy to make gnocchi with, it's a firmer, chewier bite.
Avoiding Common Problems
Sticky wet or dry and chewy are the two most common failures when making gnocchi. Follow my directions to properly cook and dry the potatoes and work quickly peeling and ricing them. Cold potatoes equal wet and sticky dough. Too much extra flour kneading and rolling the dough makes dry and chewy gnocchi.
About The Shape
The blunt, torpedo cigar shape is my homage to Spiaggia, using their method. A traditional fork rolled gnocchi works equally well.

Ricotta Cream Sauce – enough for 125 Gnocchi
1

part (16 oz) whole milk ricotta cheese

1

part (16 oz) heavy cream

3/4 cup

finely grated parmigiano-reggiano cheese

1

TBL milk
Salt to taste
Gnocchi
1

lb. small russet potatoes (do not use giant baking size)

1 cup

flour

1/2 tsp

salt

1

medium size egg – lightly beaten
Gnocchi In Ricotta Cream Sauce with Truffles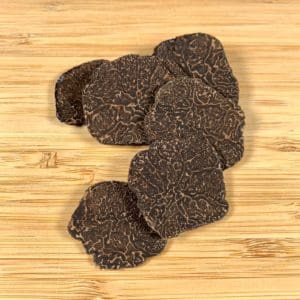 20

–

25

gnocchi per person for a main course, half that as an appetizer
Proportional serving of ricotta cream sauce

1 oz

fresh black winter truffle – divided proportionally
Instructions
Ricotta Cream Sauce
Grate the cheese in a food processor to create the finest powder possible
Add the cream, ricotta and milk to a deep heavy bottom sauce pot and warm on low heat while stirring to combine. Do not overheat attempting to speed up the process and scorch your sauce!
When it is warm, add the parmesan cheese and stir well to combine
Salt to taste, pour into a blender and process until it is creamy smooth
Let it cool and transfer to an air-tight container
Refrigerate until ready to serve
Making the Dough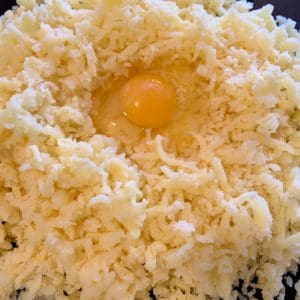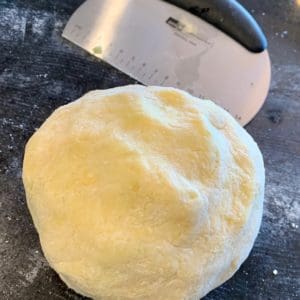 Boil your potatoes with the peel on in well salted water for 30 minutes
Mix the flour and salt together
Lightly flour a baking sheet and set aside
Pour out the water, return the pot to the warm stove, cover and steam off the remaining water until your potatoes are completely dry, about 3-5 minutes
Pour about half the salted flour onto your clean work surface and reserve the rest
Lightly beat the egg and set aside
Peel and cut the potatoes into pieces that will fit into your ricer
Rice the potatoes on top of the flour leaving a slight well in the center
Pour your egg over the potatoes and flour
Spread the reserved flour over it, quickly mix with your hands and knead until combined
Knead and form it into a nice dough log
Note: This shouldn't take more than three minutes. Don't overwork your dough or it will become a cold, sticky mess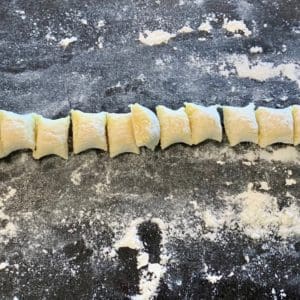 Forming the Gnocchi
Cut off 1/4th of the dough log and roll it into a 3/4 inch diameter rope
Cut the rope into 1/2 to 3/4 inch pieces
Gently flatten a piece in your upturned palm with your thumb, then rollit by hand between your palms into a short, blunt torpedo cigar shape about 2 to 2-1/2 inches long
Place them on the pre-floured baking sheet to prevent sticking
Repeat the process until all the dough is used
Rest the dough for 20 minutes before blanching
Bring a large pot of well salted water to a rolling boil, then reduce the heat to a fast simmer
Prepare a separate large bowl with half ice and half water
Drizzle a separate baking sheet lightly with olive oil
Working in batches of 15-20, blanch the gnocchi in the simmering water until they float to the top, about 2 minutes. Stir for a moment after placing them in the pot to prevent sticking to the bottom, or each other
Strain out the gnocchi with a spider and immerse into the ice bath to shock them and stop the cooking, about 30 seconds
Remove, shake off excess water and place them on the oiled baking sheet
Gently swirl them to coat with oil
Repeat the process until all the gnocchi are blanched
Place the gnocchi in an air-tight container and refrigerate until you are ready to use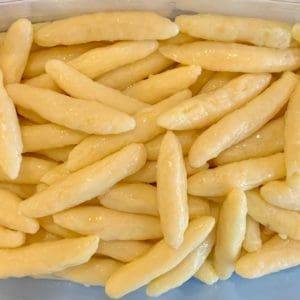 Gnocchi In Ricotta Cream Sauce with Truffles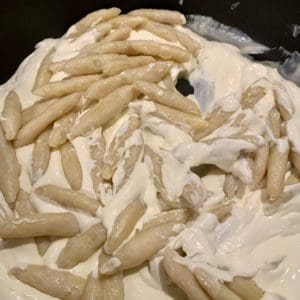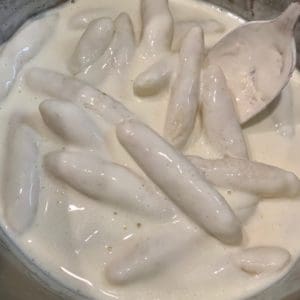 Add a proportional amount of cream sauce and gnocchi to a non-stick sauce pan over medium low heat
Stir gently with a spatula and serve when everything is warm/hot, about 10-15 minutes
Garnish with extra parmesan – optional
Garnish with 3-5 shaven slices of black winter truffles