The prize for my better half on our fourth night in Chicago was dinner at Spiaggia. It was her reward, because she suffered through several exotic dining adventures outside her comfort zone with no complaints. It's her favorite cuisine and I'm always ready for an Italian dinner!
Curriculum Vitae
Spiaggia represents the pinnacle of Italian haute cuisine in Chicago and Tony Mantuano is the guru that opened it 37 years ago. Today, he still provides the steady hand to keep the team on their toes and on point. He can cook with the best, but his real talent might be the way he trains and develops great chefs.
Sarah Grueneberg almost won Top Chef and did receive a James Beard award for best chef in the mid-west. Joe Flamm is another alumnus and led Spiaggia to its first Michelin star. That's quite an achievement because if you haven't noticed, those stars are hard to come by for Italian cuisine. Along the way in 2018, Joe nabbed the season 15 crown of Top Chef Colorado. Eric Lees helms the kitchen today and continues the tradition of excellence.
Dinner Menu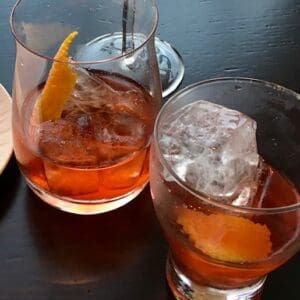 I chose a negroni duet for my aperitivo, one freshly made and the other aged overnight. The difference between the two was remarkable, the first having the sharp bittersweet forward flavor I expected and the second a more mellow, harmonious profile.
The fresh bread from Chicago's famous Floriole bakery with whipped ricotta and olive oil is heavenly.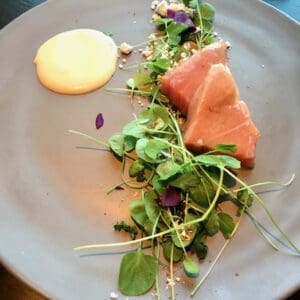 My starter was bluefin tuna on baby spinach with veal aioli, crispy caper and parmigiano reggiano. Wow, just wow.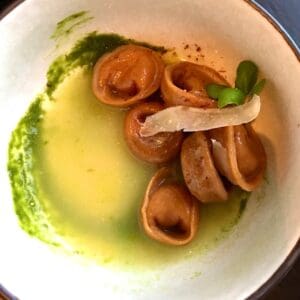 Tortellini in burrata with genevese pesto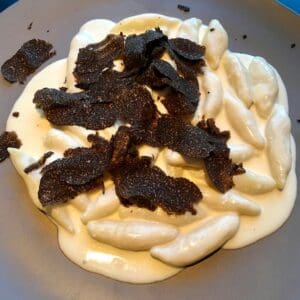 This gnocchi in ricotta with freshly shaven Australian black winter truffles is the most decadent thing I have eaten  – ever. Check out my home-made version HERE.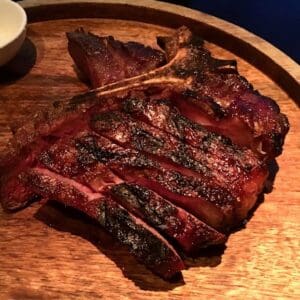 Bistecca alla Fiorintina dry aged porterhouse for two, with truffle hollandaise, potato, wild onion and nasturtium lived up to its billing!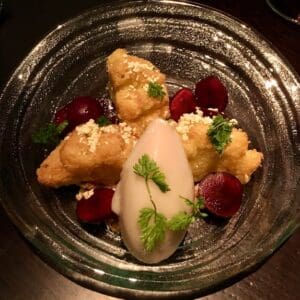 Fritelle de san Guiseppe, rice fritters with cherry, chocolate and almond gelato gave us a sweet ending!