Print
Herbed Pork Chops with Mustard Sauce
It was a dark and stormy afternoon. The clouds were rolling, the sky was filled with thunder and lightning…and we were hungry! I suggested we have herbed pork chops with mustard sauce so we stopped and picked up the chops at the meat market, some petit fours at the bakery and I raided my wine closet for a bottle of red. We were ready to rock and roll.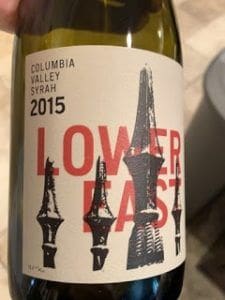 Pork Chops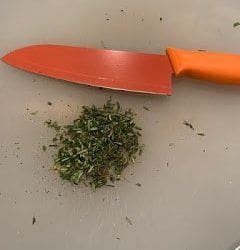 2

thick bone – in pork chops 3/4 -1″

1

long sprig fresh rosemary – leaves only – chopped

8

sprigs fresh thyme, leaves only – chopped
Coarsely ground black pepper

1/2 tsp

kosher salt

1

TBL unsalted butter

1/2

TBL olive oil
Combine the herbs, divide and apply to each side of the two chops
Sprinkle salt and grind fresh pepper on all sides
Wrap and refrigerate for 2 hours, overnight if possible
Mustard Sauce
4

TBL dijon Mustard

1/2 pint

heavy cream

1

big pinch ground white pepper

1

Lemon
pan drippings from pork chops

1

splash worcestershire sauce
Instructions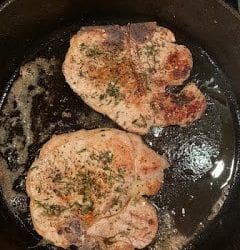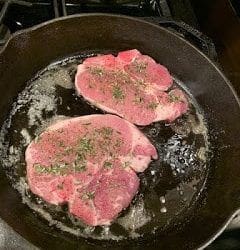 Heat a cast iron skillet on medium high
Add the butter and olive oil to the skillet
When butter is melted add the chops and pan fry until one side is browned, then turn and fry until the other side is nicely browned. Be careful not to overcook! Medium on the inside and a light crust on the outside is perfect. Overdone chops are hard and tough. Test with your tongs like you would a steak
Set aside on a warm plate
Turn the heat down to medium
Splash in your worcestershire sauce and deglaze your skillet
Add the mustard and squeeze in your lemon juice while stirring
Pour the cream in slowly and bring to a simmer
Add your ground pepper and stir to reduce until it slightly thickens
Taste and adjust pepper as necessary
Drizzle the sauce over your chops and serve
And just one more thing…
The next time bad weather bogarts your day, throw a mini party and show mother nature who's really the boss.