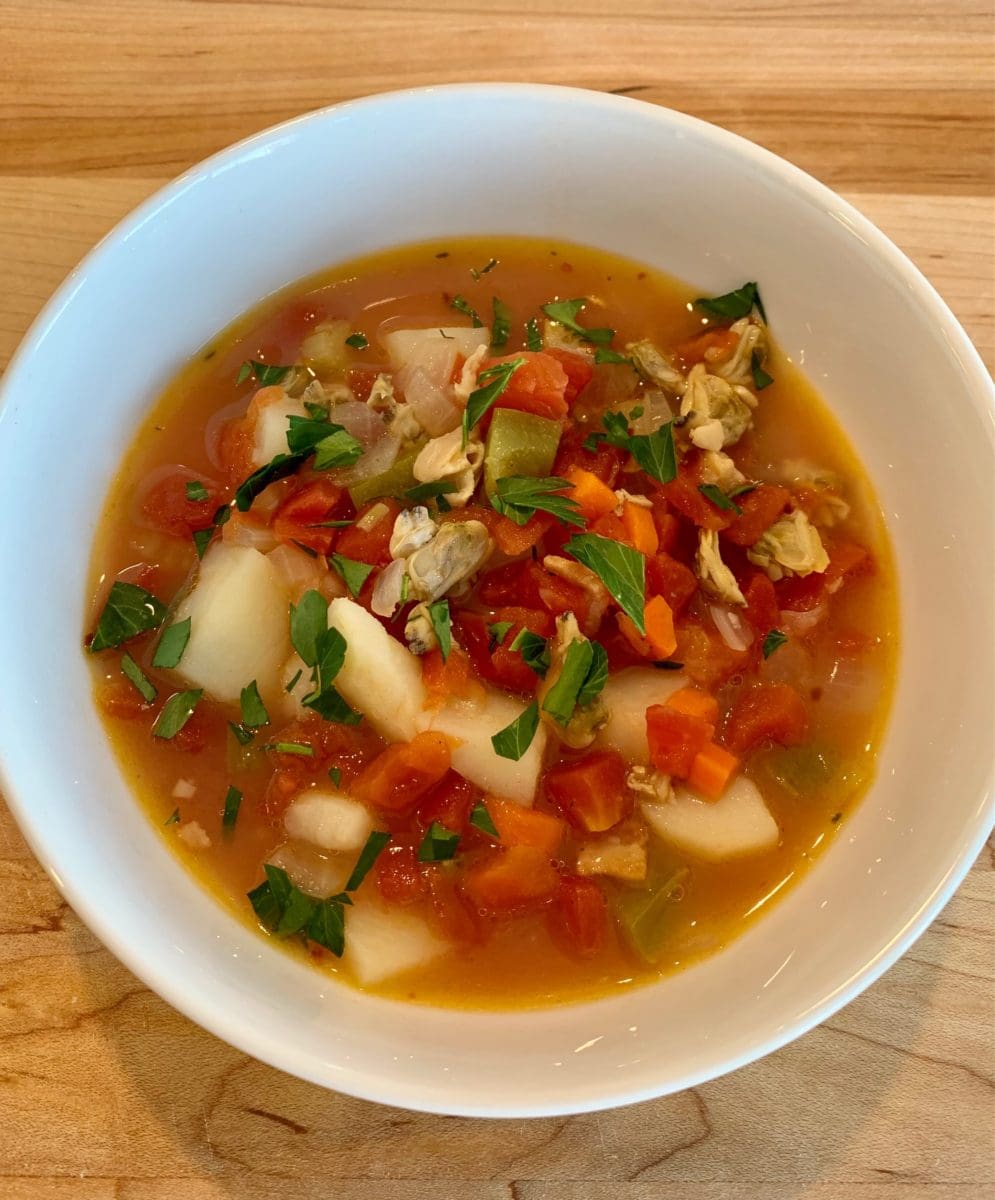 If the legendary James Beard were to write a review of Manhattan clam chowder, he would call it "that horrendous soup that resembles a vegetable soup that accidentally had some clams dumped into it".
Wait. He did write a review expressing his disgust in those exact words, but Mr. Beard was only protecting his home state Oregon's creamy clam chowder.
Personally I love both styles, but Manhattan is rarely found at mid-western restaurants, so we have to make our own. I can't deny it is a variant of vegetable soup with clams, but it is certainly delicious and lighter than the heavily creamed New England chowders.
Origins and Options
This New York City chowder emerged from Italian and Portuguese communities in the 19th century. One of the first documented recipes was penned by Delmonico's executive chef Alesandro Filipini in his 1889 cookbook.
There are other clam chowders falling into three categories of red, white and clear. If you care to do a deep dive begin with Delaware, Rhode Island, Hatteras, Long Island, Maine and Portuguese.
Manhattan Clam Chowder Step – By – Step
Your first decision is canned or live clams. Canned will work just fine and is less expensive, but don't use them when competing on Top Chef or Padma will tell you to pack your knives and go home. Live clams will be tastier, larger and more tender if they are available.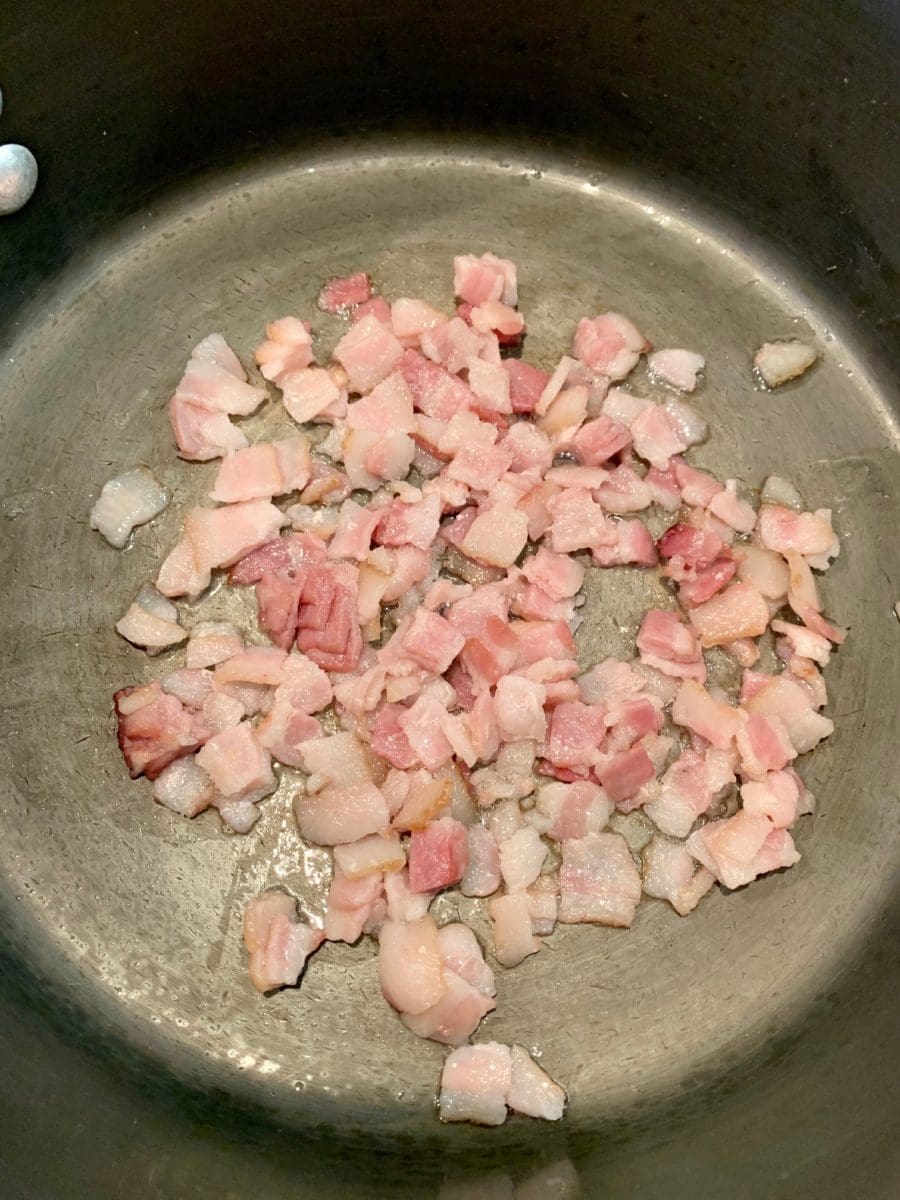 Render the bacon fat then strain out the bacon and set aside.
Place the vegetables in the pot, stir and cook them until soft but not brown, about 10 minutes. Add the garlic and potatoes and cook 5 more minutes.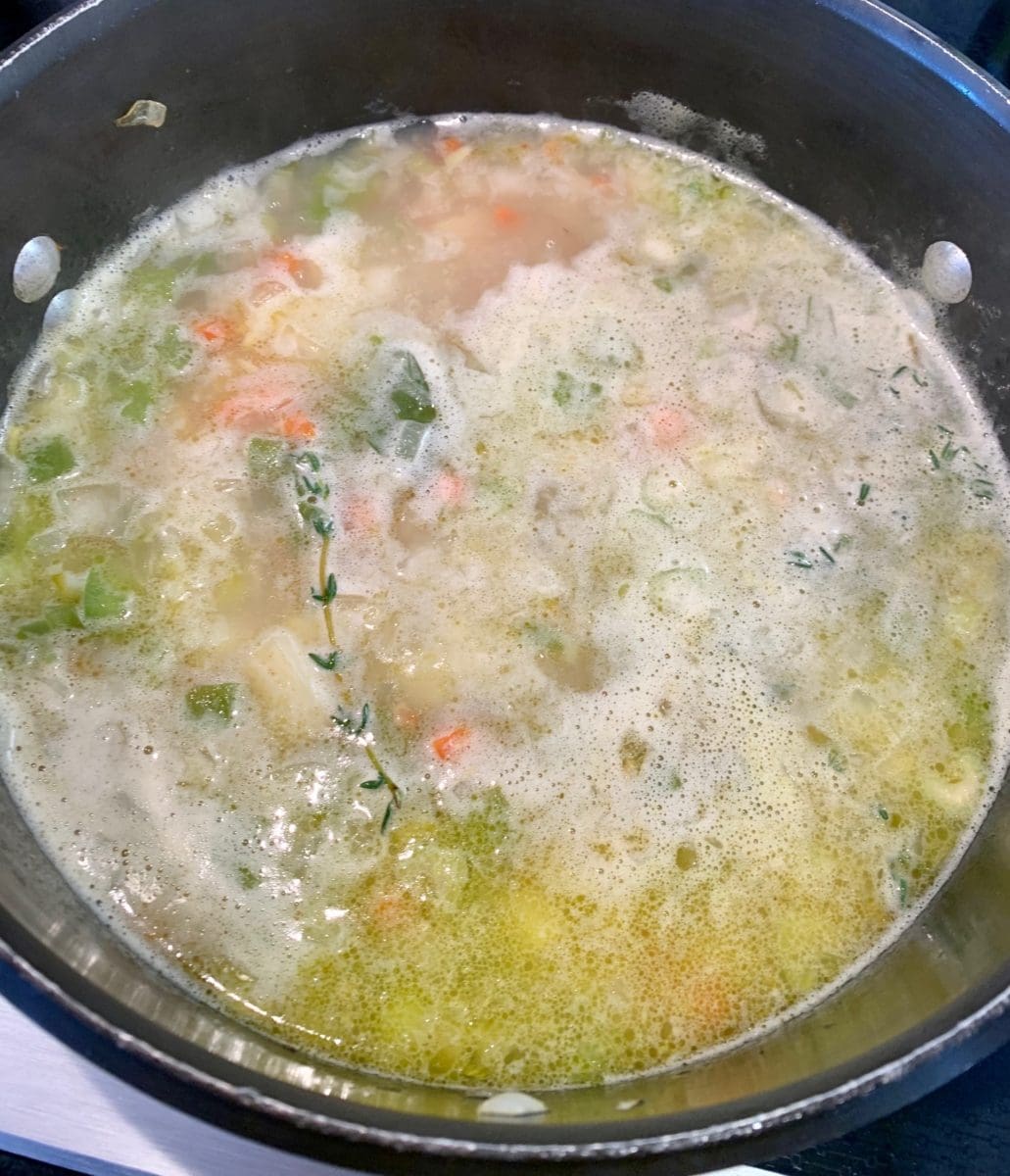 Pour in the water and clam juice or broth, thyme and bay leaf. Partly cover and simmer until the potatoes are tender.
Uncover and stir in the tomatoes until they are heated, then add the clams and bacon, stir together and adjust the salt and pepper. Stir and return to a simmer, then remove from heat, discard the thyme sprig and bay leaf and rest for 30 minutes.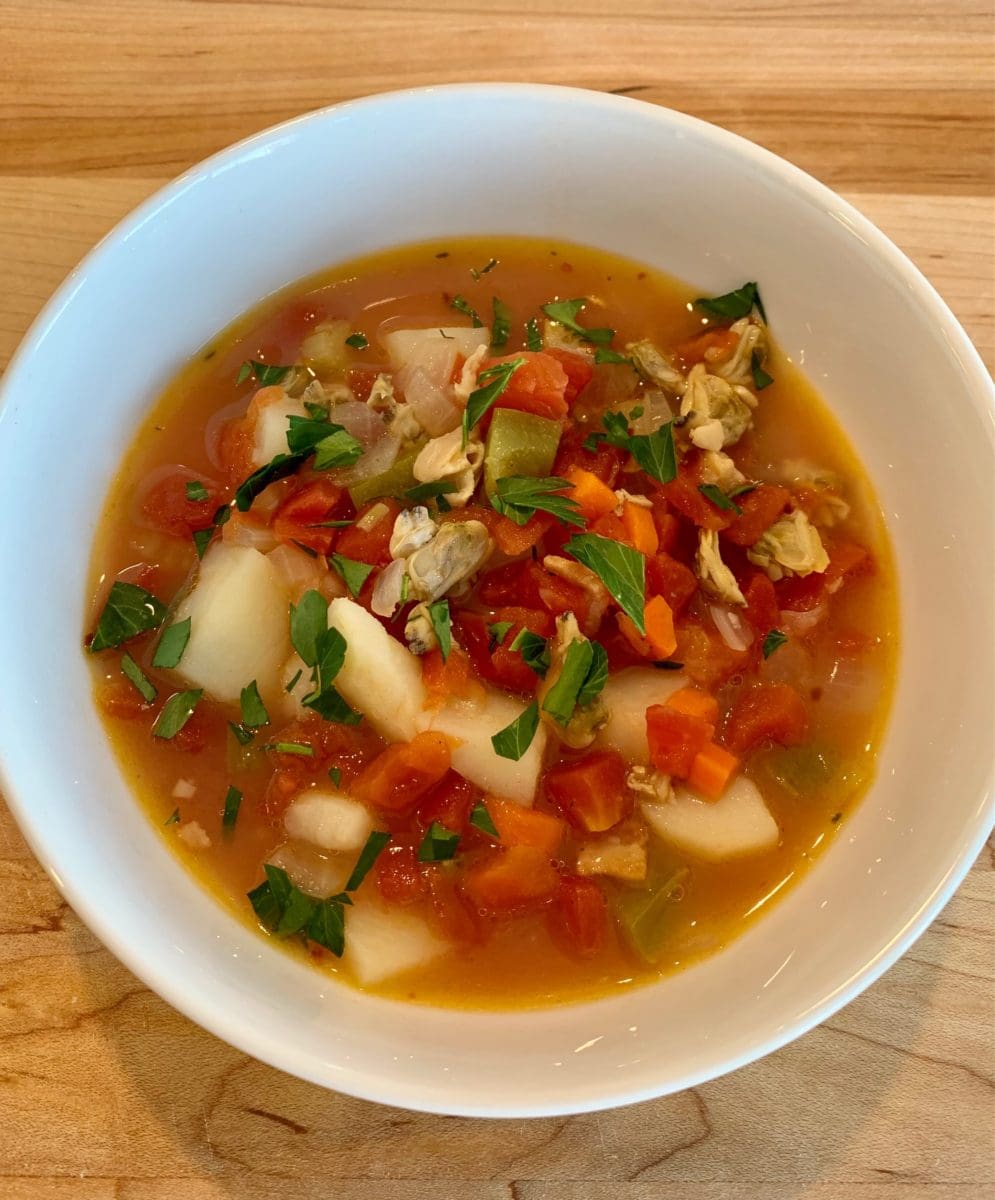 Garnish with chopper parsley and serve with crackers.
Print
Manhattan Clam Chowder
New York Manhattan Clam Chowder
Author:
Prep Time:

20

Cook Time:

60

Total Time:

1 hour 20 minutes

Yield:

4

servings

1

x
3

dozen fresh live clams – OR – (2) 6.5 oz cans of chopped or minced clams

3 cups

water

1

TBL unsalted butter

4

slices uncured bacon – diced

1

large white onion – diced

3

garlic cloves – minced

2

celery ribs – diced

1

green pepper – seeded and diced

2

medium carrote – diced
red pepper flakes – to taste

3

red potatoes – cubed to bite size

3

sprigs fresh thyme

1

bay leaf

1

28 oz can whole peeled and diced tomatoes with juice
Freshly ground black pepper – to taste

1 tsp

salt and more to taste

1/4 cup

chopped parsley – garnish
Oyster crackers
Instructions
Fresh Clams: Place the clams and 4 cups of water over medium high heat. Cover and cook until they have opened, about 10 minutes. Discard any clams that fail to open! Strain the broth and reserve. Remove the clams from the shells and set aside.
Canned Clams: Drain the clams, strain the liquid, refrigerate and reserve both .
Melt the butter on medium low heat in a soup pot. Add the bacon and cook, stirring occasionally until the fat has rendered and the pork has started to brown – about 5-7 minutes. Remove the bacon and drain on a paper towel
Add the onions, celery, green peppers and carrots to the pot and cook stirring until the vegetables are soft but not brown, about 10 minutes
Stir in the garlic and potatoes, continuing to cook until they have begun to soften – about 5-7 minutes more
Add the clam broth from the fresh clams, or 3 cups of water and the strained, canned clam juice, the bay leaf and thyme sprigs
Partly cover the pot and low simmer until the potatoes are tender, about 10-12 minutes more. Test to see how a potato smashes with a spoon
Stir in the tomatoes and heat them through
Add the clams and reserved bacon, stir to combine and adjust salt and pepper to taste
Return soup to a simmer, then remove from heat and discard the bay leaf and thyme
Let the chowder rest for 30 minutes to give the flavors time to meld, then reheat before serving if necessary
Garnish with chopped parsley and serve with oyster crackers on the side