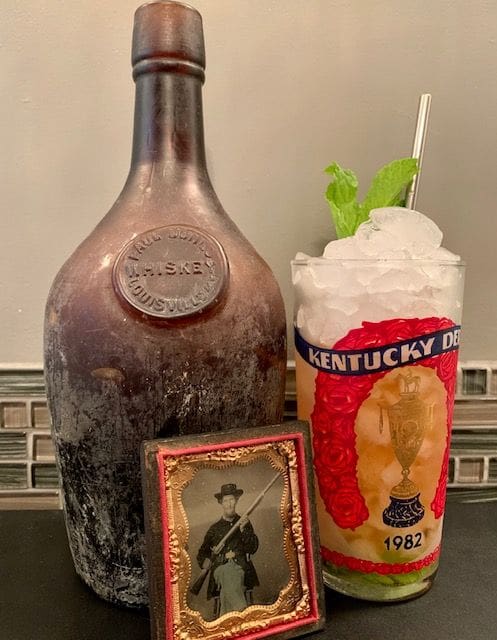 The Kentucky Derby, a national holiday, is upon us. In deference to such a momentous annual event, occurring on the first Saturday each May, I thought it fitting to feature a fabled drink, the mint julep. Schools, the stock market, financial institutions and many others are closed for business on derby day as they should be. Amen.
Mint Julep History and Trivia
The mint julep was prescribed as a medicinal treatment in literature as early as 1784, and introduced as a libation to the hoi polloi of Washington, D.C. by U.S. Senator Henry Clay of Kentucky while in residence at the Willard Hotel.
It's the signature drink of Churchill Downs and has been since 1938. Roughly 120,000 of them are served over a two day period during the Kentucky Oaks race on the Friday preceding the derby and on derby day itself. Many are served in commemorative glasses such as those pictured here.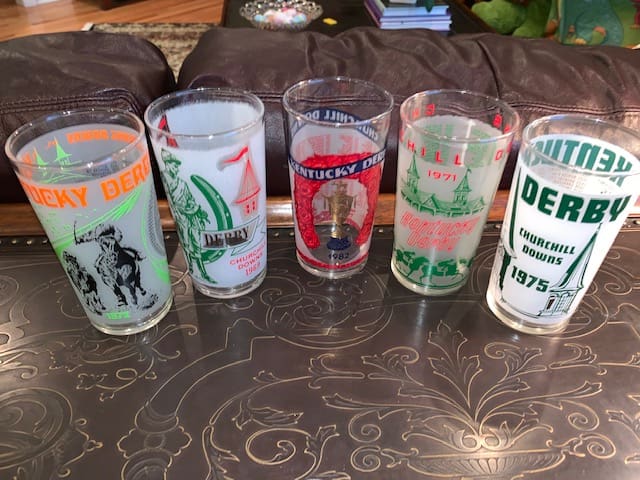 Churchill Downs makes a $1,000 mint julep using Woodford Reserve bourbon, Irish mint, Bavarian spring water and Australian sugar. Who knew Australian sugar was special? They also made the world's largest mint julep, 206 gallons, in a specially made container. I'll bet it took more than one attendee to drink it all.
The earliest references list Early Times as the bourbon used for mint juleps, but today the official bourbon of the Kentucky Derby is Woodford Reserve. It is a fine bourbon and makes a wonderful Mint Julep.
Print
Mint Julep
Classic Kentucky Derby Mint Julep with Sugar, Bourbon and Mint
Leaves from a sprig of spearmint

1

heaping teaspoon of sugar

1 tablespoon

of clear spring water
Crushed ice

2

and 1/2 ounces of premium Kentucky Bourbon
sprig of mint – for garnish
Instructions
Place the leaves from a sprig of spearmint at the bottom of a genuine Kentucky Derby commemorative glass or a tom collins glass
Add a heaping teaspoon of sugar and a tablespoon of clear spring water
Muddle the mint, sugar and water until the sugar is mostly dissolved
Express another piece of mint by rubbing the interior rim of the glass
Fill the glass halfway with crushed ice
Add 2 and 1/2 ounces of premium Kentucky Bourbon
Gently stir for just a moment
Top off the glass with more crushed ice, packing and rounding it at the top
Garnish with a sprig of mint
Serve it with a straw
And just one more thing…
You don't have to attend the Derby to enjoy these, but you need to genuflect properly to the bartender that serves you such a fine drink!