Print
Arkansas Cheese Dip
Arkansas cheese dip is an obsession here and it's a required appetizer for game-watch parties and barbecues. We're not limited to just one recipe and that's part of the fun. Everybody has their own, and that's precisely what makes it authentic. We get to taste and debate whose is best, but they're all good and you get the picture, it's important.
The Origins of Cheese Dip
Blackie Donnelly and his wife introduced cheese dip at Mexico Chiquito in North Little Rock in 1935. It predates the invention of nachos in Mexico and Ro-Tel in Texas. This is where queso loving Texans begin to howl and rail against Arkansas claim.
A James Beard award winning food writer, the "Homesick Texan", grudgingly admits the name "cheese dip" was first used by the Donnellys. However, she infers without proof that they served the same thing in Kilgore, TX. She emphatically asserts the Donnelly's did not introduce queso to the world, and that's the essence of the debate.
Arkansas' favorite son, former President Bill Clinton famously said it depends on what the meaning of the word "is" is. We stipulate that Blackie did not invent queso, but the argument turns on what "is" the definition of cheese dip.
Arkansas Cheese Dip vs. Queso
These two cheesy wonders are related but distinctly different animals. Unlike queso, cheese dip is made with velveeta. It's designed to melt and stay melted, remaining smooth, silky and clump free far longer. It's thinner, because it includes other dairy products and more flavorful with spices, chilis, veggies and herbs.
At the height of the queso-cheese dip war, Arkansas and Texas state senators arranged a tasting competition. John Boozman and Tom Cotton dropped a bomb on John Cornyn and Ted Cruz in a blind taste test. The senate republican lunch-room voted Arkansas cheese dip the best, achieving queso's unconditional surrender.
Popularity
Blackie Donnelly's creation found it's footing in central Arkansas and spread to the four corners of the state. Everyone has their own recipe, but the foundation was laid long ago at Mexico Chiquito. Today, you can attend the World Cheese Dip Championship on the grounds of the Clinton Presidential Library.
The Verdict
Nick Rogers, a Little Rock lawyer argues for the defense that Arkansas cheese dip is unique and produced a short film on the subject. Watch it HERE for an entertaining look at #3 on my list of Arkansas Originals.
This (almost) world championship recipe is courtesy of Scott McGehee and Heights Taco and Tamale Company. I admit I made a few modifications, otherwise it wouldn't be authentic!
1/2

lb Velveeta – cubed

8 oz

jack cheese – shredded

2 cups

whole milk

1/2 cup

cilantro – chopped and loosely packed

1

medium jalapeno – minced

2

small cans diced, mild green chilis

1

medium poblano pepper – minced, optional

1 cup

crushed red tomatoes – drained

2 tsp

dark chili powder

1 cup

yellow onion – minced

2 tsp

ground black pepper

2 tsp

garlic salt

1

TBL ground cumin

4

TBL flour

3

TBL butter

1/2 tsp

cayenne pepper – garnish

1

serrano pepper – thinly sliced garnish

2

–

3

slices sweet yellow mini pepper – garnish

2

–

3

slices sweet red mini pepper – garnish

1

–

2

slices sweet orange mini pepper – garnish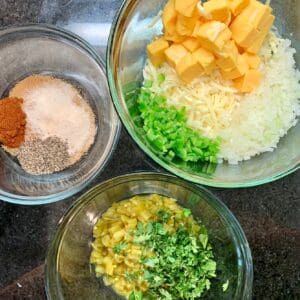 Instructions
Cube the velveeta and shred the jack cheese
Add the milk and the cheeses to a slow cooker on low heat
Use a strainer to drain the liquid from the canned crushed tomatoes, chop the cilantro and prep the veggies
Add them all (except the garnishes) with the remaining spices to the slow cooker and stir briefly
Melt the butter in a heavy bottom pan on medium heat and when hot add the flour
Cook for 3-5 minutes to cook the flour and create a roux, then add it to the slow cooker
Cook on low, stirring occasionally until the cheese is melted and all the ingredients are incorporated
While the cheese dip is melting, slice the remaining garnishes
When fully melted and combined ladle the cheese dip into a serving dish and garnish with the peppers
Dust with cayenne pepper
Serve warm with crisp corn tortilla chips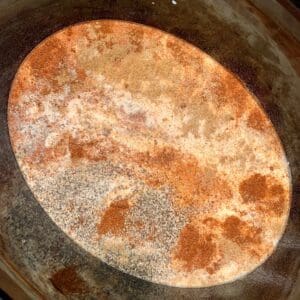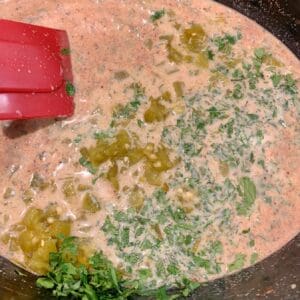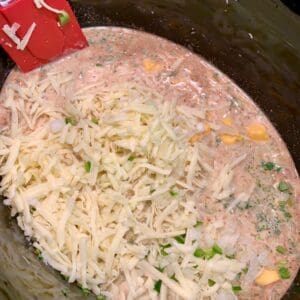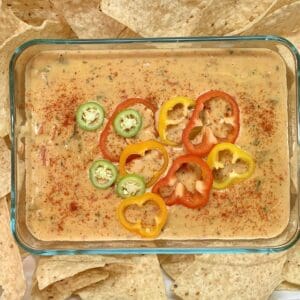 And just one more thing…
Unless you're lookin' for a fight, never call Arkansas cheese dip, queso.