Chef Enrique Olvero of Pujol is labeled the founder of molecular Mexican gastronomy, or the godfather of Nuevo Mexican cuisine because of the impressive list of chefs that have worked with him and then achieved success in their own right. Regardless how you choose to describe him, one thing is certain. The ambiance, food and service is deserving of the 13th best restaurant in the world.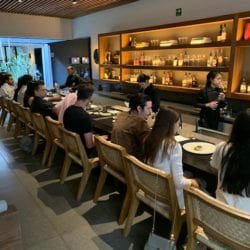 The interior, from the cantilevered, plush reception area to main dining room and taco bar, to the outdoor garden is a clean, modern design yet comfortable and welcoming.
We enjoyed service from a single dedicated server, supplemented by a team tending to drinks, running food or clearing and re-setting our table. We chose the tasting menu but lusted after the taco menu too. The taco bar was…just…over…there. So close but so far away but leaving something for a future visit perhaps.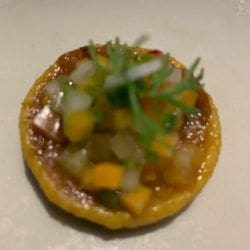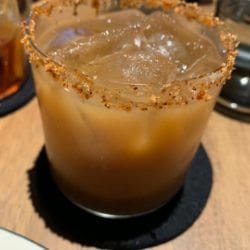 Once seated we enjoyed drinks. A tamarind margarita for me and mezcal negronis for my friends. While sipping them we examined our menu and had yet another choice to make. Maiz or Mar? Each menu offered seven courses with maiz focused on vegetables and mar seafood. Two chose Mar and one of us chose Maiz.
Pujol Menu
Our first taste was a single bite of sofrite, pictured above left. A mixture of seasoned, sauteed vegetables on a small corn taco. Our server called it street food.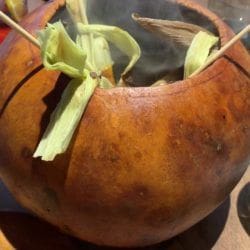 Baby corn that arrived in a smoking gourd was next. Edible from tip to stem and enveloped in a heavenly sauce, it rivaled another version we sampled earlier on our trip. The presentation was a hands down winner. We progressed through the following courses at a pace just right for maximum enjoyment.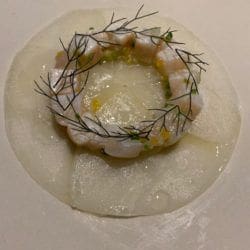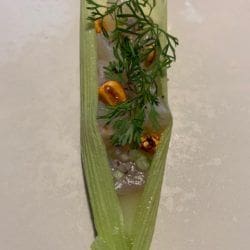 Chayote squash with scallop pico and Ceviche, cacahuazintle juice, celery and yuzo.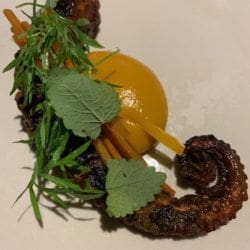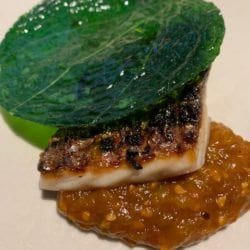 Octopus, chintextle with pickled carrot and Striped Sea Bass with hoja santa, tomato marmalade and plantain.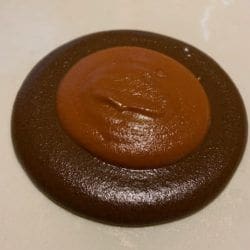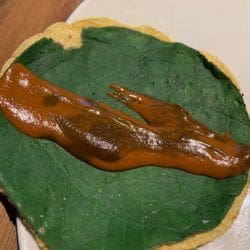 Mole Madre aged 1949 days. If you do the math that is more than five years! It developed a deep mellow flavor which contrasted with the red mole in the center made fresh daily and spicier, with chilies. Served with a taco we mixed the two and made a spread.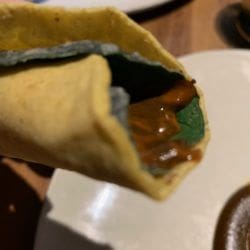 Mole Madre Taco ready to eat and our dessert, Matcha Nicoatole with lychee and yuzu.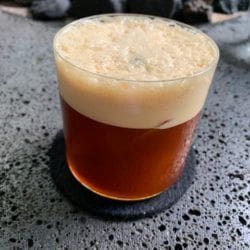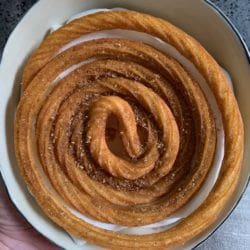 Finished with our last official course, we were offered coffee cocktails in the garden and a churro to share. It was a perfect combination to sip and relax in the tranquil surroundings. We took the opportunity to talk about our visit to a local market and bazaar earlier in the day.
Chef Enrique's success at Pujol has led to new restaurant outposts in New York City and Los Angeles.
And just one more thing…
The co-owner with Chef Olvero and executive chef of Cosme in NYC, Daniela Soto-Innes was recently named the Best Female Chef in the World 2019. I'm dining with her in about two weeks while visiting the big apple. Watch Cook Savor Celebrate for a report of my experience.