Quintonil's chef/owner, thirty-seven year old Jorge Vallejo, is near the top of the world. Specifically, his restaurant is #24 on the World's Best list for 2019. His menu is driven by farm to table ingredients with many from his own rooftop garden. Even the name, Quintonil comes from a Mexican herb. Classically trained at the culinary institute and a protege of famed chef Enrique Olvera of Pujol, Jorge has succeeded in his own right, serving his version of modern Mexican cuisine.
Two of us were fortunate enough to secure dinner reservations. When our good friend Charley (#year-of-yes) belatedly decided to join us, it meant changing to reservations for three and forgoing the tasting menu. Moving from a two-top to a three-top resulted in a time constraint that could not be overcome. Savvy diners that we are however, we created our own tasting menu by ordering ALL the apps on the menu, to share of course. Then there were the mains and desserts. Judging by the look on the face of our server, it might have been a first.
Cocktails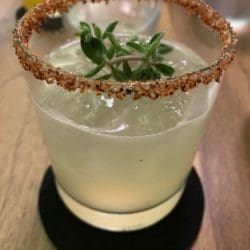 We continued our exploration in the world of mezcal with mango and lime with agave nectar cocktails.
Appetizers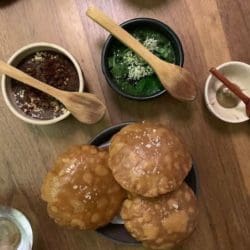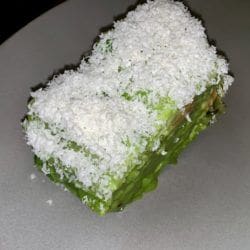 Salbutes (puffed deep fried tortillas) with salsa and hot mustard. Salad with cotija cheese.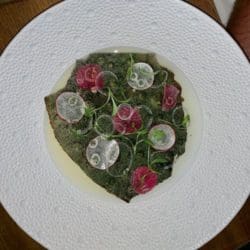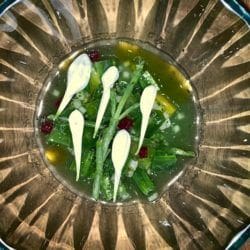 Crab tostada with lime radish and habanero chile mayo. Smoked kampachi with yuzu flowers, horseradish and emulsion of oysters.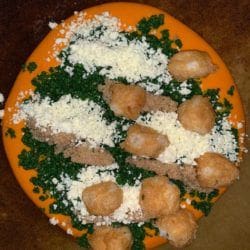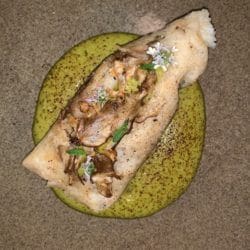 Huauzontles with chiapas cuadro cheese amaranth and tomato ragout. Jerusalem artichoke tamale with pine nuts in tree spinach and pipian sauce.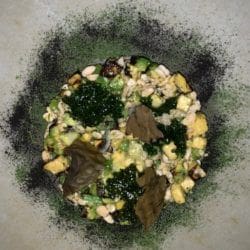 Charred avocado tartare with ant larvae and mexican herb chips.
Mains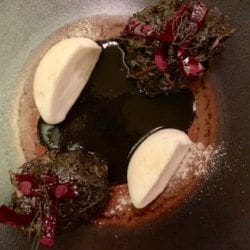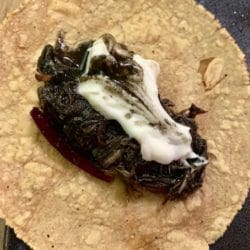 Braised oxtail in black recado with chile habanero red glazed onions au jus. Braised oxtail taco.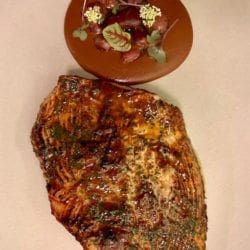 Sea Bass barbacoa in grasshopper adobo with beans.
Desserts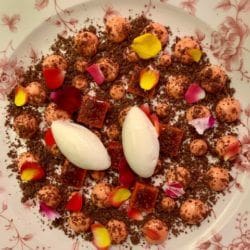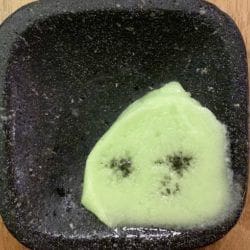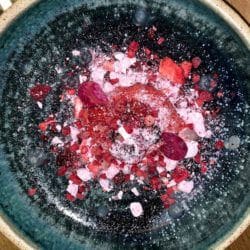 Mamey panna cotta with sweetened corn crumble and mamey seed ice cream. Kiwi. Guava rocks with guava creamy caramel and pink peppercorn gel.
And just one more thing…
Quintonil is ranked #24 in the world for the food and dining experience, but if there were a category for best guest photograph, they're #1.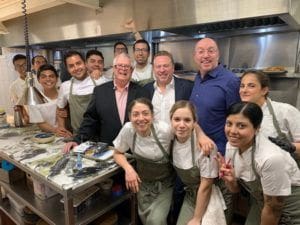 The three gringos from left are myself, Kevinthetraveler and of course, Charley