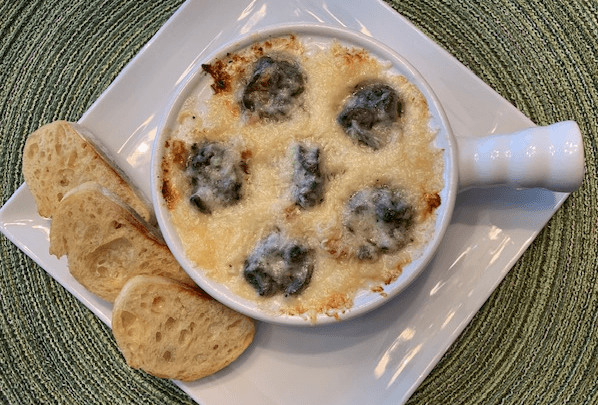 Escargot – Snails. You love 'em or hate 'em. I find that most haters have never tried them. That's their mistake because who doesn't like butter, garlic, cheese and fresh bread? The escargot are just a vehicle to transport the good stuff into out mouths!
My first snail was eaten at the home of a high school friend circa 1967. His mother served them at a posh party but she always included her son and his friends which meant me. There is escargot, and then there is Escargot. These were the type found at the grocery in a tube with shells. You stuffed them in the shells, added a little butter and baked. If the truth be told, I remember them as a very chewy, but not bad.
Years passed and as an adult I found them on the menu at a French restaurant, gave them another try and had a transcendent experience. They were tender morsels that disappeared all too fast. Today you won't find them on a menu in my hometown so I had to make them myself.
There was experimentation, aided by close friends and finally success. Many escargot noobies have tried them and all that do come back for more. If you want to give them a try, concentrate on the flavors.
The first rule is to buy high quality French Burgundy escargot from a reputable dealer such as iGourmet. They will be fresh and tender. Then follow my recipe. It's foolproof!
Print
Escargot
Garlicky, buttery goodness!
Author:
Prep Time:

30 minutes

Cook Time:

15 minutes

Total Time:

45 minutes

Yield:

4

1

x
24

escargot

1/2

stick softened butter

1/8 tsp

fresh ground black pepper

2

cloves garlic – minced

1/2

paper thin slice of onion – minced

2

slices bacon – cooked but not crisped

1

french baguette

4 oz

fresh grated parmagiano-reggiano cheese
Instructions
Pre-heat oven to 350
Thouroughly mix butter, garlic, onion and pepper
Fry the bacon to render the fat. Place a drop or two of the fat into each depression of the baking dishes and if you wish a teeny tiny piece of bacon.
Snack on the remaining bacon while cooking!
Rinse and pat the escargot dry
Pack an escargot with the butter mixture into each baking dish hole
Divide the cheese equally and cover each dish completely
Place the baguette in the oven with the escargot and bake about 12-15 minutes until cheese is bubbling and browning on top
Remove the escargot
Slice the baguette into 1/2″ pieces on the bias
Serve together using the baguette to sop up the remaining butter sauce
And just one more thing…
Farming the Helix specie of escargot is a $300 million/year business. Push that image of your common garden slug out of your mind. These are the Kings of the snail world!