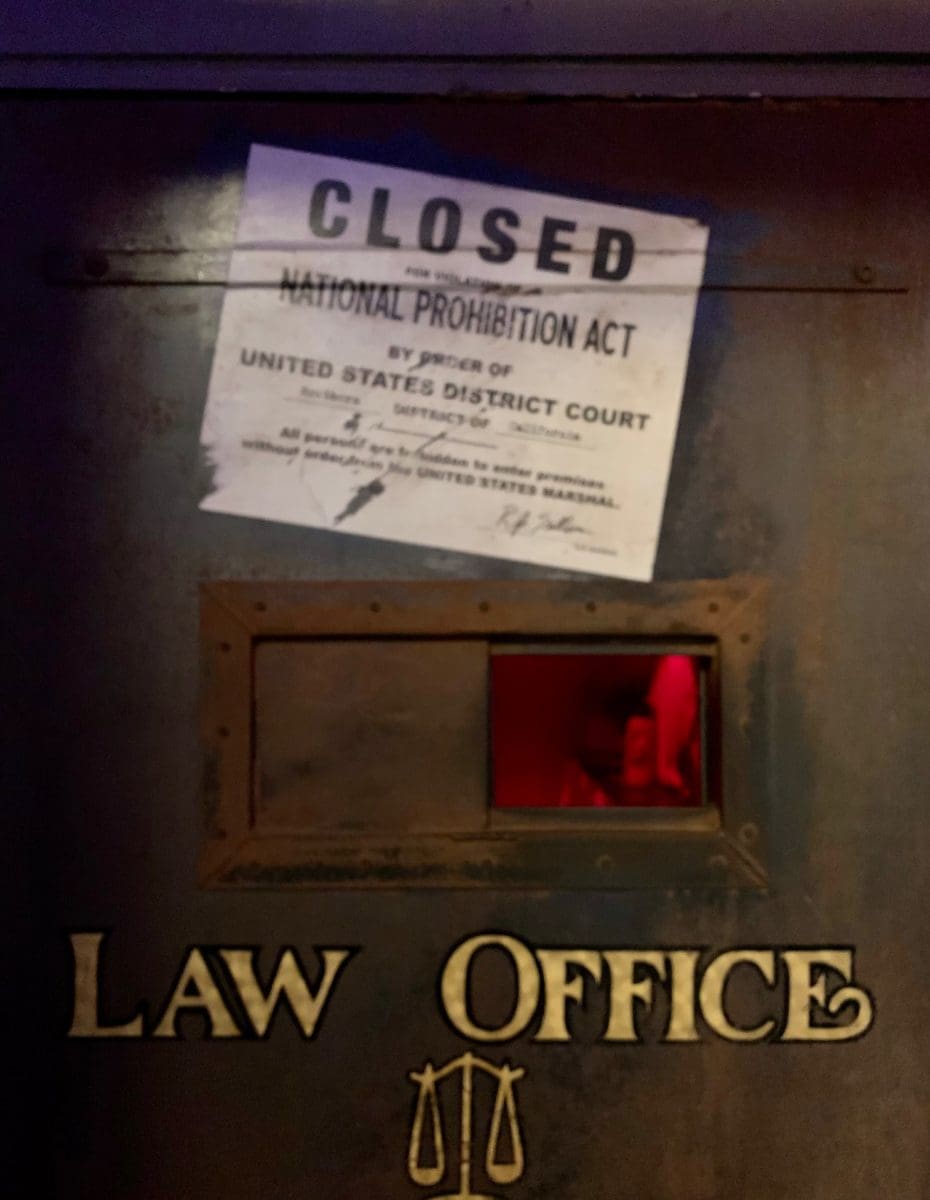 San Diego is famous for pristine beaches and year-round perfect weather, but it's also a hotbed of craft cocktails. The Gas-lamp Quarter is wall-to-wall bars, restaurants, pizza parlours, cigar emporiums and dance clubs, but also hides outstanding watering holes in the shadows. These are modern-day speakeasies, meant to replicate the illicit, private clubs that proliferated during the 1920's.
Prohibition Lounge
In the heart of the entertainment district, a single door is easily missed, hidden in plain sight. Knock and a doorman opens a dimly lit stairway leading to a subterranean enclave.
Intimate but rowdy would be the words for this small space with a performance stage. It's first come, first served and fills quickly until entry is gained only if someone leaves.
Drink slinger Nicole hooked us up with a House Nacional. It's a delicious riff on an old fashioned with rum, apricot, pineapple, lime, demerara and bitters.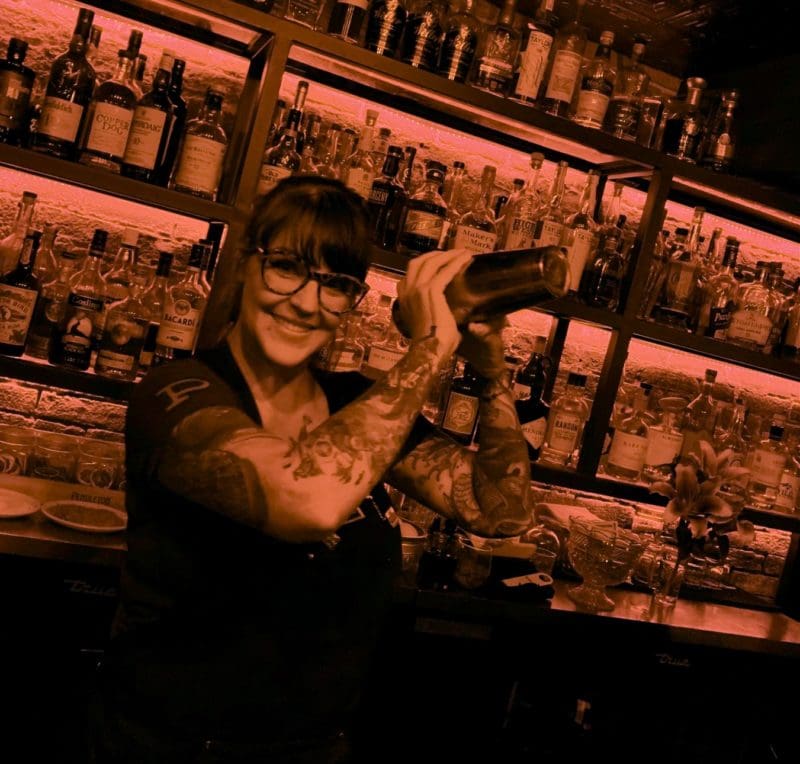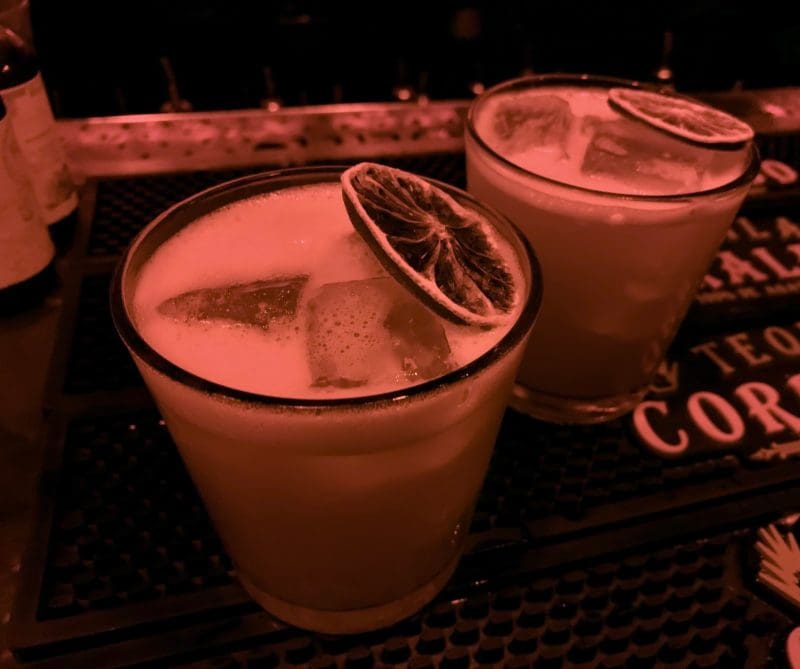 Blues band Chickenbone Slim and the Biscuits rocked the house and we stayed until I realized this was just the beginning!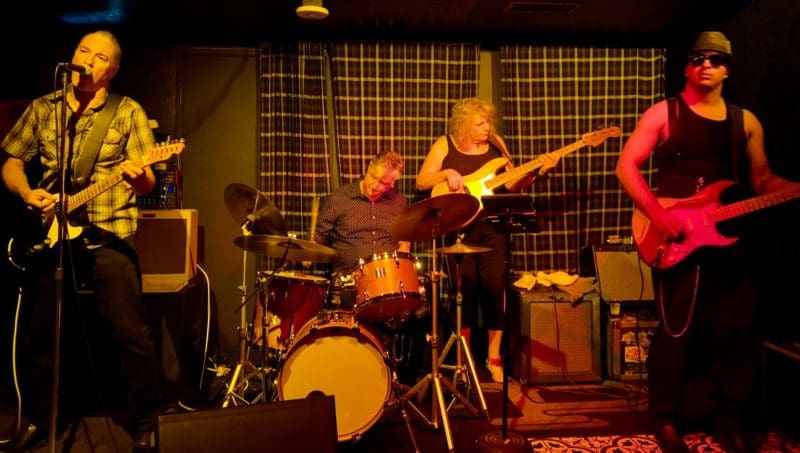 Room 56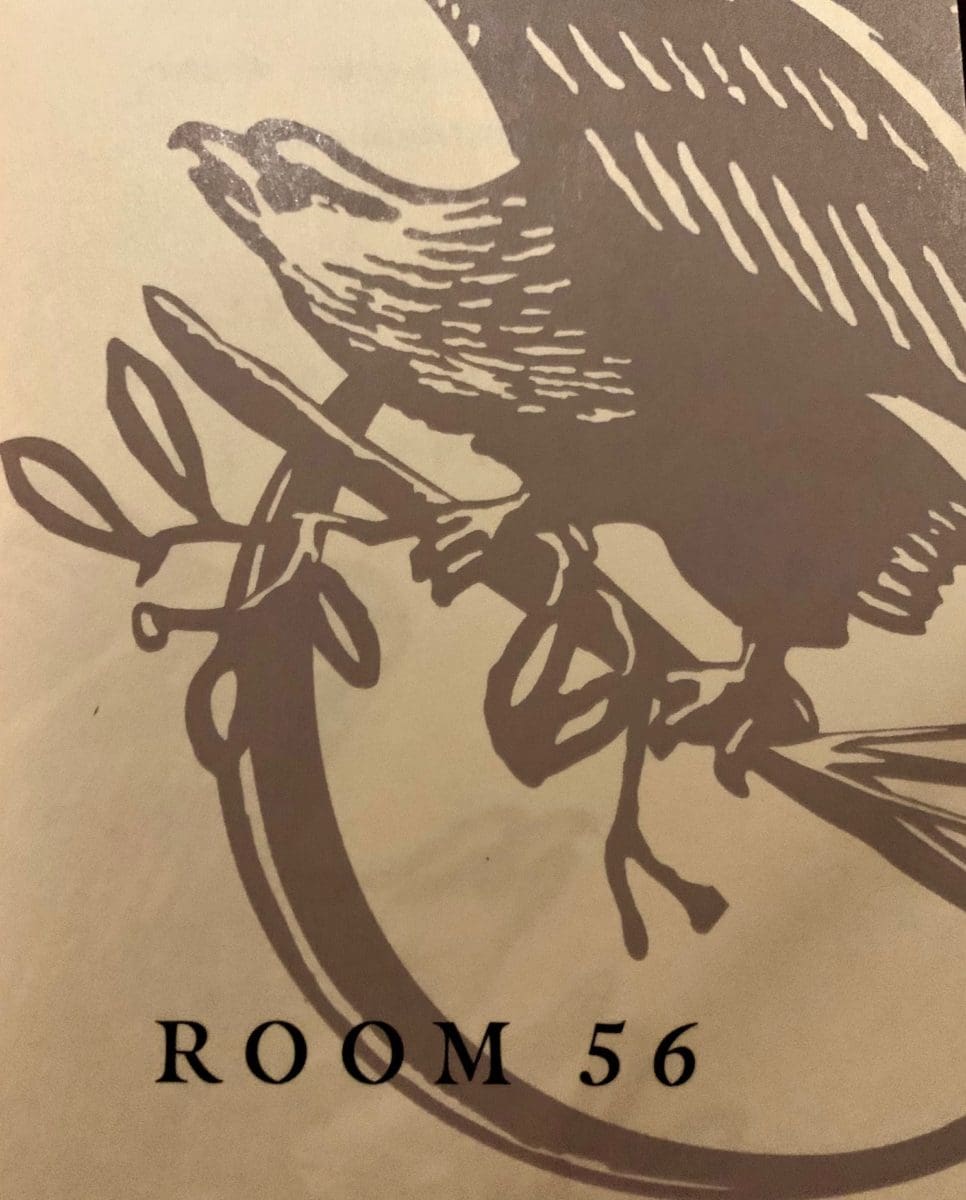 In the Moxy Hotel you'll discover things are seldom what they seem. Room 56 is named in honor of the signers of the declaration of independence. Like them, it's dedicated to Life, Liberty and the Pursuit of Happiness.
This is a reservation only cocktail lounge with room for 15-20 guests. Visit the website and there's only stylish, flowing  images spelling a signers name as you scroll. Reaching the bottom reveals a reservation link that as you click, maddeningly repeats "sorry, no reservations available" – until it doesn't.
Quiz the hotel lobby barman and he replies "the librarian will communicate all you need to know when you need to know it". At our allotted time an email directed me upstairs to a library where I chose a specific volume and waited. The librarian appeared in a hidden doorway and beckoned entry down a spiral staircase to the dimly lit bar.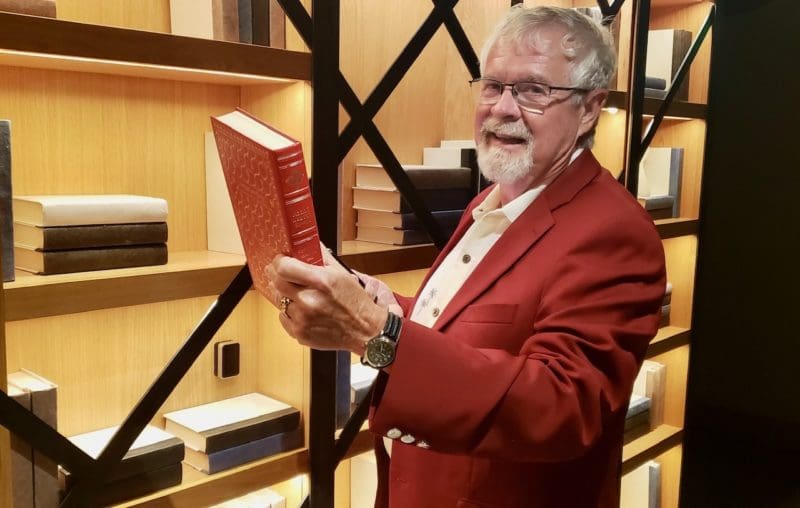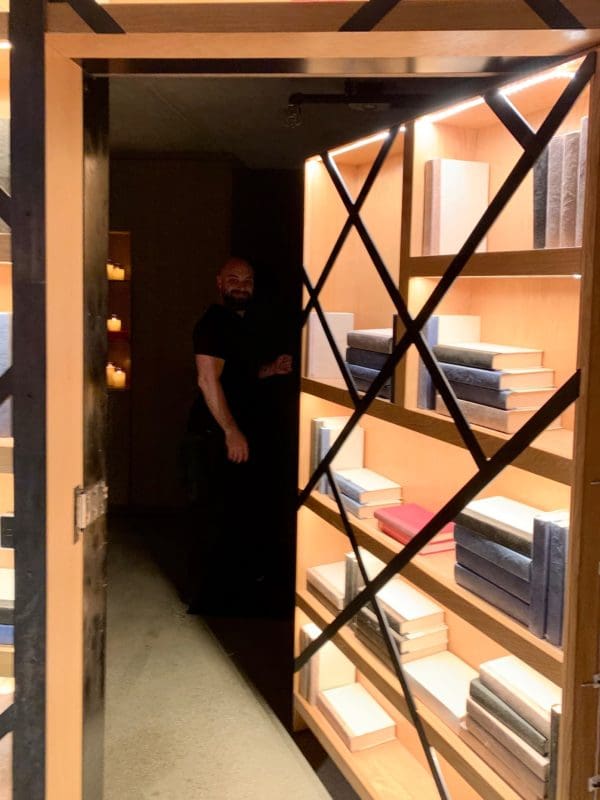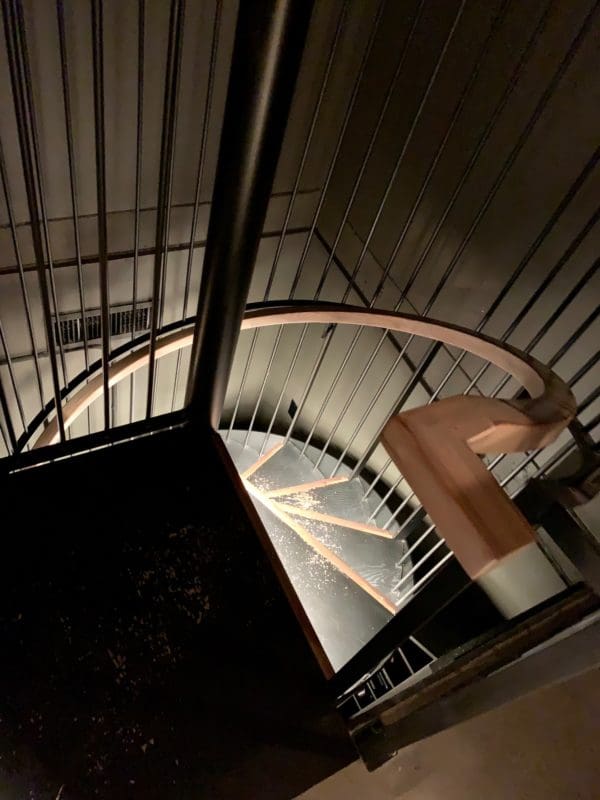 Ben serves a tightly curated cocktail list. It's divided into groups, either shaken or stirred and further sub-divided into classic styles represented by a pimm's cup, negroni, manhattan, whiskey sour, sazerac and corpse reviver. Where it becomes interesting is the house crafted interpretation of each classic category.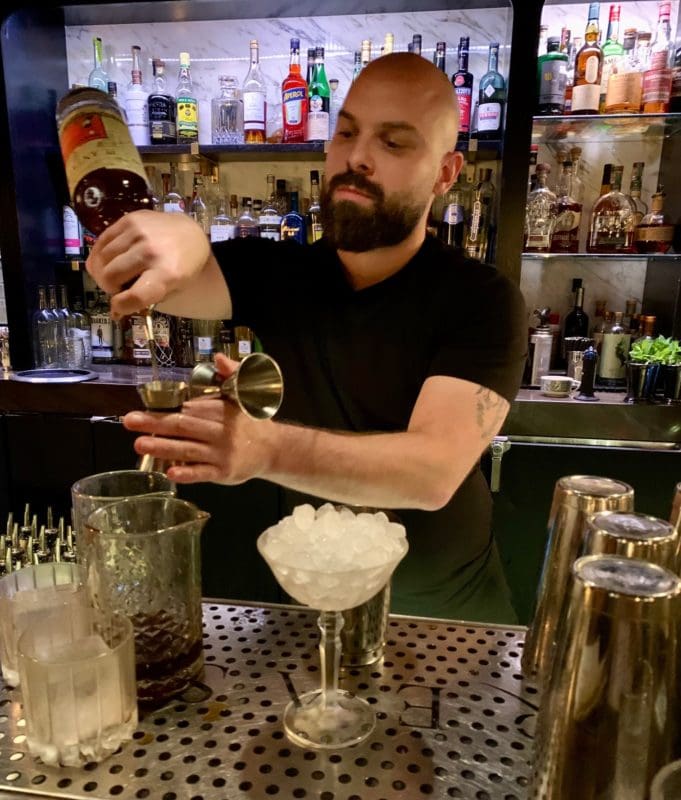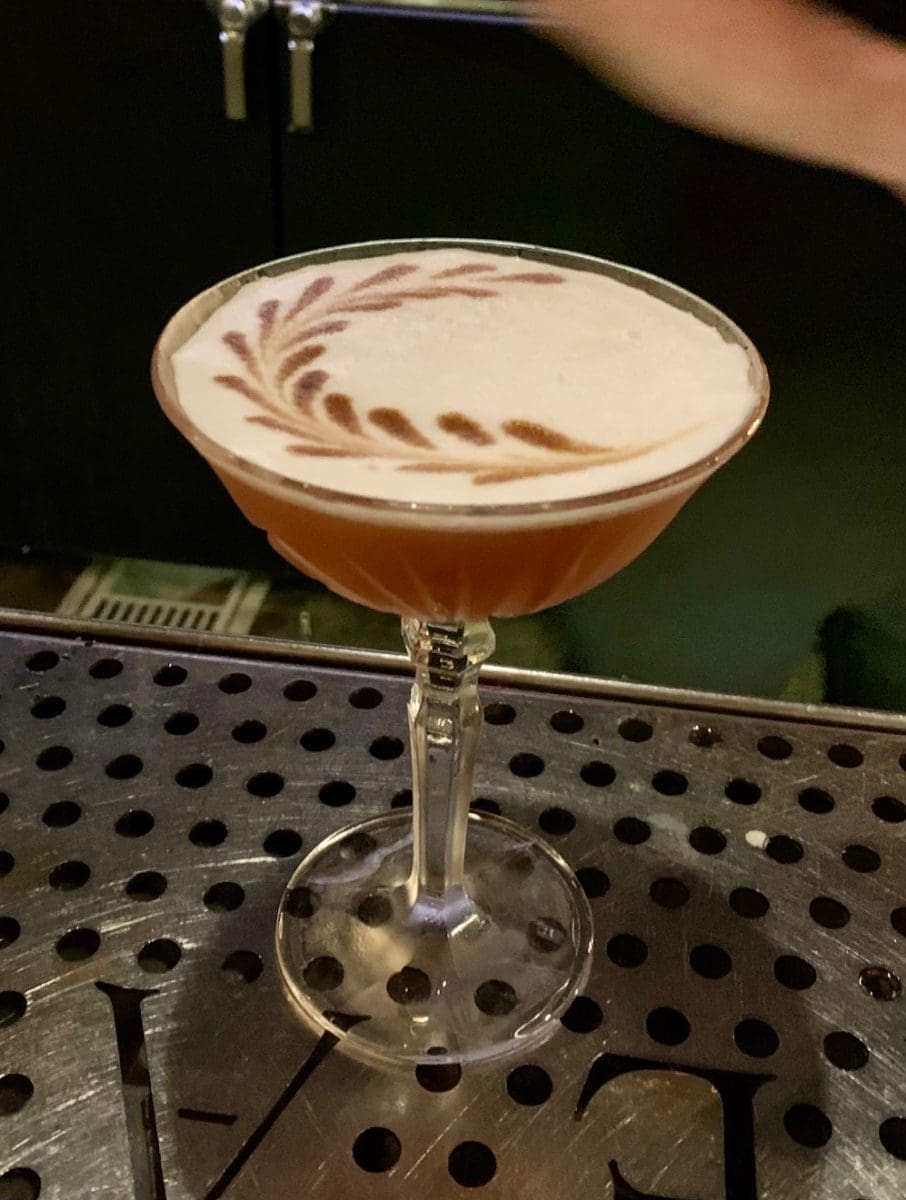 Ought To Be You, pictured above, is an ode to bourbon with fino sherry, lemon, cherry, vanilla, egg white and aromatic bitters.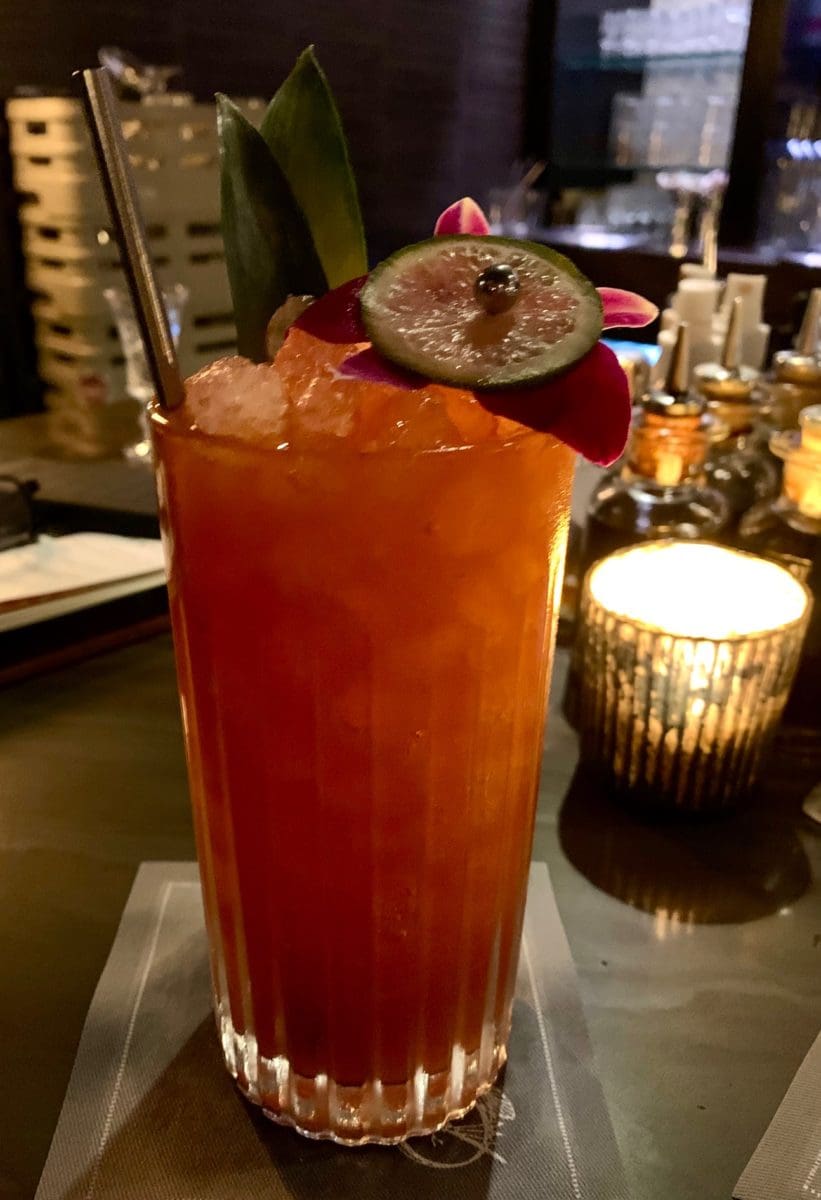 24 Carrot Magic made with white rum, rhubarb amaro, red bell pepper, cajun agave, carrot and lime was a beautiful cooler.
Noble Experiment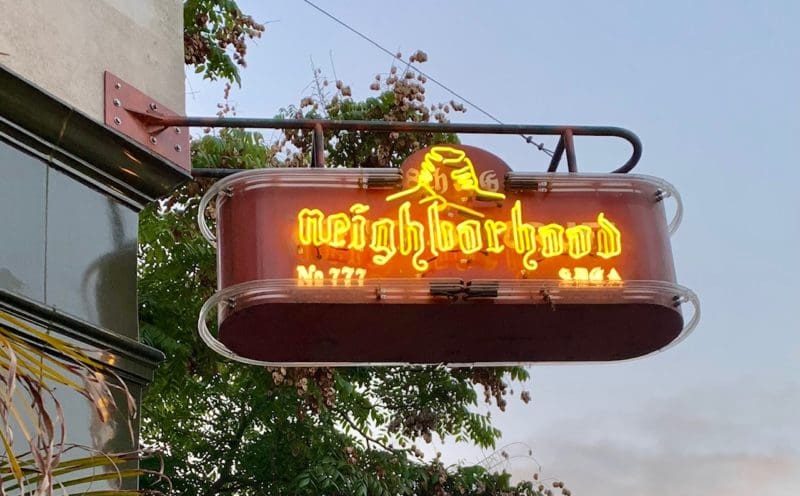 Access to Noble is through the Neighborhood Bar, a hipster craft beer and gastro-pub. Worth a visit, they offer steak tartare, crispy bone marrow and caviar "bumps" with a shot of beer or mezcal.
This speakeasy visit begins with a stop in the holding pen near the bar until summoned by the host. Entry is through a dead-end wall into a totally discombobulating fun-house style mirrored foyer. There, after confirming our reservation, the host ushers us through a mirrored door into the bar.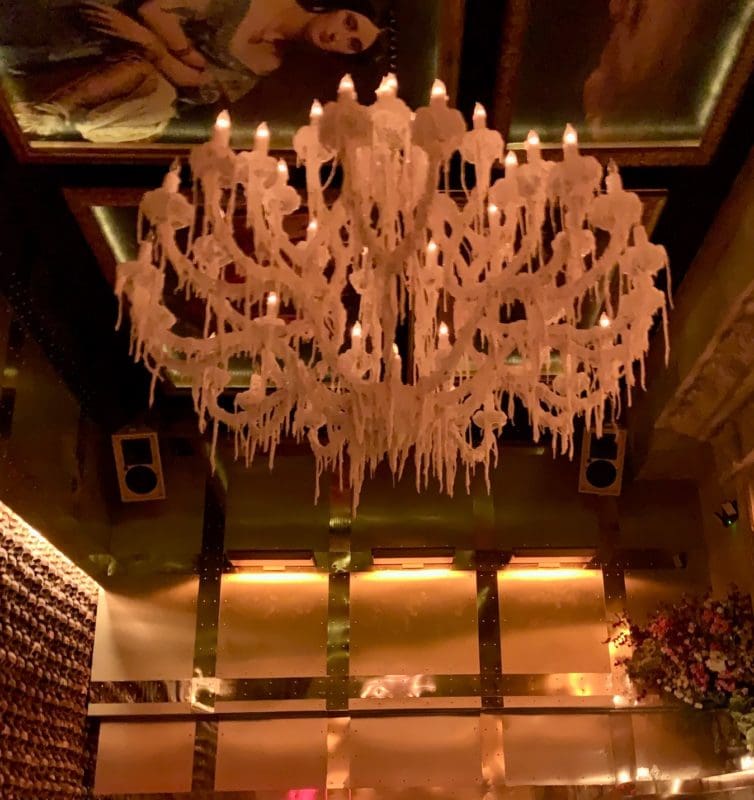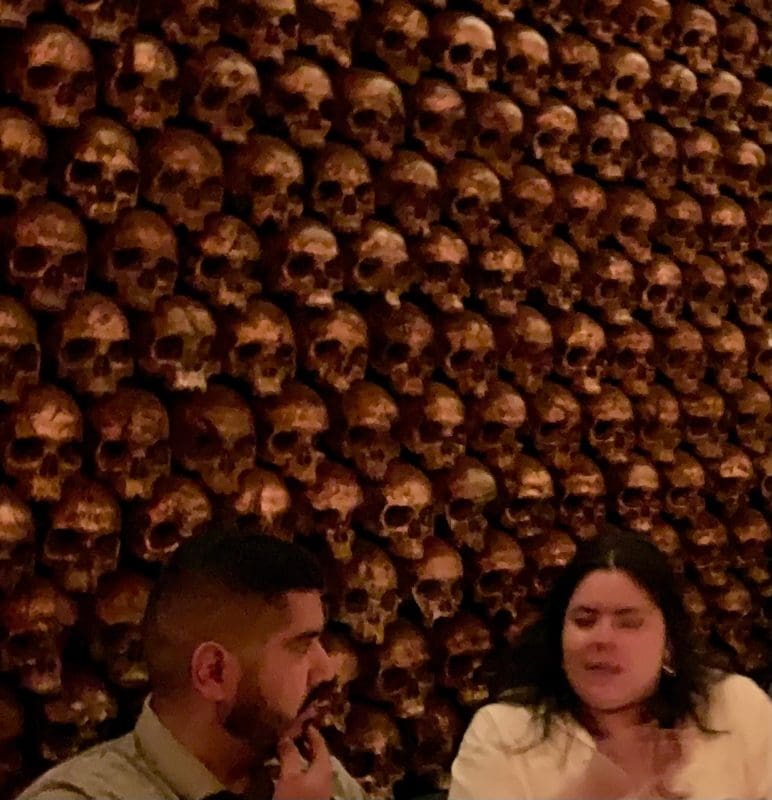 The dark macabre decor includes a rear wall covered in skulls and black leather banquettes. Once seated, you join the "experiment" and receive a dealer's choice. Our barman asked about general preferences then busied himself creating a refreshing riff on a last word and a frightening tiki drink.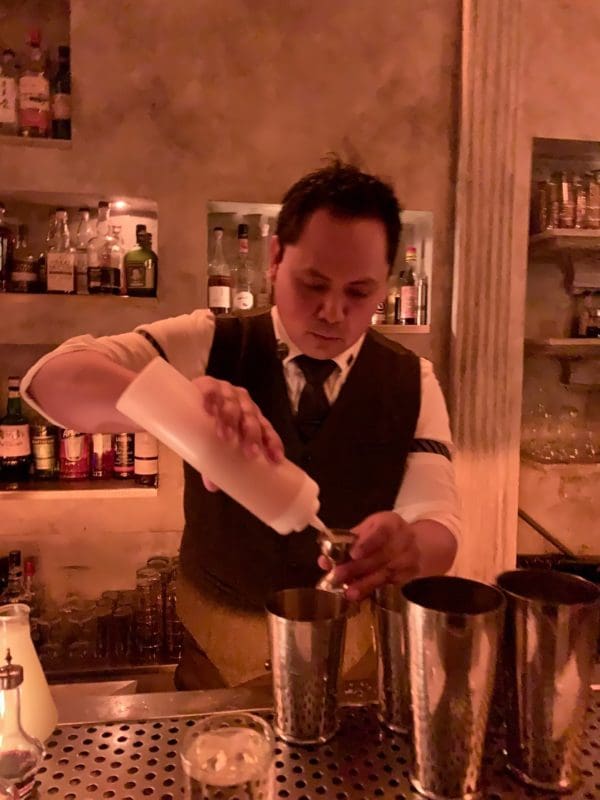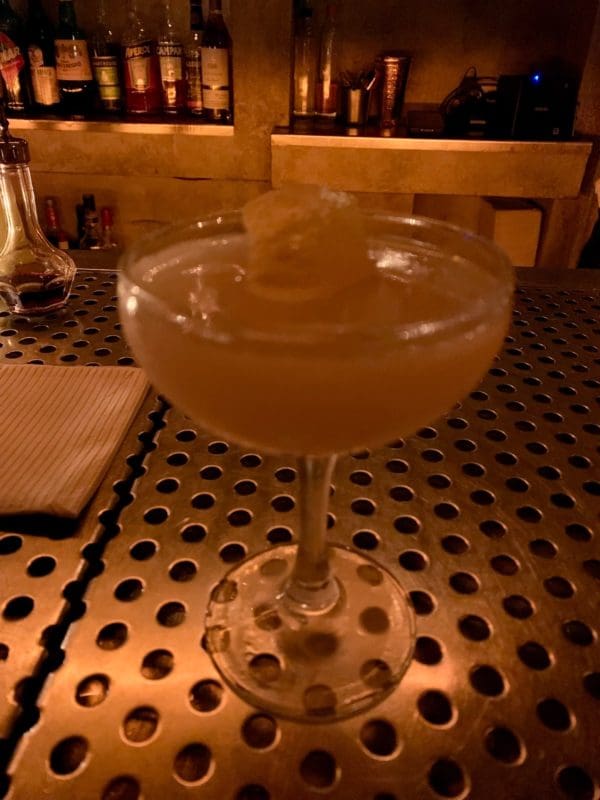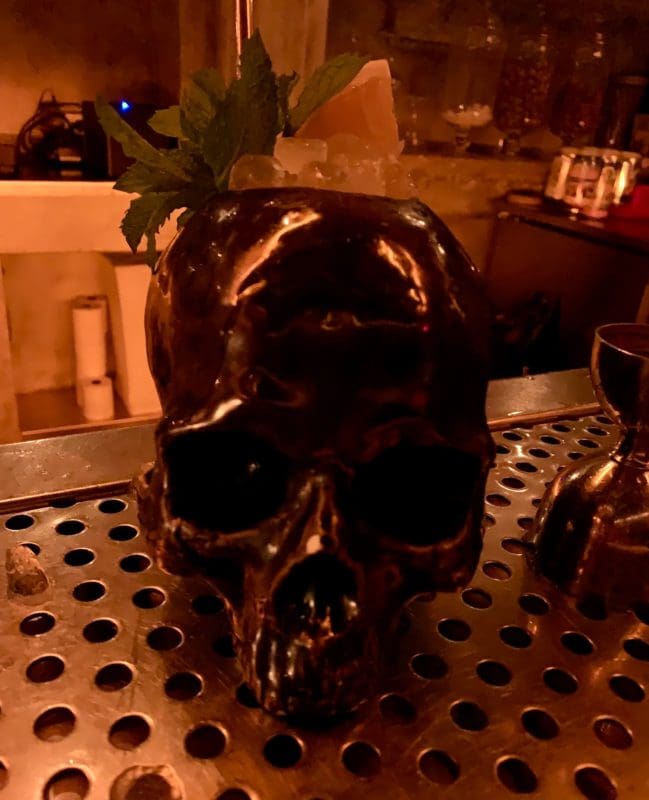 As we bantered with our bartender we caught a glimpse of light as the door opened and closed. Was there another hidden entrance?
Young Blood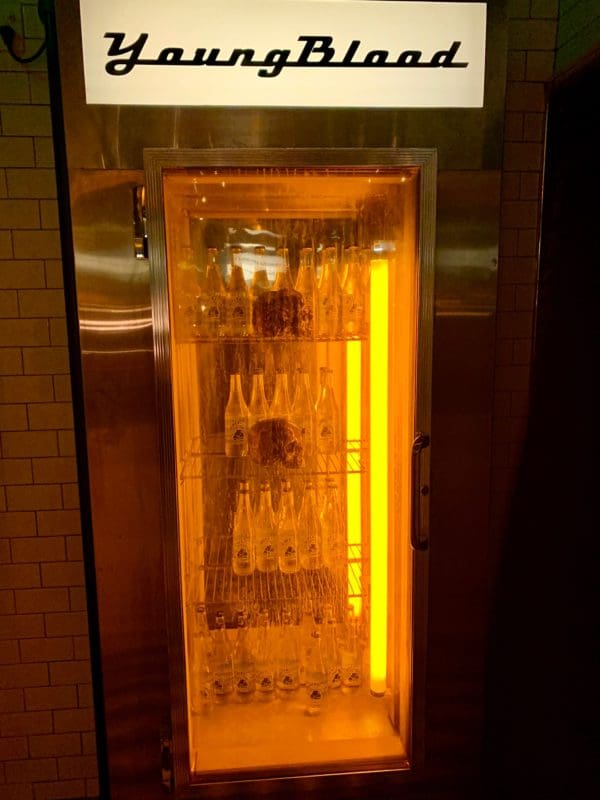 As a speakeasy within a speakeasy, within a bar Young Blood is unique. The neighborhood bar and anteroom of Noble Experiment is the portal from which you gain entry.
The gatekeeper leads you through the cooler to a foyer with three unmarked doors. One leads to YB, an opulent den of libations, another to the loo and a third to the street from which there is no return. He instructs you to "choose wisely, for while the true grail will bring you life, the false grail will take it from you".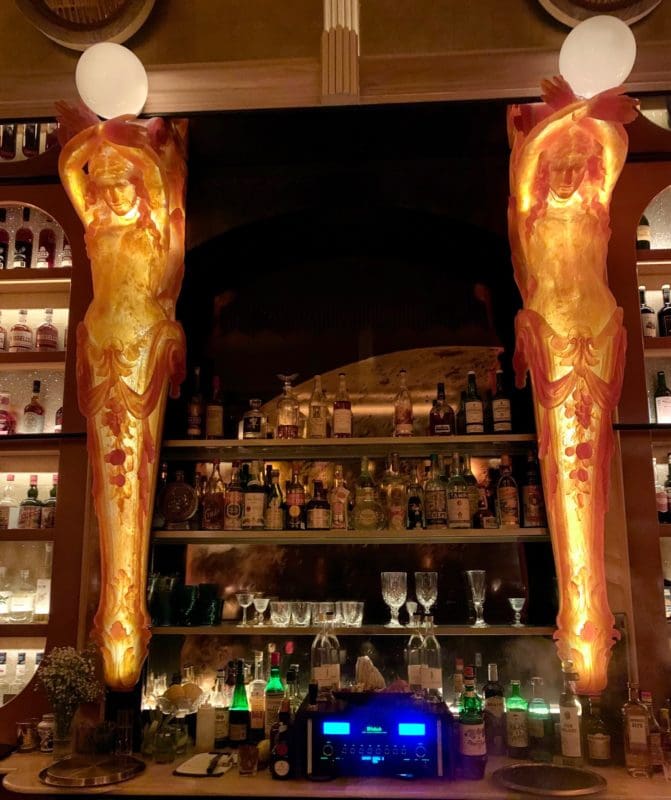 The multi-course theme of this bespoke cocktail bar begins with a champagne aperitif. It's followed by a three course menu curated for your personal taste. The barmen interview you to determine their creations and ask about favorite spirits, flavors, and styles.
Ewen is concentrating mightily as we describe our likes and dislikes. He, Zach and Brent made three delicious drinks for each of us. My first was a tart appetizer with gin, aperol and coche americano.
For the main course pictured below I enjoyed this beauty made with high-juniper gin, egg white, basil liqueur, strawberries and lemon juice.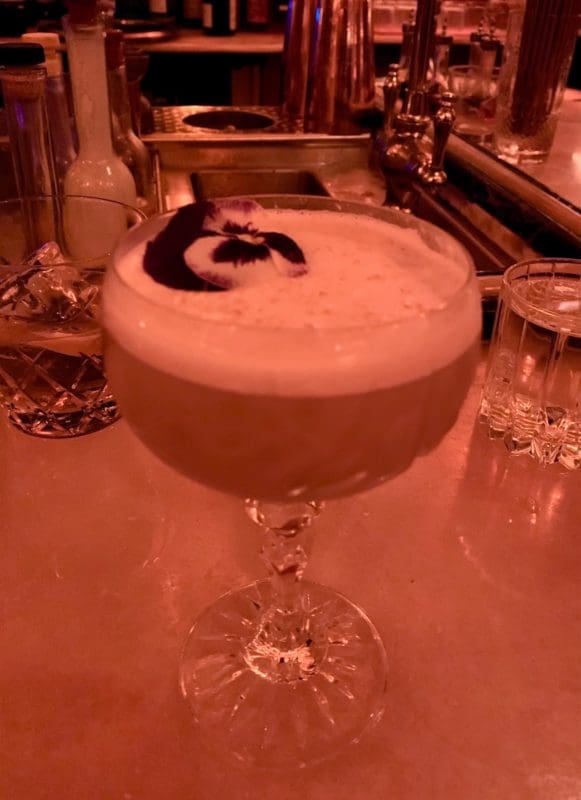 My nightcap of pedro jimenez sherry, raspberry liqueur, and white cocoa liqueur sent me…straight to the pizza parlour for a bedtime slice!
Raised By Wolves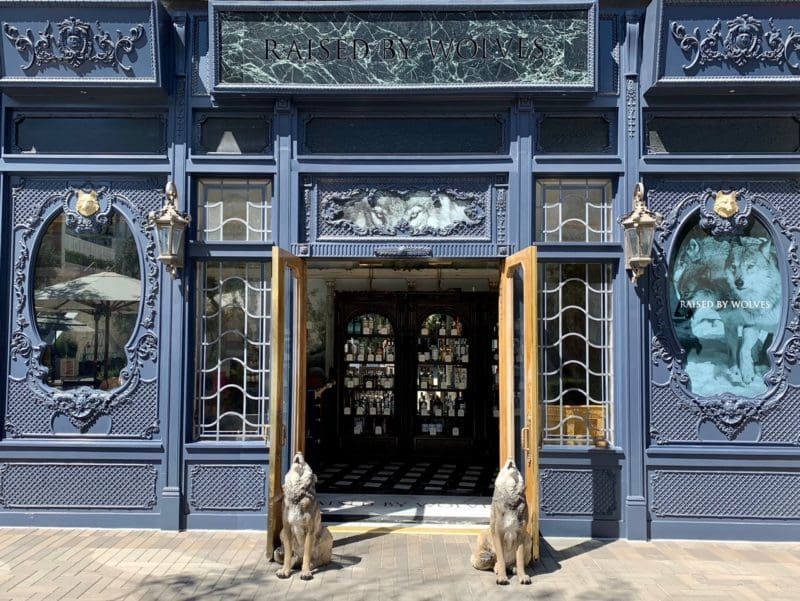 Outrageously lavish, this den of iniquity cost $4.8 million for the buildout and is far and away the largest, fanciest speakeasy of them all.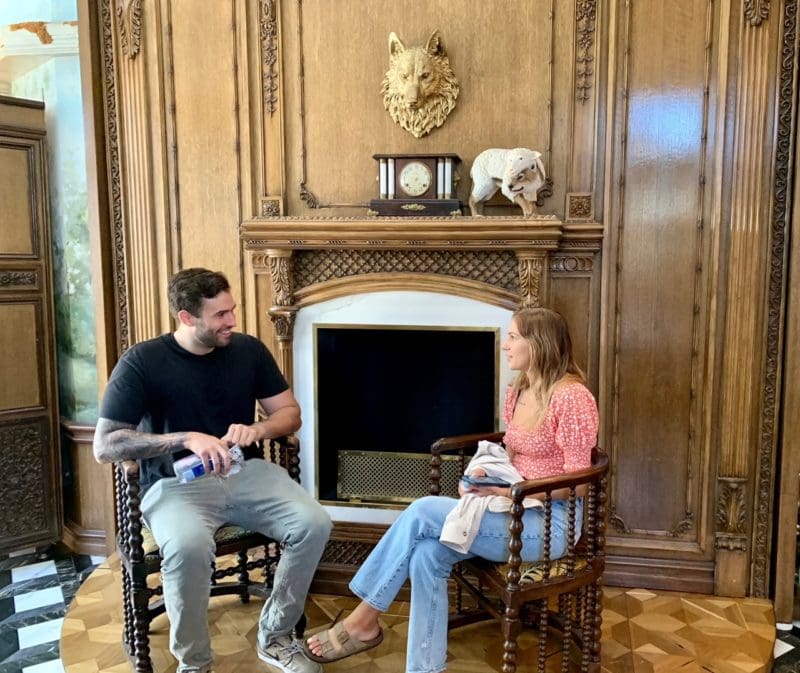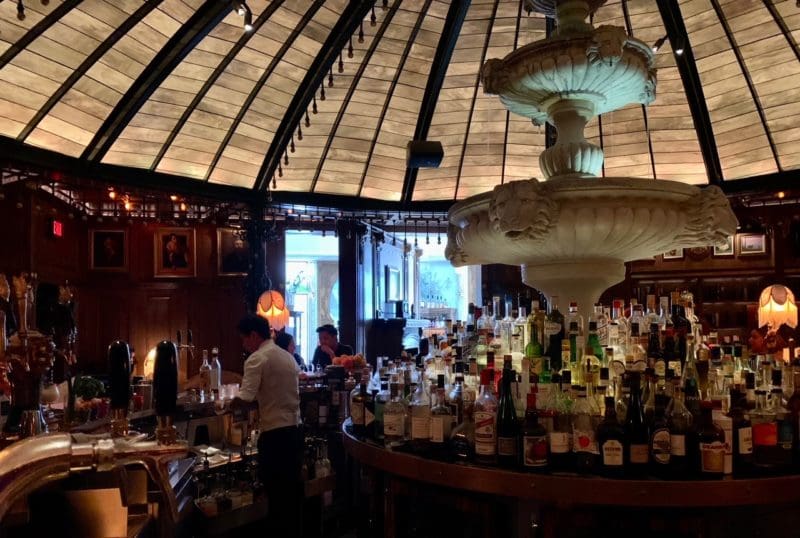 Entry is through the bottle-shop storefront, where you find a fireplace among the shelves of pricey rare spirits. At your appointed hour the clerk invites you to sit by the fireplace. It then rotates to discharge you on the other side of the wall, within the bar. The decor is stunning, with a back-lit glass atrium soaring above a circular bar with a fountain centerpiece.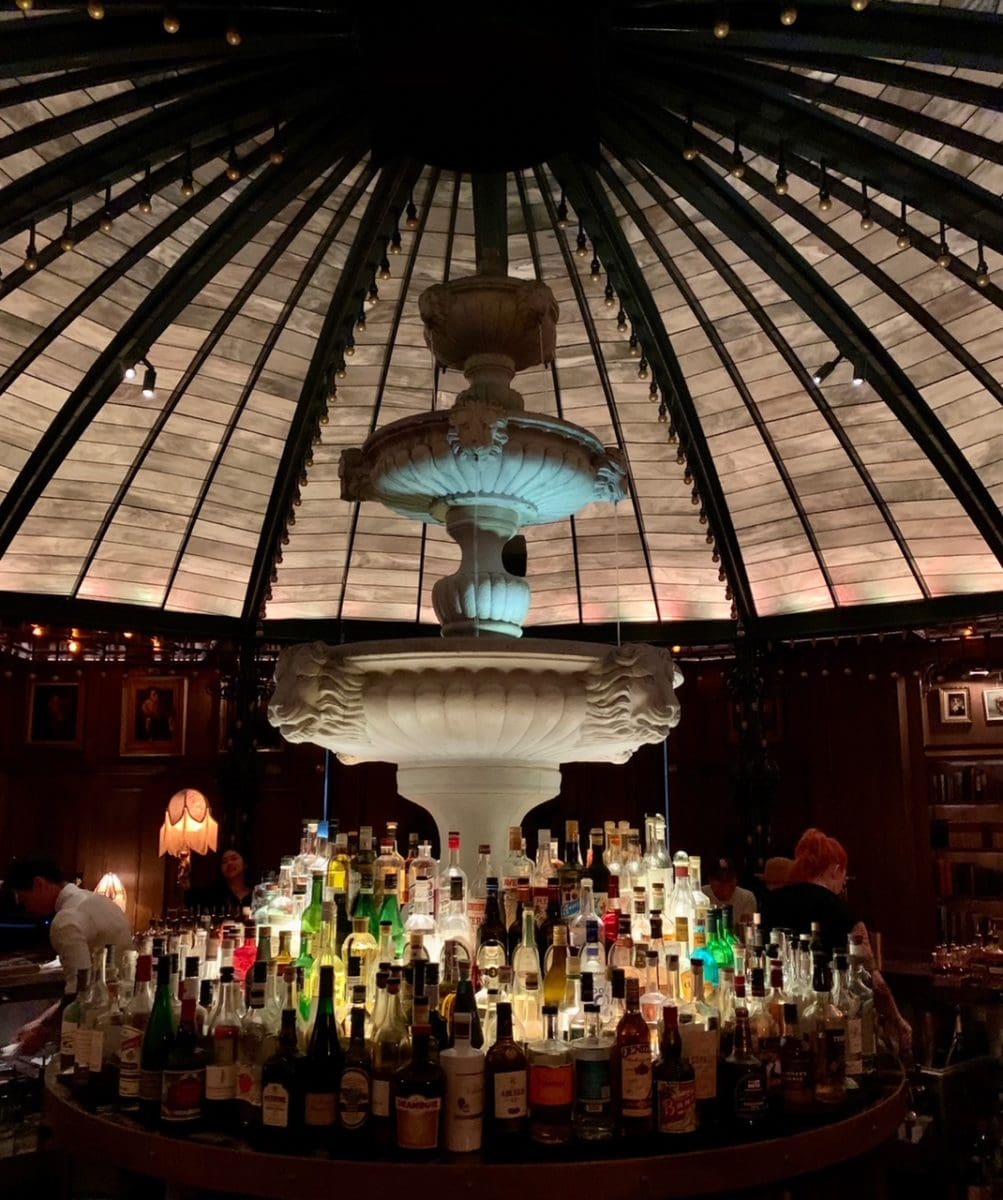 The perimeter is filled with beautifully upholstered banquettes, tables and chairs adjoining dark paneling and murals.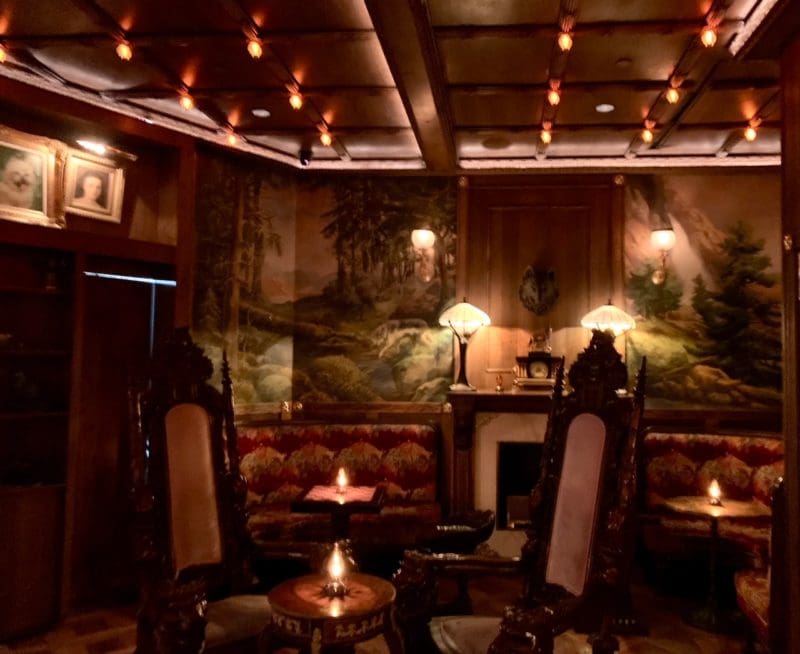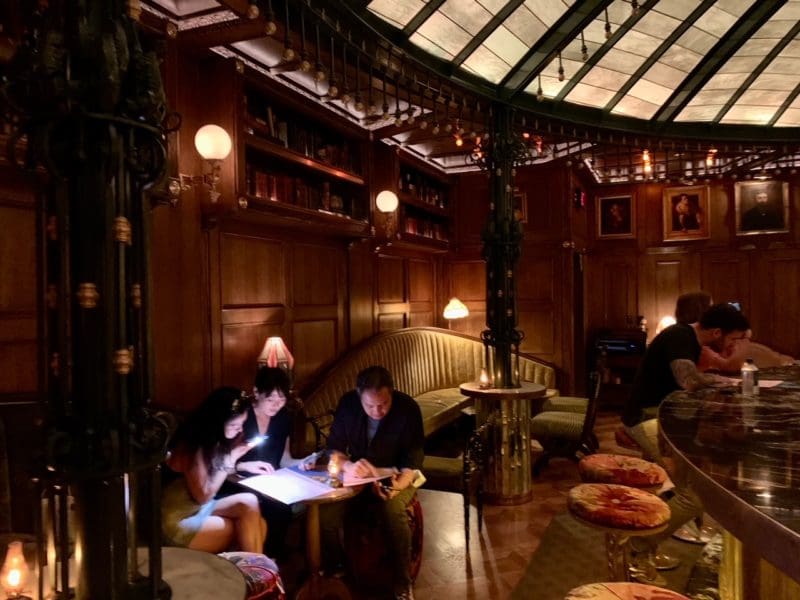 Drinks are chosen from a menu divided into four groups by style. The largest is titled "Refreshing" with ten choices like Bidi Bidi Bom Bom, a tequila margarita with strawberries and aperol, or a Sundress made with vodka, vermouth, lime and seltzer.
"Direct" cocktails are spirit-forward. I chose to begin with a Goodbye Stranger made with rye, amaro, maraschino liqueur, sweet vermouth, orange bitters and a lemon twist.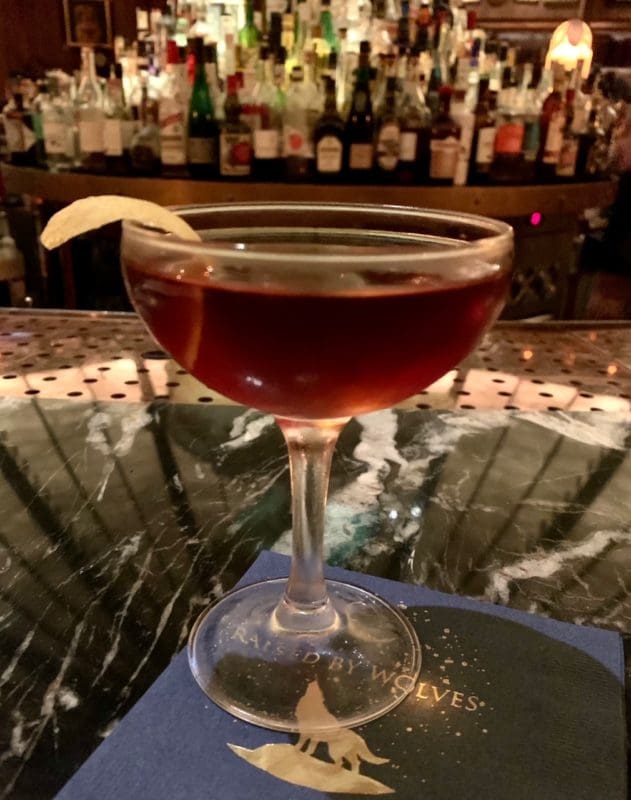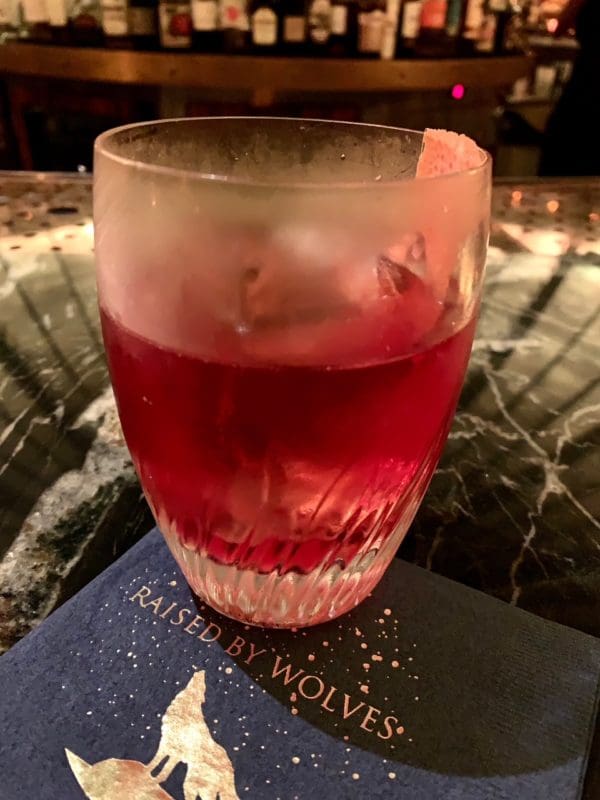 The "Reserve List" uses pricier spirits like the 65 year old, Old Fitzgerald rye in their $699 Old Fashioned. Below is a more modest $29 Godfather made with Nikka Yoichi single malt, Lazzaroni amaretto, aromatic bitters, lemon and orange zest.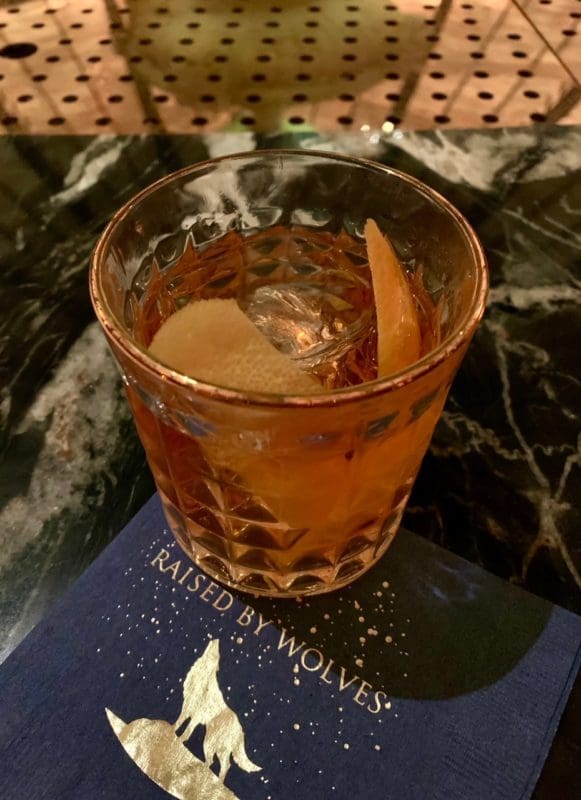 "Decadent" libations are the fourth and final grouping. You may choose a Tiramisu-tini, Strawberry Alarm Clock, non-alcoholic chocolate Pure Imagination or a Banana Cream Flip.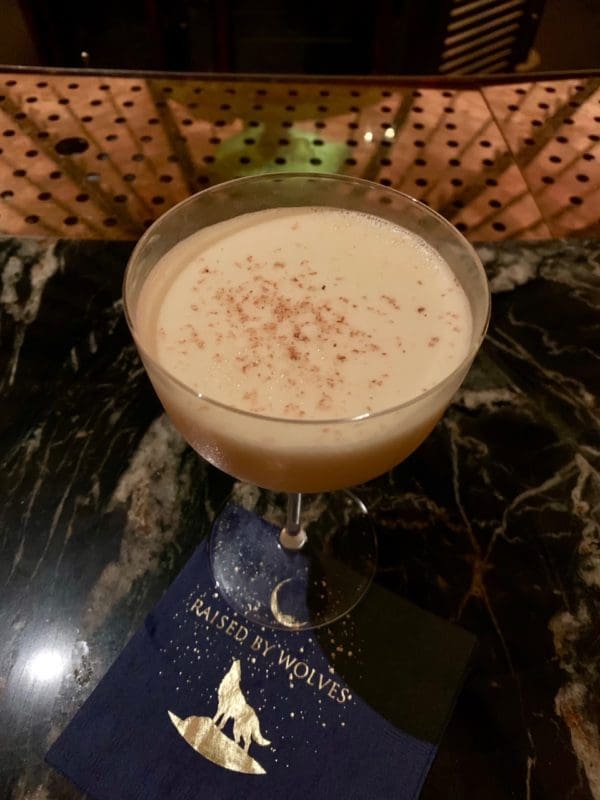 San Diego Speakeasy Tour
Did I mention the perfect weather? Visit in summer to escape the heat, or winter to escape the cold, but when you do, celebrate with sublime libations!
San Diego Speakeasy Tour – Just a Click Away!