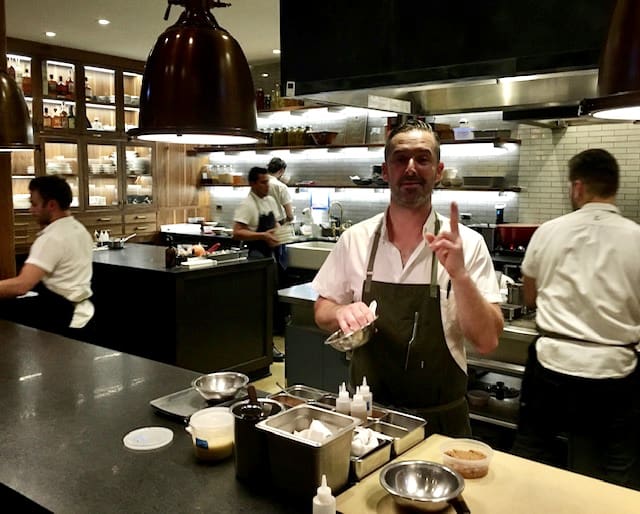 Dining at Smyth-Chicago was just dumb luck. We unexpectedly found ourselves with a long weekend and no commitments, so that meant frantic last-minute travel and dining arrangements. All the splashiest names were booked for a Saturday evening, but that's where lady luck intervened and a cancellation at Smyth allowed us to nab a 7:30 rezzie for two.
Chef-owners Karen and John Shields opened in 2016 after a five year sabbatical in Smyth County, Virginia where they not only found their mojo in fresh farm to table produce, but also the name for their new restaurant.
Back in Chicago they went to work, establishing ties to The Farm, a 40 year old, 20 acre oasis an hour south in Kankakee, and creating the welcoming atmosphere they envisioned. They did it with stylish "rusticity" using natural woods and lighting. Their dress code? I was told to come as you are, which of course we did not, however they were absolutely serious. Without white tablecloths it's almost jarring when each dish arrives, each more beautiful and scrumptious than the last.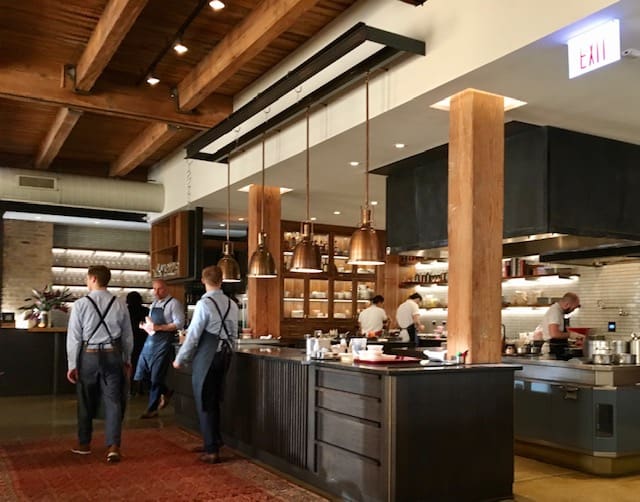 Accolades
Karen and John have impeccable credentials, cooking at Alinea and Charlie Trotters. Then their ideas crystallized while running the Town House in Virginia. In just two short years after opening Smyth they have achieved one, then two Michelin stars that they retain today. They also received the prestigious Jean Banchet award for Chicago Restaurant of the Year.
Our Smyth-Chicago Tasting Menu
Smyth offers three tasting menus and three optional wine pairings. I don't usually spend a lot of time detailing the cost of fine dining, but it bears mentioning that their tasting menus are a bargain in today's world. We chose the eight course tasting ($155) with the traditional (+$85) wine pairing.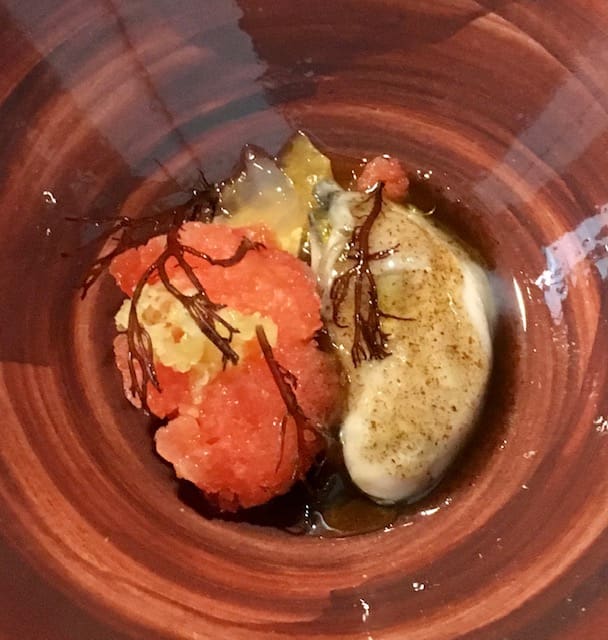 Salted frozen radish and melon with oyster and seaweed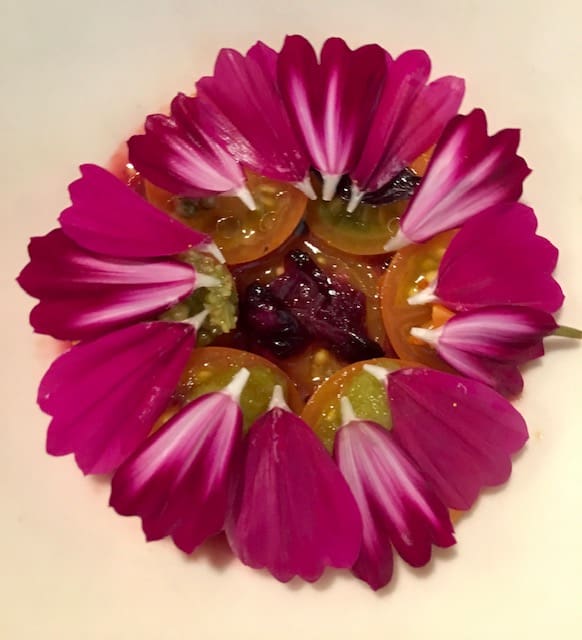 Sungold tomatoes with rhubarb preserves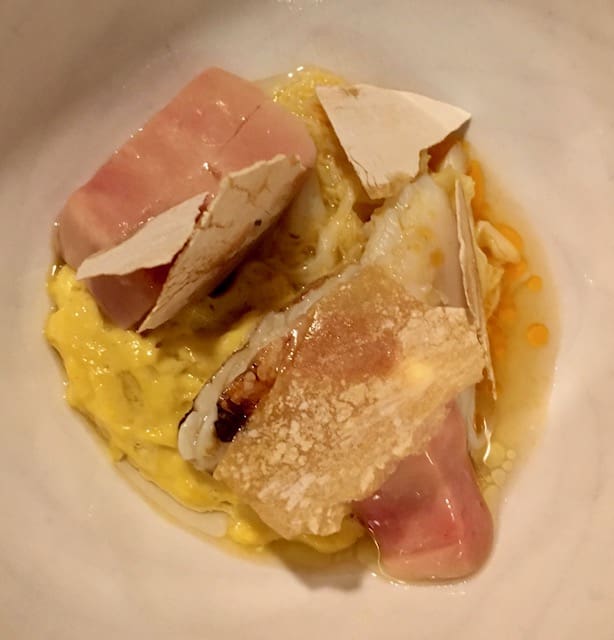 Dungeness crab and foie gras with scrambled kani miso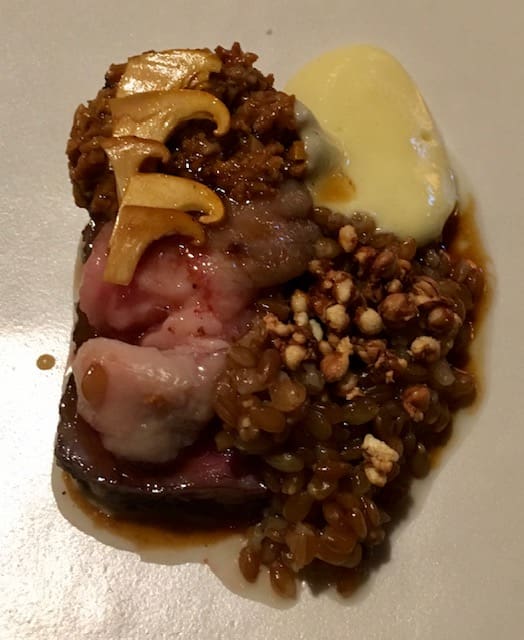 Aged ribeye with farro koji, chanterelle and hollandaise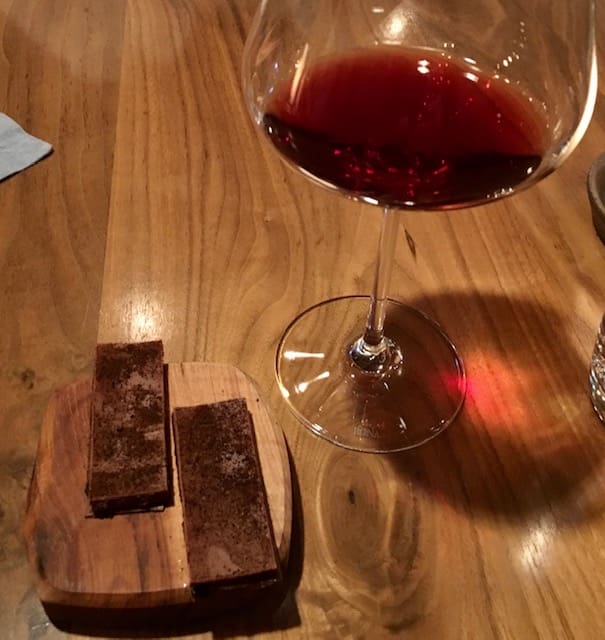 Milk chocolate bars with huckleberry and preserved shiitake mushroom
Egg yolk soaked in salted licorice with frozen yogurt meringue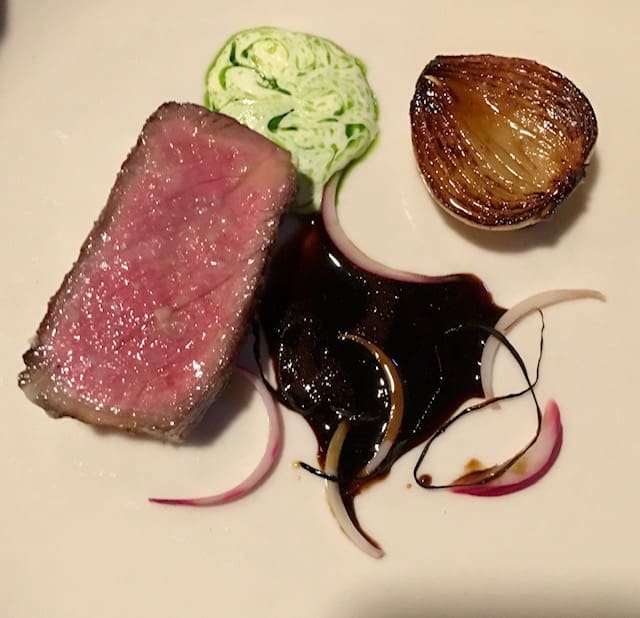 Aged ribeye with caramelized onion and kelp marmite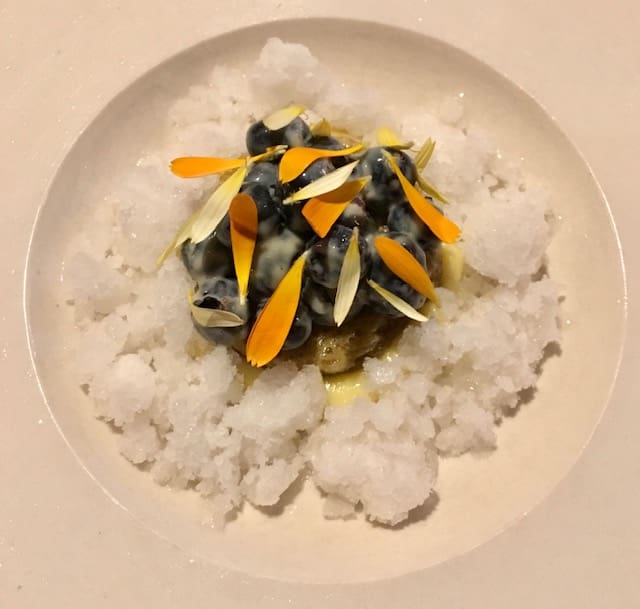 Blueberries, sunflower cream and marigold on lemon thyme ice
Post Script
We were lucky in many ways. Our visit was pre-covid and so were the prices. Now the tasting menu will set you back $285, almost double, but well earned. Were I to visit today I would opt for the chef's table experience at $345 in a heartbeat. Check out the website HERE.