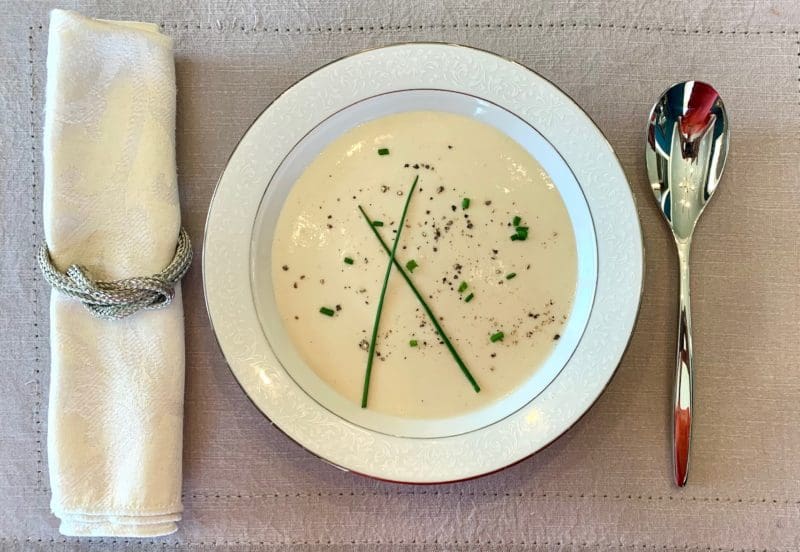 Vichyssoise is a classic French soup. Or is it? The true origin, French or American is a legitimate question. In 1917 Creme Vichyssoise Glacee made its debut on the menu of Chef Louis Diat at the New York Ritz Carlton Hotel. By all accounts it was the version we are familiar with today, served chilled and includes potatoes, leeks, chicken stock and cream. He named it after the town of Vichy near where he grew up and the name vichyssoise simply means, from Vichy.
However, in 1869 French Chef Jules Gouffe is credited with a recipe for potage a la parmentier published in a cookbook called Royal Cookery, and predates Louis Diat's recipe. Jules recipe had a crucial difference. It was served hot and there is some debate whether it included cream. It's undeniable that the French have a long history with potato and leek soup but Julia Child claimed it for America. You be the judge about where Vichyssoise was created.
Nazi's Almost Ruin a Good Name
Such a good thing doesn't come without controversy. Because Vichy became the seat of the Nazi collaborationist French government during World War II, many called for the name to be changed. Thank goodness sanity prevailed.
Relief From Heat
Vichyssoise is a chilled soup. It strikes fear and loathing in some such as my better half, who refuses to eat cold soup. Living in a locale with a climate that can closely approximate a furnace in summertime, I readily appreciate a chilled meal. It's a welcome respite from the heat.
Simple and Versatile
Its not a staple on mid-south menus and I was deprived for years. It's a simple recipe with only six ingredients and the result is a creamy, silky smooth potato soup. Vichyssoise is equally at home on a fine dining menu, or for a rustic lunch with a hunk of bread. In either case it's best enjoyed with a chilled white burgundy.
Step By Step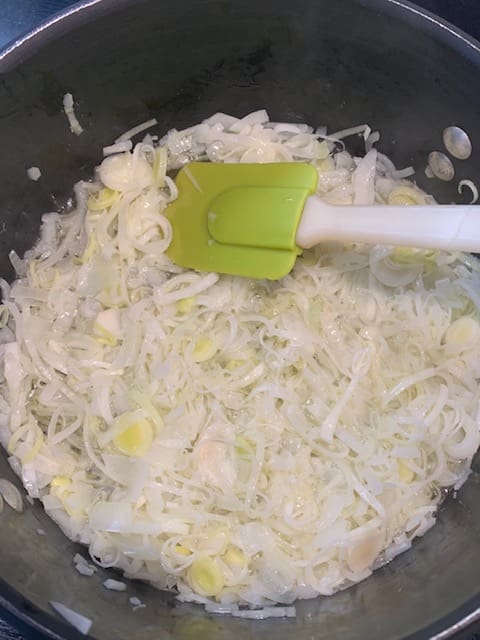 I use a mandolin to quickly slice the whites of the leeks and the onions thinly. Melt a stick of butter in a heavy soup pot and saute them until soft and translucent on low heat. This only takes about 15 minutes.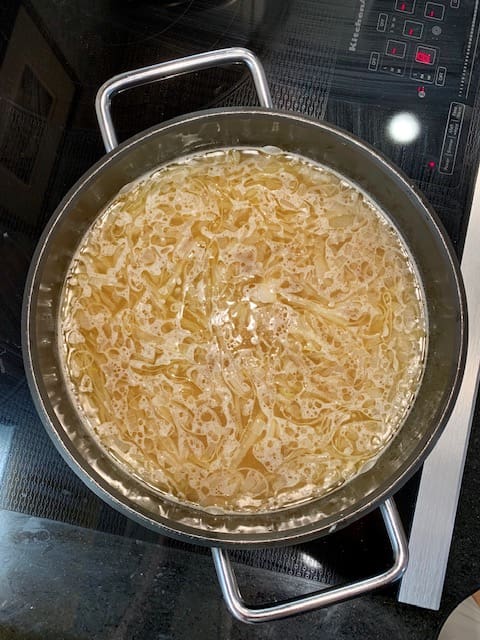 Add your chicken stock, diced potatoes, salt and pepper to the onions and leeks, bring to a simmer for 45 minutes to give the potatoes ample time to soften. Test by mashing a piece or two against the side of the pot. Remove from the heat and let it cool until it's just warm.
Use an immersion blender to puree the soup until it reaches your preferred texture or all the way to smooth and silky. Whisk in the heavy cream and refrigerate a few hours or overnight to give the flavors time to harmonize.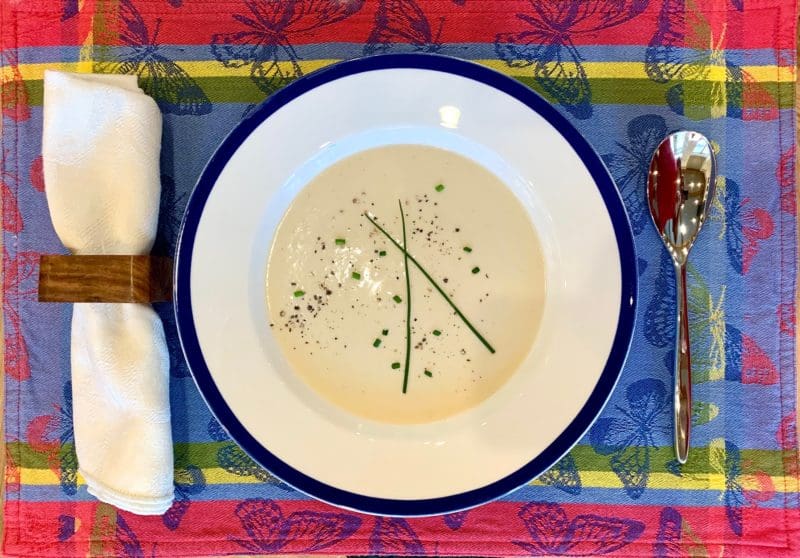 Vichyssoise, garnished with freshly cracked black pepper, chopped and whole chives
Print
Vichyssoise
The perfect summertime soup to beat the heat!
Author:
Prep Time:

20

Cook Time:

60

Total Time:

1 hour 20 minutes

Yield:

8

1

x
1

–

3/4

lbs russet potatoes – peeled, eyes removed, diced

4

leeks, white part only, sliced paper thin

1

small white onion – sliced and chopped

1

stick unsalted butter

2 qt

unsalted chicken stock

1

TBL kosher salt, more to taste

1 tsp

ground white pepper – more to taste

1/2 pint

heavy cream
Chopped chives – garnish

2

whole chive sticks per bowl – garnish
Fresh cracked black pepper to taste – garnish
Instructions
Melt butter in a deep soup pot
Saute the leeks and onion on low heat, stirring frequently until separated and soft. Do NOT brown!
Add chicken stock, diced potatoes, salt and ground white pepper
Simmer uncovered for 45 minutes to slightly reduce the volume and thoroughly soften the potatoes
Turn off heat and let cool, then use an immersion blender until completely smooth or it reaches your preferred texture
Adjust seasoning with salt and white pepper to taste
Blend it again – repeat until you love it
Gently whisk in the cream
Refrigerate for a few hours or overnight to chill and let the flavors meld together
Plate, add cracked black pepper, sprinkle chopped chives and garnish with two sticks of chives.