Print
Cacio e Pepe
The late Anthony Bourdain's favorite pasta was Cacio e Pepe. A.B. had a huge influence on my appreciation for food. How to cook it, how to enjoy it, how to share it, learn from it, and to be thankful for that.
From his first book, Kitchen Confidential, to his last television show Parts Unknown, he led me on an adventure that made me think. About a lot of things. For him it wasn't just entertainment, it was far more important than that. It was to help us learn about ourselves and our fellow travelers in this life.
He introduced me to cacio e pepe and it's simplicity belies it's buttery savory flavor, punctuated by the occasional sharp bite of pepper.  I can understand why it was his favorite. It and a good Chianti are all you need.
Kosher salt

8 oz

. spaghetti pasta

2

TBL butter, cubed

1

TBL freshly crushed black peppercorns

1 cup

freshly grated Parmesan

3/4 cup

freshly grated Pecorino

1

glass of Chianti to enjoy while cooking
1 glass of Chianti to accompany your dinner!

Instructions
Note: I don't estimate a time for cooking the pasta because it can vary so widely depending on how hot your water is and what type of pasta you use. First make sure you have a rolling boil which will more closely match your pasta makers instructions. Begin there, but be prepared to taste, taste and taste beginning a few minutes early. It's easy to overcook when you are striving for Al Dente and you don't want mushy pasta.
In a rolling boil of well-salted (think seawater) water cook 8 oz of pasta per pasta makers' instruction
While boiling the pasta, melt 2 TBL butter in a large heavy saucepan over medium heat. Add the pepper, swirling the pan, until toasted, about 1-2  minutes
About 2-3 minutes before the pasta is fully cooked take and add 3/4 cup of the boiling water  to the butter sauce.
Then strain the pasta. When you bite a piece it should not be crunchy, but should feel very dense. Remember it's not fully cooked yet!
Drain well for a couple of minutes then add the pasta to the sauce and finish cooking over medium heat, gently stirring until it has absorbed most of the liquid.
Remove the pan from the heat for a minute or two, then add the grated cheeses slowly, folding with a spatula to achieve even coating of the pasta
Print
Parmesan Bowl
For the true Italian experience serve cacio e pepe in a parmesan bowl.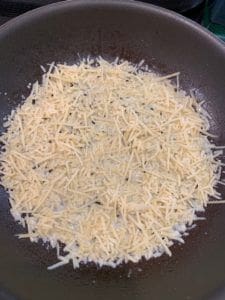 3/4 cup

shredded parmesan per bowl
Instructions
Spread shredded parmesan in a thin layer on the bottom of a non-stick saucepan with a 6-7″ flat bottom and cook for 2-3 minutes, or until it becomes a pliable latticed sheet
Remove from heat and cool. To expedite the cooling process, fill a large bowl with cold water and place the bottom of the pan (without submerging it) in the water to cool enough so you can remove the cheese sheet with a spatula in one piece
Invert a salad bowl. Mold the cheese over the bowl using a paper towel, then place a second bowl on top to hold the shape until it completely cools and is ready to use. About 15 minutes in the fridge works well.
Serving:
Place your parmesan bowl on a plate
Fill with the pasta
Garnish with a little shreddeded parmesan and a little grated black pepper
Pair with that second glass of Chianti!
And just one more thing…
Even A.B. himself could not talk me into eating the business end of a warthog as he did in Africa – R.I.P. Anthony.