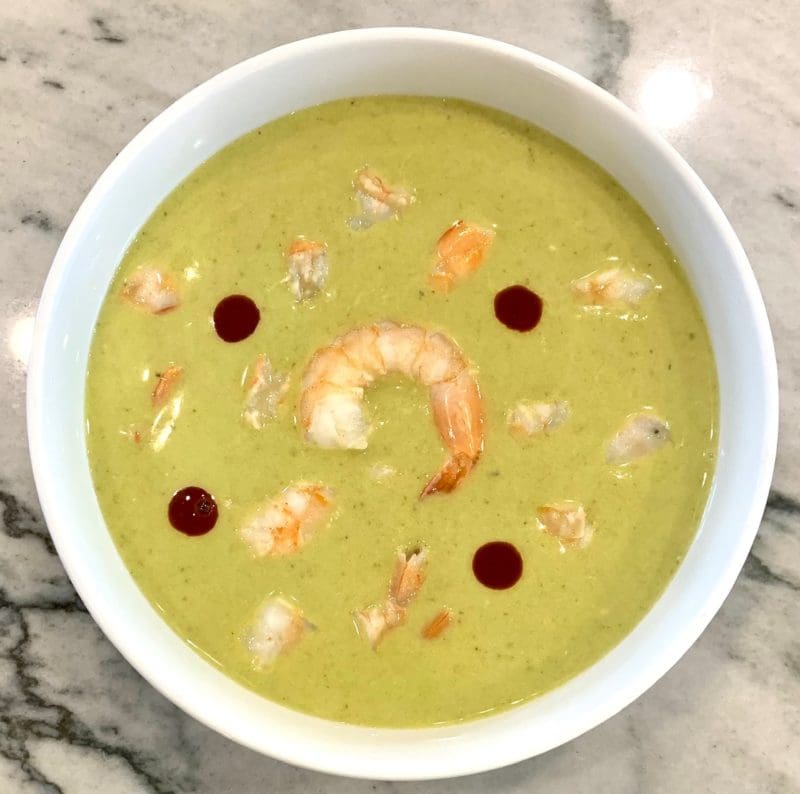 Creamed poblano chili is inspired by Chef Fernando Olea, winner of James Beard Best Chef – Southwest 2022. I was fortunate enough to dine with him at Sazón in Santa Fe and taste his signature soup.
This is a versatile recipe that I dearly love as both soup and chili. I usually make a pot and alternate between a bowl of soup, combine it alongside my black bean soup to enjoy as a "twin", and by adding a seafood protein to make it a chili.
The Creative Process
At first blush this should be very simple and it is, but there's more to it than meets the eye. It took several attempts before arriving at that goldilocks moment when flavor, texture and appearance converged to make it "just right".
At the outset, my most severe critic warned me it better be smooth. The first iteration was too thin, the color an unappetizing shade of green and the flavor was off. That sent me back to the drawing board for revisions. The next attempt scored highly on flavor and color, but was still thinner than we desired. The third try hit the mark, so you can avoid a similar experience and simply follow these directions.
Soup or Chili?
It's a wonderful soup, by itself or paired with my Mexican black bean as a homemade version of twin soup. It's easily transformed into chili by adding a protein. Beautiful gulf shrimp add body, texture and taste to elevate the soup another notch. Use any shellfish, from delicate blue crab like chef Olea, lobster, clams, mussels or shrimp.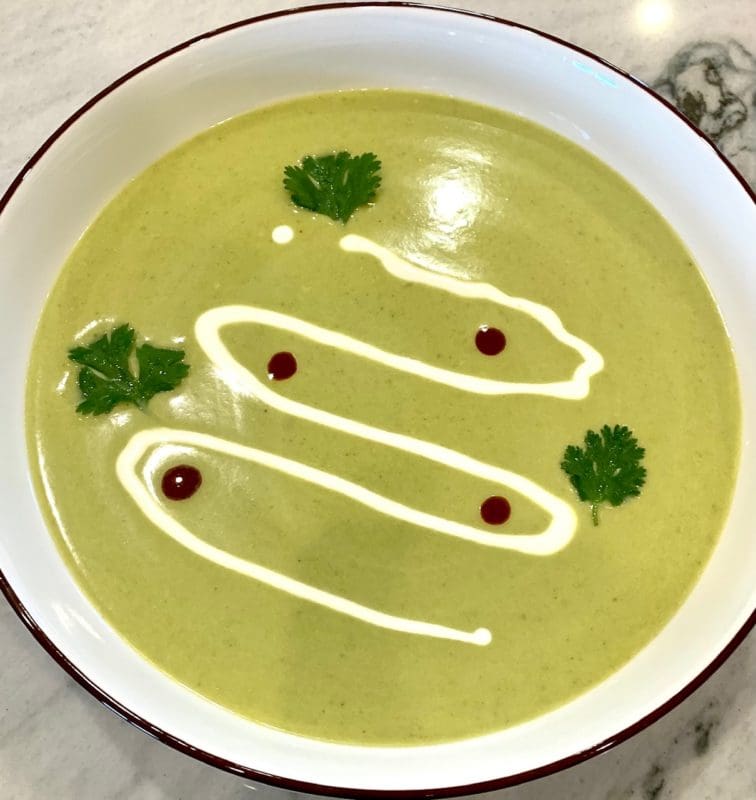 Let's Make Creamed Poblano Chili!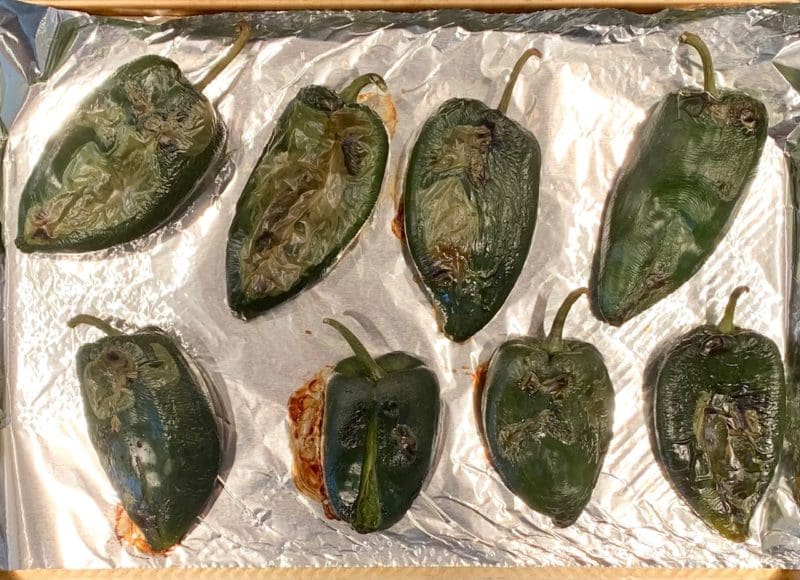 Roast the poblano peppers for 25 minutes until blistered. While waiting for them to cool sauté your onion and garlic and add your chicken stock.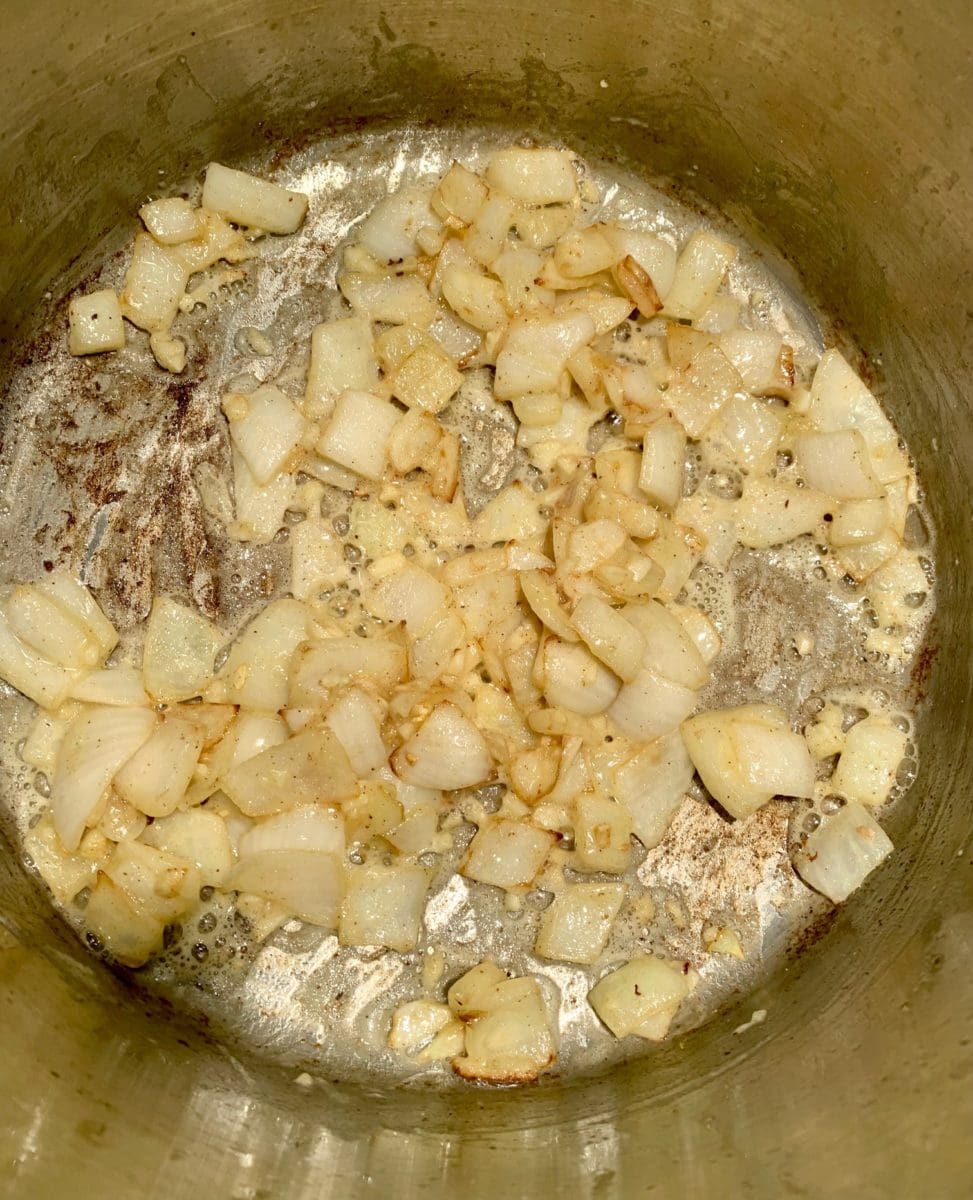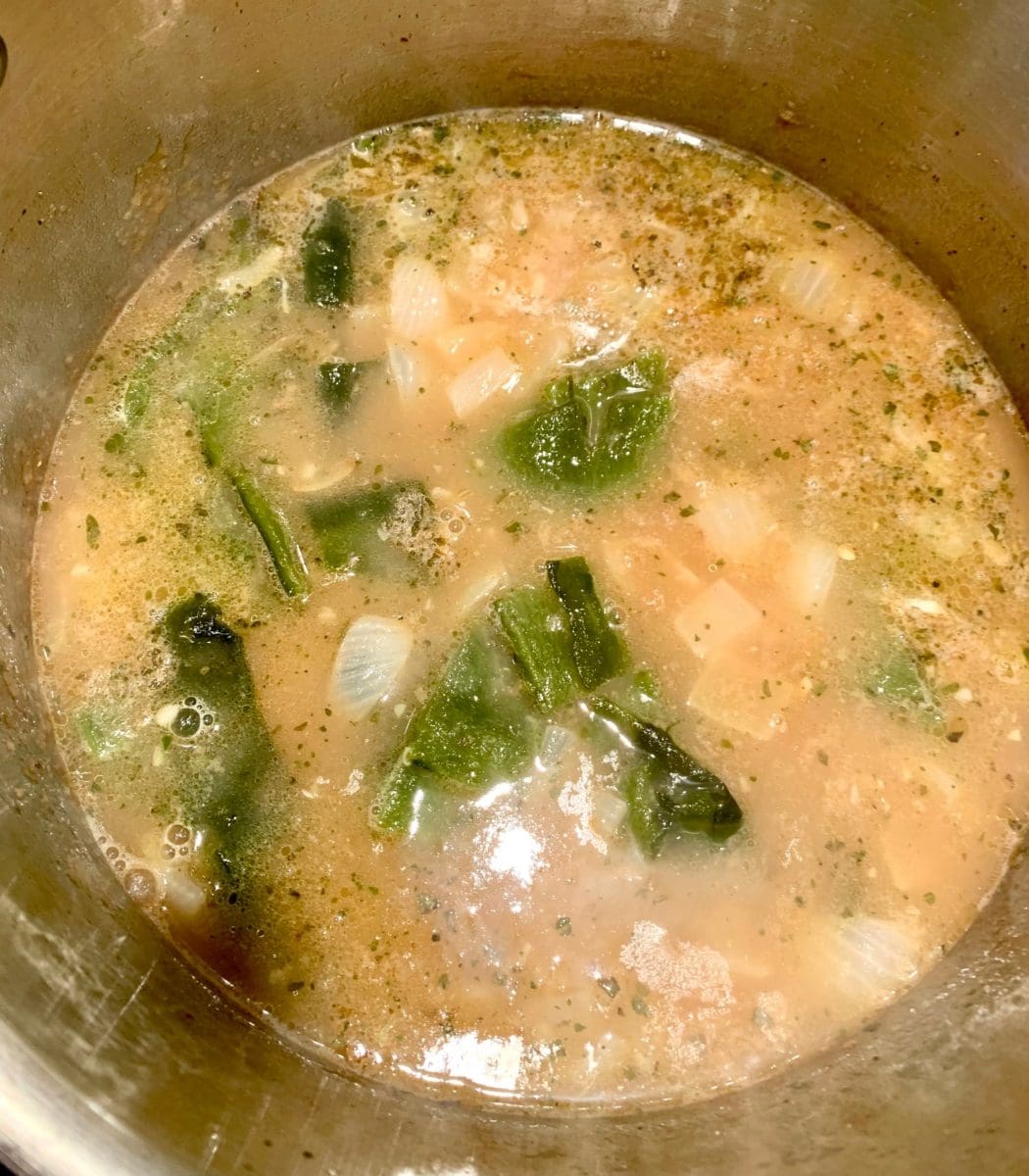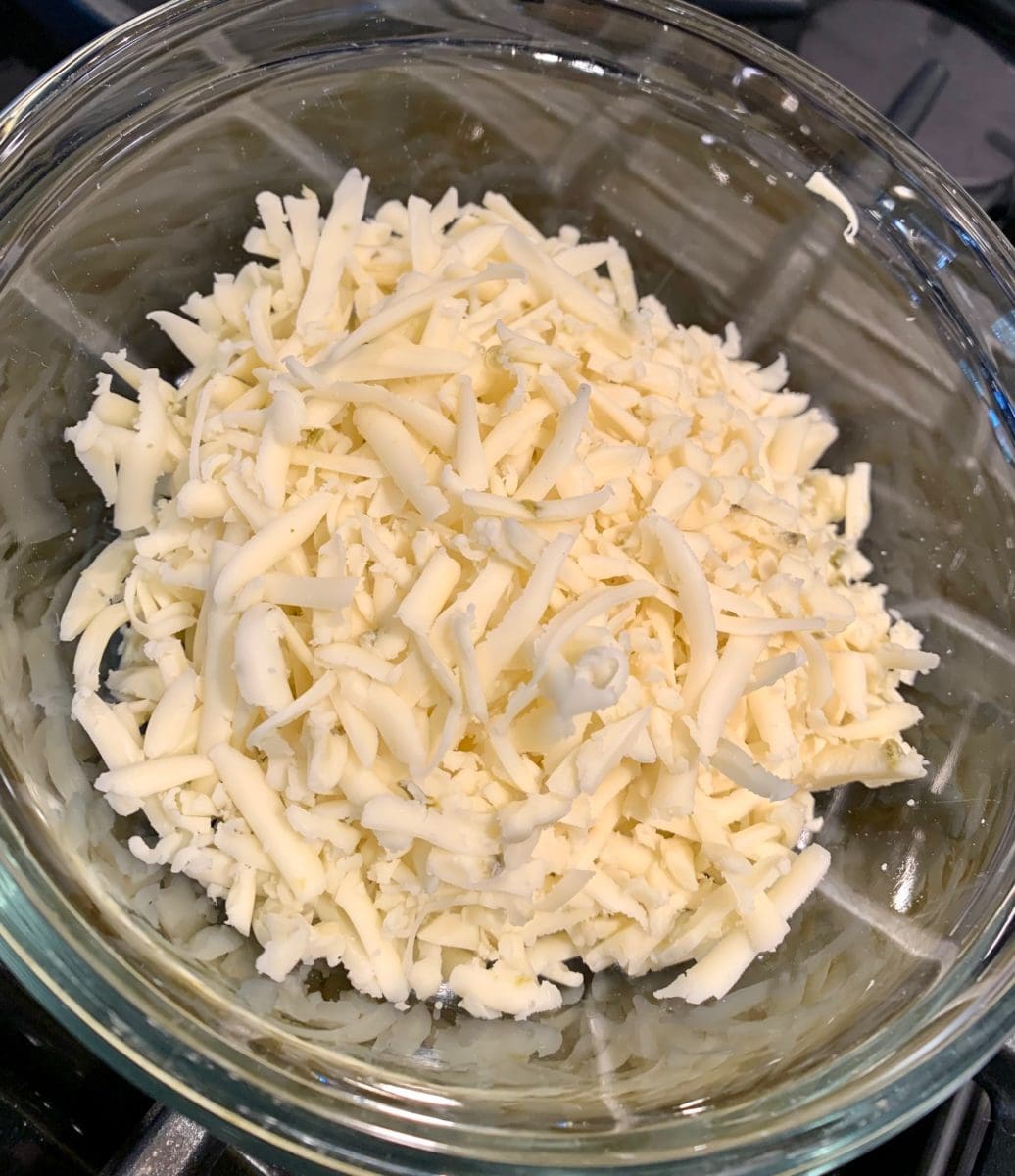 This is shredded Mexican dipping cheese, but you may substitute monterey jack.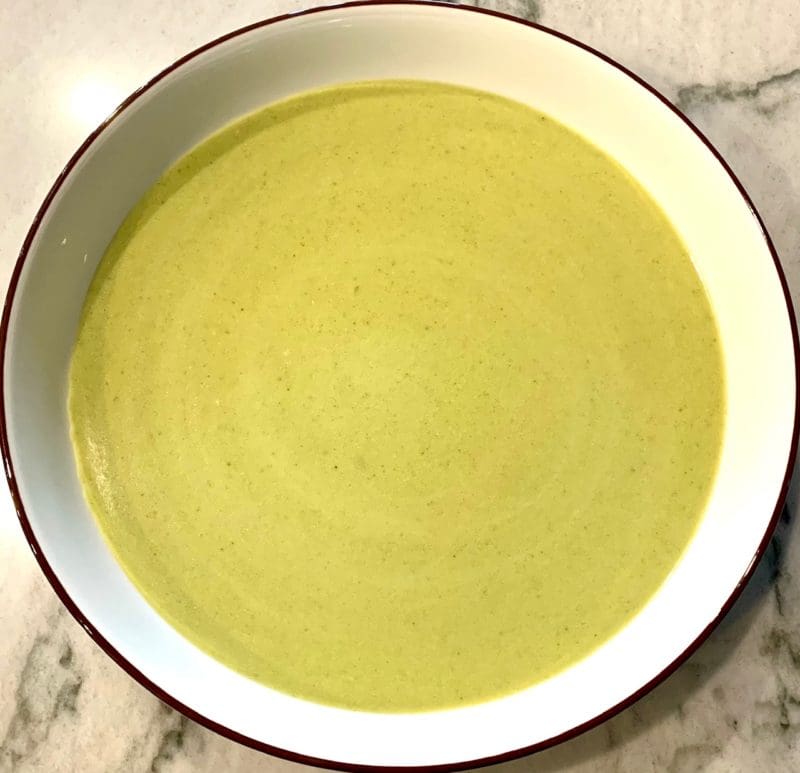 Print
Creamed Poblano Chili
Creamy, cheesy, spicy poblano pepper soup with shrimp!
10

medium poblano peppers – roasted, skinned, seeded, de-veined

1

large yellow onion – chopped

4

garlic cloves – minced

1

TBL butter

2

TBL cornstarch

5 cups

unsalted chicken stock

1

–

1/2

tsp ground oregano

1/2 tsp

ground cumin

1/2 tsp

salt

1/4 tsp

ground white pepper

14

–

16

oz Mexican dipping cheese – shredded

1

jalapeno pepper – seeded and diced
Cayenne pepper to taste

2 oz

Mexican crema

1/4 cup

cilantro – chopped – optional

4

small gulf shrimp per serving
Mexican hot Sauce – garnish
Instructions
Preheat oven to 400
Rinse the poblanos, place on an aluminum foil covered baking sheet and place them in the oven. Turn them after 15 minutes. Roast another 10 minutes, then remove and place them in a glass bowl and cover to sweat them for easier skin removal. Meanwhile…
Melt the butter in a soup pot on medium heat and saute the onion for 5-7 minutes until softened. Add the garlic to the pot and cook for 1 minute more
Pour in the chicken stock, add the cumin, oregano, salt and white pepper. Stir, bring to a boil then lower the heat and simmer for 30 minutes to reduce the volume 10-15%
When the poblanos have cooled enough to handle, remove the skin, de-stem and de-seed them. Cut out any veins and roughly chop them. Add to the soup pot.
Stir and simmer 5 minutes more then combine the mixture in a blender to a smooth consistency. Return to the soup pot
Whisk the cornstarch into a quarter cup of cold chicken stock, then gradually add it to the soup as it simmers for 5-10 minutes to allow the cornstarch to thicken the soup. Note: cornstarch must reach 200 degrees to thicken, then lower heat to low to finish
Add the cheese and stir until melted. Add the crema and adjust seasoning with salt and cayenne pepper to taste
For Soup: Serve and garnish with crema, cilantro and hot sauce
For Chili: Set the soup aside and keep warm. Boil the shrimp 6 minutes in well salted water, cool in an ice bath, peel and chop all but 1 shrimp per serving into bite-size pieces. Stir the chopped shrimp into the chili and cook until they warm. Garnish each bowl with 1 whole shrimp and optional cilantro and hot sauce