Print
Fried Dill Pickles
Fried dill pickles were created in 1963 by Bernell "Fatman" Austin at his pink Duchess Drive-in in Atkins Arkansas. His inspiration came from the pickle plant across the highway and the workers that patronized his restaurant. For a quick snack, fifteen cents got you fifteen hamburger dill slices deep fried in a secret family batter.
Not satisfied, he tinkered with the recipe until he settled on pickle spears instead of slices. Bernell is no longer with us, but his family still serves 2000-3000 orders each May at the annual pickle-fest.
The popularity of fried pickles exploded throughout the state and is on the menu of countless restaurants. Each uses their own favorite dill pickle and batter because, you know, the original recipe is secret. The trendy dip for the pickles is ranch dressing, although purists still go for the ketchup.
Fried dill pickles were created here and they hold a special place in the hearts of Arkansans. That's why this is an Arkansas Original.
Clausen waffle-cut sandwich dill pickle slices, because they hold the batter better

1/2 cup

buttermilk

1

egg

1 cup

+

1

TBL flour divided

1/4 tsp

garlic powder

1 tsp

ground black pepper

1/2 tsp

sea salt

1/4 tsp

smoked paprika

1/4 tsp

cayenne pepper
Peanut oil – for frying
Ranch dressing or ketchup – for dipping
Instructions
Make your own buttermilk with 1/2 cup milk and 1/2 TBL fresh lemon juice. Let it set for 15-30 minutes
Measure and mix all the dry ingredients
Whisk the egg, buttermilk and 1 TBL of flour together
Pat the pickle slices dry with paper towels, so the batter will stick
Using a skillet or deep fryer heat the oil to 375 degrees
Dredge the slices in wet, then dry mix
Repeat a second time
Gently drop 3-4 slices into the oil, and cook until golden brown
Remove and drain on a paper towel covered rack to cool briefly
Work in batches until all the slices are fried
Serve with a side of ranch dressing or ketchup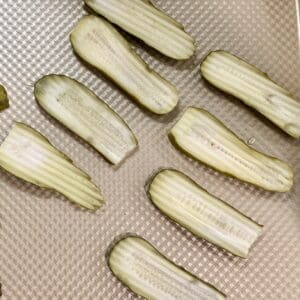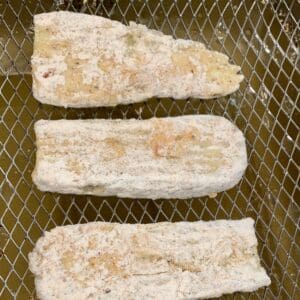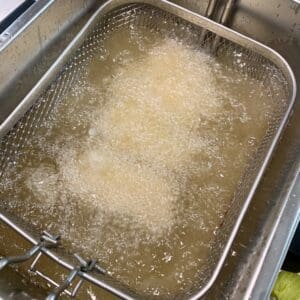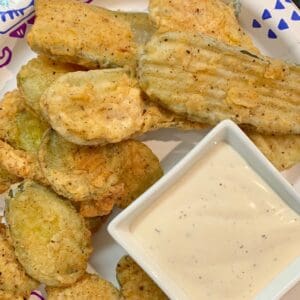 Notes
I prefer sandwich slices instead of spears for the best batter to pickle ratio
Do not overcrowd your fryer or skillet or your breading will absorb the oil instead of frying