Galatoire's is a destination restaurant. It's one of the New Orleans "Grand Dames" because of it's historical significance and excellence for more than 100 years.
A Brief History of Galatoire's
Victor Bero owned 209 Bourbon Street, operating Victor's Restaurant there since the mid 1800's. Jean Galatoire struck a friendship and they became business partners around the turn of the century. Jean bought out Victor in 1905 and renamed the restaurant Galatoire's. In 1999 the restaurant completed a major renovation, expanding and adding seats on the second floor. For the first time Galatoire's began accepting reservations – second floor only. The family retained full ownership until 2009 when they sold a majority stake to John Georges, but kept the majority of operational responsibility. The fifth generation descendants now manage and operate the restaurant.
A Word About Creole Cuisine
"Great food is only for those that take the time to enjoy it" – Leon Galatoire
Creole Cuisine is a fusion of native Indian and French country, with West African and a Spanish touch introduced during their brief stewardship of the Louisiana Purchase. It's a true melting pot cuisine, using new world and old world ingredients.
Dining at Galatoire's
My personal history dining there began in 1983 when I customarily stood in line, until a table became available. Good things befall those that wait, and so they do. I am always pleasantly surprised by the interesting conversation and comradery shared while standing in cue. It makes the time pass quickly. My first dinner there was unforgettable and I am drawn there when in New Orleans. Most recently I tested the reservation system and was seated on the second floor, but for some reason it didn't feel right. Next time, I'll wait.
My Menu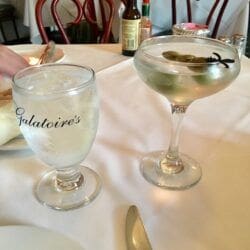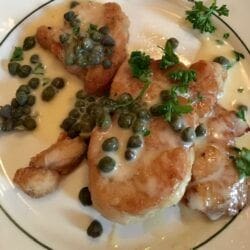 A classic Martini followed by Sweetbreads with Lemon Caper Beurre Blanc Sauce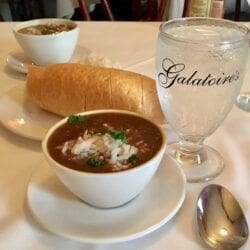 Duck and Andouille Gumbo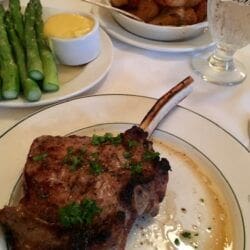 Veal Chop with Asparagus and Hollandaise Sauce
Caramel Custard
And just one more thing…
Leon Galatoire wrote a cookbook of the restaurant and family recipes. It's reference material quality that I refer to regularly.