Print
Hollandaise Sauce
Hollandaise is another of the five French "mother sauces", along with bechamel, veloute, tomato and espagnole. Two french chefs, Marie Antoine-Careme and Auguste Escoffier are credited with identifying them as the foundation of all other sauces.
I learned how to make it to accompany the asparagus for our French Creole dinner. Asparagus with hollandaise is a classic pairing in the French Quarter and this recipe is from the cookbook of the late Roy F Guste, Jr. – proprietor of Antoine's. I'm not going to lie. I was scared to death after reading horror stories about how tricky it is to make and how easy it is to break. It took me three tries making it on my electric stovetop because the right cooking temperature is halfway between two settings. The third try was the charm and then it became easy to replicate. The end result is a beautiful, creamy, smooth and silky sauce.
Hollandaise Sauce 101
This is the only sauce of the five "mothers" not thickened with a roux. Its two main ingredients, egg yolks and melted butter form an emulsion to thicken the sauce into a delicately stable mixture.
Children of Hollandaise
If hollandaise is the "mother", then these five "others" must be the kids.
Bearnaise: The most familiar and made by adding white wine, tarragon, vinegar and peppercorns
Choron: Includes tarragon and tomato
Maltaise: Uses the juice and rind of blood orange
Foyot: A combination of bearnaise with glace de viande, and
Mousseline: Made with bearnaise and whipped cream
1 cups

clarified butter

4

egg yolks

1

TBL lemon juice

1

TBL tarragon vinegar
salt and white ground pepper to taste
Paprika – optional – for light garnish
Instructions
Bring eggs to room temp
Melt butter and clarify. You can skim the solids off the top, or let the butter cool and the solids settle to the bottom, then pour off the clarified butter into another sauce pan. Hold the butter just warm enough to keep it liquid
Place your bottom double boiler on slow simmer
Beat the yolks, lemon juice and vinegar together until well combined
Pour egg mixture into top of the double boiler (mine is a glass bowl that sets on a heavy bottom pot)
Place over the barely simmering water
Cook on low heat, whisking constantly, NEVER letting the water come to a boil!
Cook until it thickens, about 10-15 minutes, then remove from heat.
Note: You can tell it's thickening by how quickly it runs off the side as you stir and it coats the back of a spoon or spatula
Beat in the warm butter a little at a time with a whisk
Add salt and pepper to taste
Note: If your butter is too hot your eggs will immediately curdle!
When it is completely combined keep warm until serving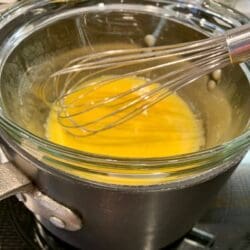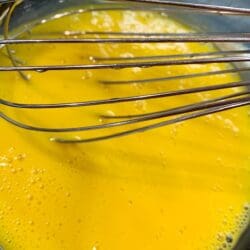 And just one more thing…
I need a gas stove!