Print
Turtle Soup
My turtle soup story begins in Hardin County, Kentucky.
I was taught to fish by my grandparents. Many a time we loaded up the Buick with our cane poles, bobbers and bait to head to fishing ponds on my Aunt's farm. For an eight year old these trips were marvelous adventures.
Papaw fished for bluegill or catfish, and Mamaw threw out deadlines for turtles. She knew how to catch them and it never took long before there was a steady tug. Then would ensue a war of wills that she never lost and the turtle would end up on the bank. Curious as kids are, I would play with them, offering sticks and such trying to entice them to bite. Of course I was warned that if I were bitten, it wouldn't let go until it thundered and I, at least in that instance paid attention. I saw for myself how fiercely they bit those sticks, I didn't want any part of their business end.
I'll spare you the details of the turtle's eventual demise and the cleaning and dressing of the meat. It's not any easier or prettier today than it was then. The difference now is if you are squeamish, you can buy turtle meat with the click of a button.
My grandmother used the meat to make delicious soup. I have no idea what her recipe was and I doubt she actually had one. It just included any vegetables and spices that were available at the time. Since I'm a fan of Creole cooking, I decided to base my recipe on the famous turtle soups of New Orleans and include it for my French Creole dinner.
This one's in memory of you Mamaw.
Turtle Soup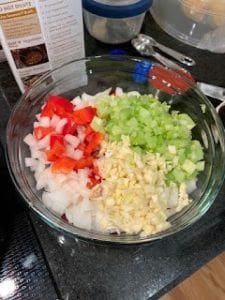 1

–

1/2

pounds ground turtle meat

3/4

stick unsalted butter for browning turtle meat

12

TBL canola oil for making roux

14

TBL   AP flour

1 Cup

celery – minced

2

medium onions – chopped

1

red bell pepper – chopped

6

garlic cloves – minced

1

TBL salt

1 tsp

black pepper

2

bay leaves

1 tsp

thyme

1/2 tsp

oregano

1/4 cup

tomato paste

1/2 cup

Worcestershire sauce

2 QT

beef stock

1

–

1/2

TBL Crystal hot sauce – more to taste

1/3 cup

lemon juice

2

TBL Parsley leaf
Dry Sack sherry for table-side garnish
Instructions
Make a day ahead to let flavors meld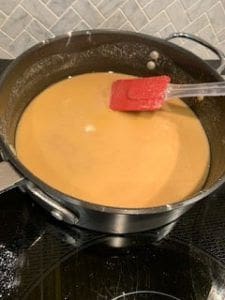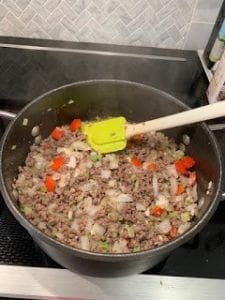 Heat oil in a heavy saucepan.
Add the flour 2 TBL at a time and cook, stirring frequently, over medium heat until the roux is chocolate colored. Set aside.
In a 5-quart saucepan, melt 3/4 stick butter and add turtle meat. Cook over high heat until the meat is brown
Add celery, onions, garlic, bell pepper, bay leaves, thyme, oregano, salt and pepper and cook until the vegetables are transparent
When transparent add tomato paste and worcestershire, lower heat and simmer for 10 minutes
Add the beef stock and simmer for 30 minutes
Then add the roux and cook over low heat, stirring, until the soup is smooth and thickened
Adjust to taste with Crystal hot sauce
Correct seasoning with salt and pepper to taste, Remove bay leaves
Serving – Reheat
Immediately before serving stir in the lemon juice
Garnish each serving with parsley
Table-side, drizzle sherry on each portion
Notes
And one more thing…
If you don't want to fight with a snapping turtle, substitute chuck roast. Who's going to know the difference?