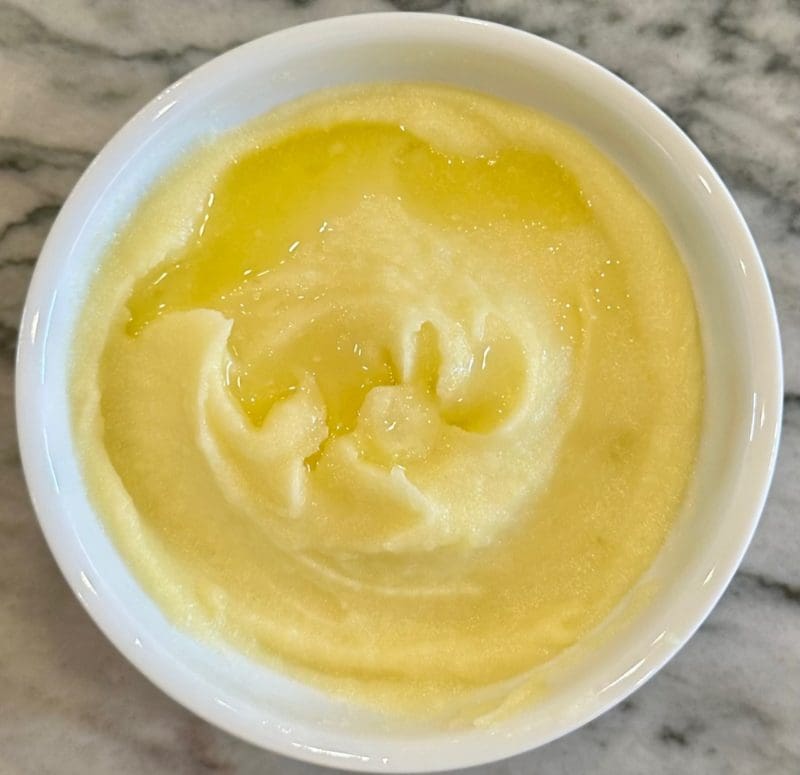 There are few recipes that you can't find a way to improve upon, but Joel's pommes purée is one of them. Elsewhere on my website you can find a post titled world's best mashed potatoes, and I thought they were – until I tasted these.
Where To Find Them
This year we dined at restaurants with acclaimed chefs like Jose Andres, Gordon Ramsay and Christophe De Lellis at Joel Robuchon – Las Vegas. At Hell's Kitchen we were surprised to find they don't serve Gordon's namesake potatoes seasoned with garlic and green onion infused cream. He serves Joel's. Likewise at Jose's Bazaar Meat where he serves delicious spuds that taste identical to Joel's.
In the final analysis all potatoes need is butter and milk to shine brightest.
Making Joel's Potato Puree
Acclaimed French chef Joel Robuchon recognized that potatoes are best when their unique flavor is front and center. Grandma felt the same way, so what makes these special?
It begins with potatoes and he prefers French rattes instead of russets. Here in the U.S. we must substitute yellow fingerlings or yukon golds to achieve that creamier consistency. Then there is the butter, using far more than Grandma. Finally he processes them with both a ricer and a drum sieve to achieve the smoothest, silkiest puree possible.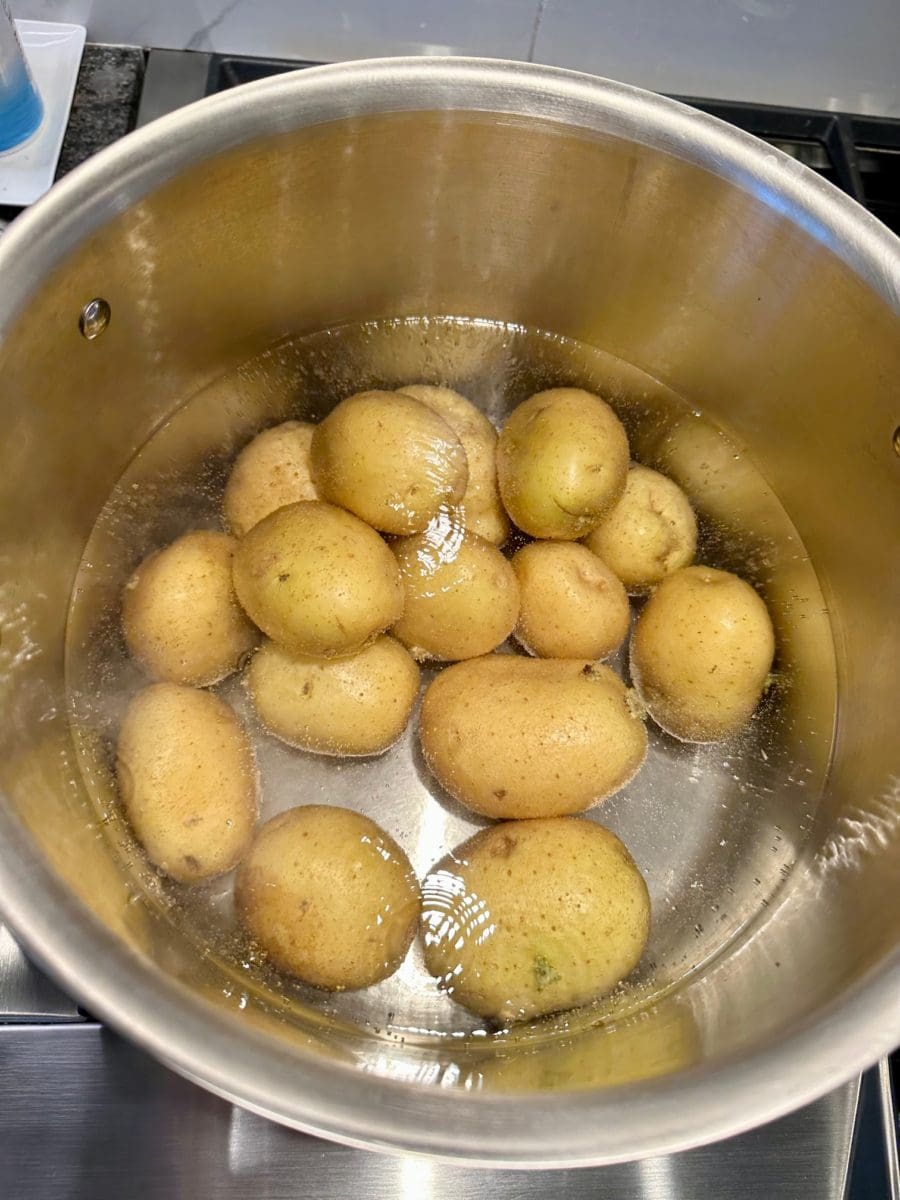 Select small to medium and uniformly sized potatoes so they will cook evenly. Simmer in salted water, covered until a knife will penetrate easily and cleanly.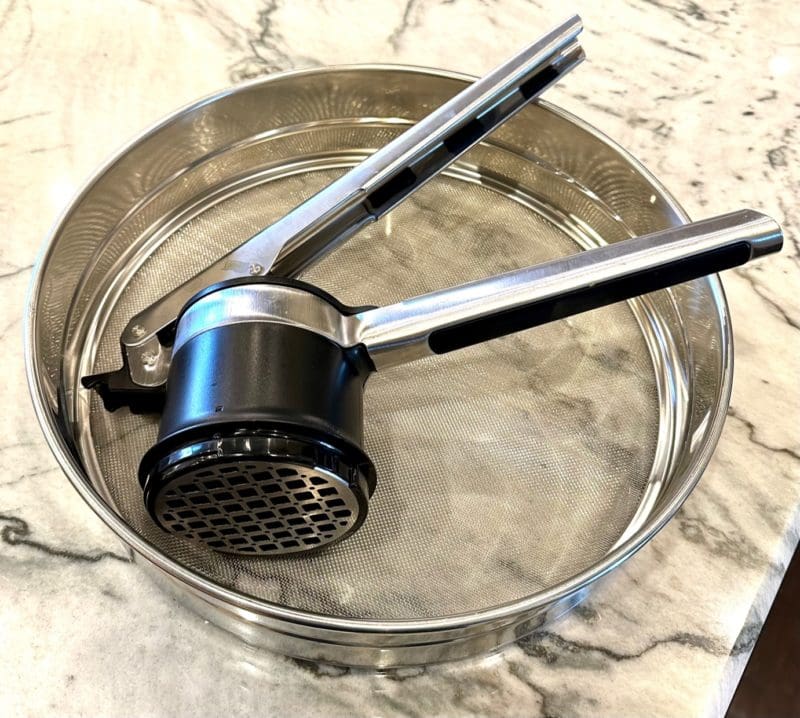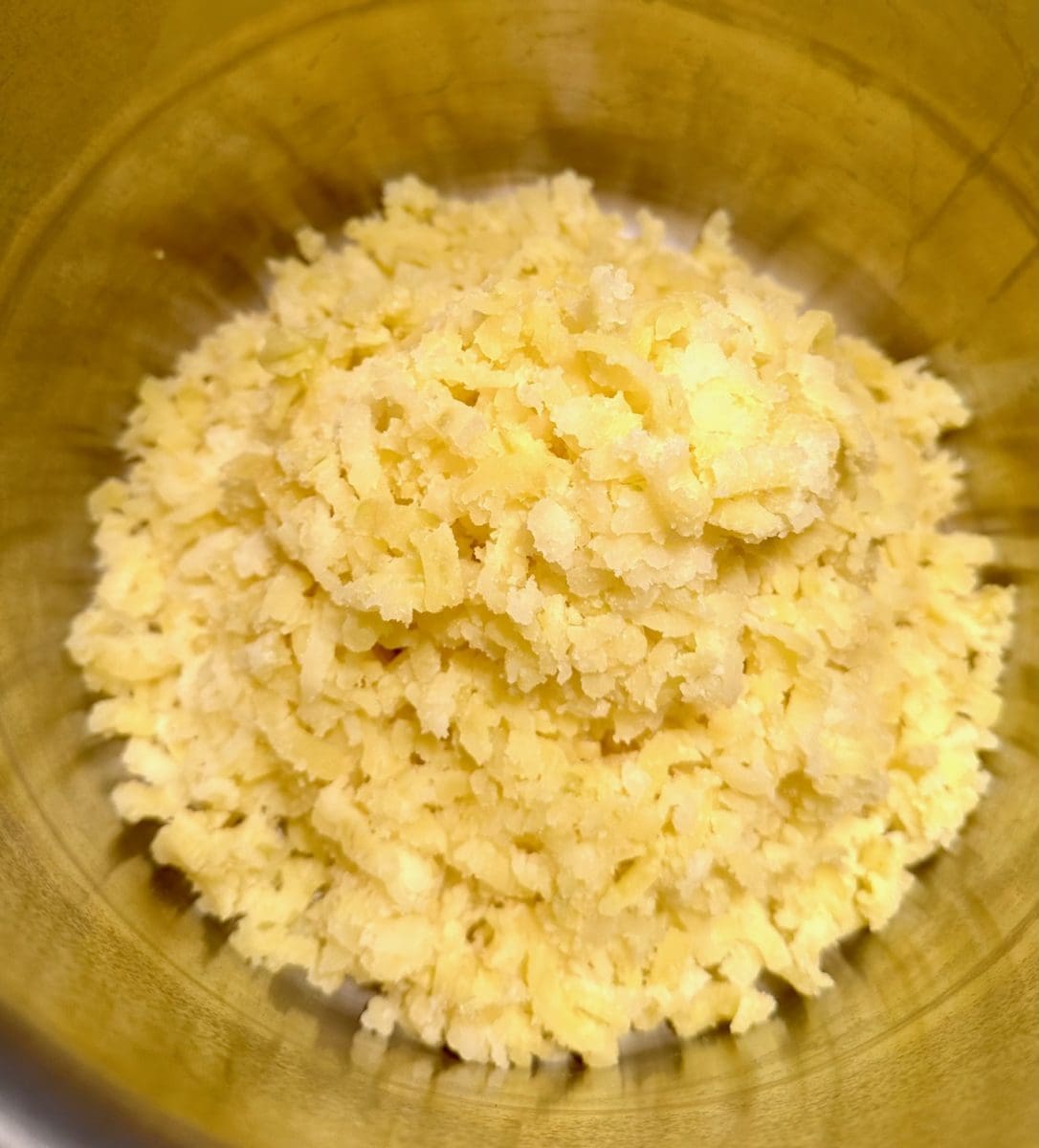 Drain, peel and rice the potatoes back into the pot, then stir and let them steam on lowest heat for 2-3 minutes to remove excess moisture.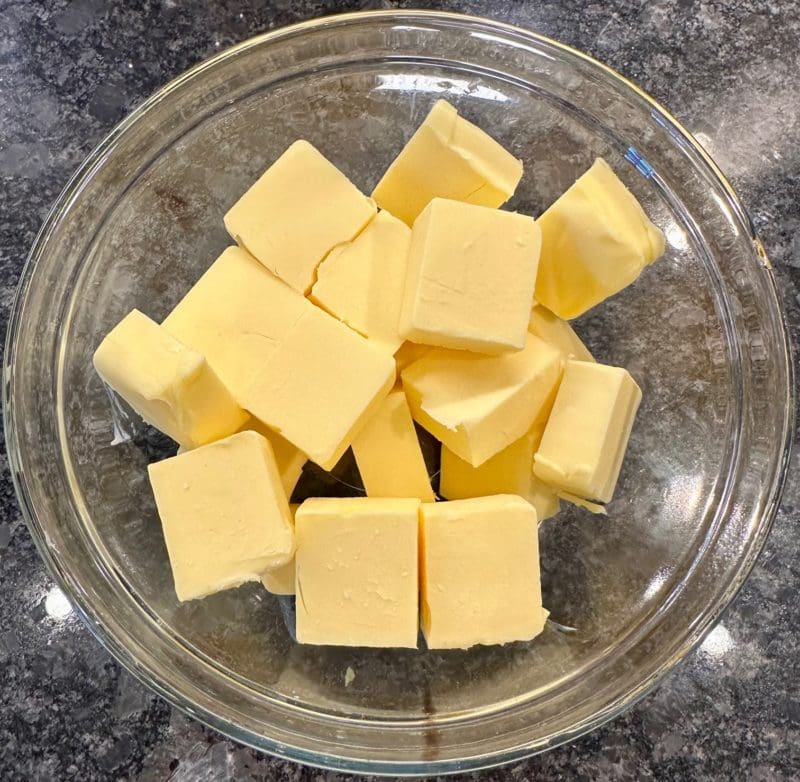 Cubed chilled butter.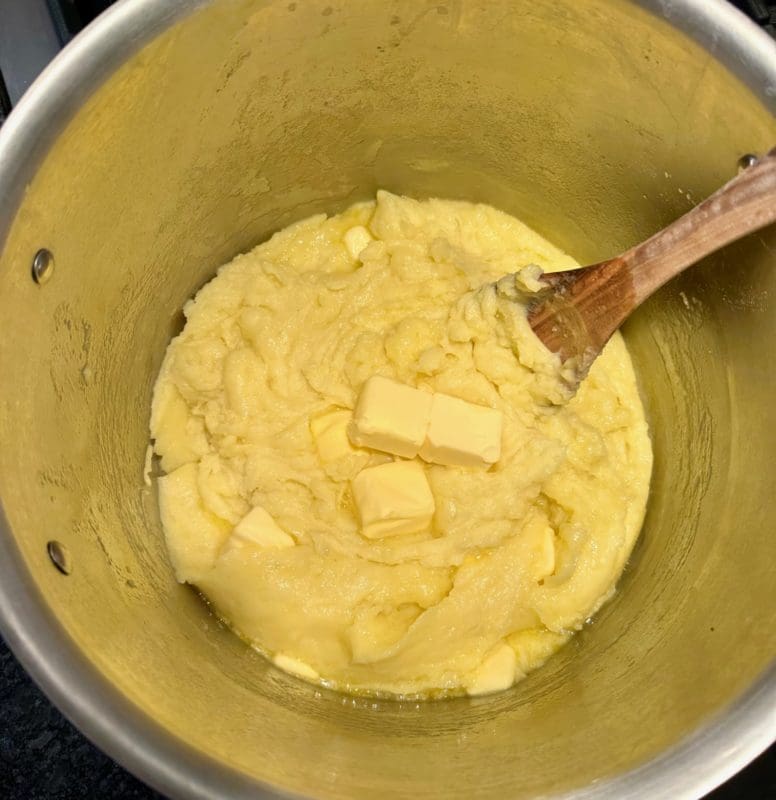 Beat it in a few cubes at a time until it's all in. Do not use pre-melted butter or it will fail to fully incorporate and result in greasy spuds!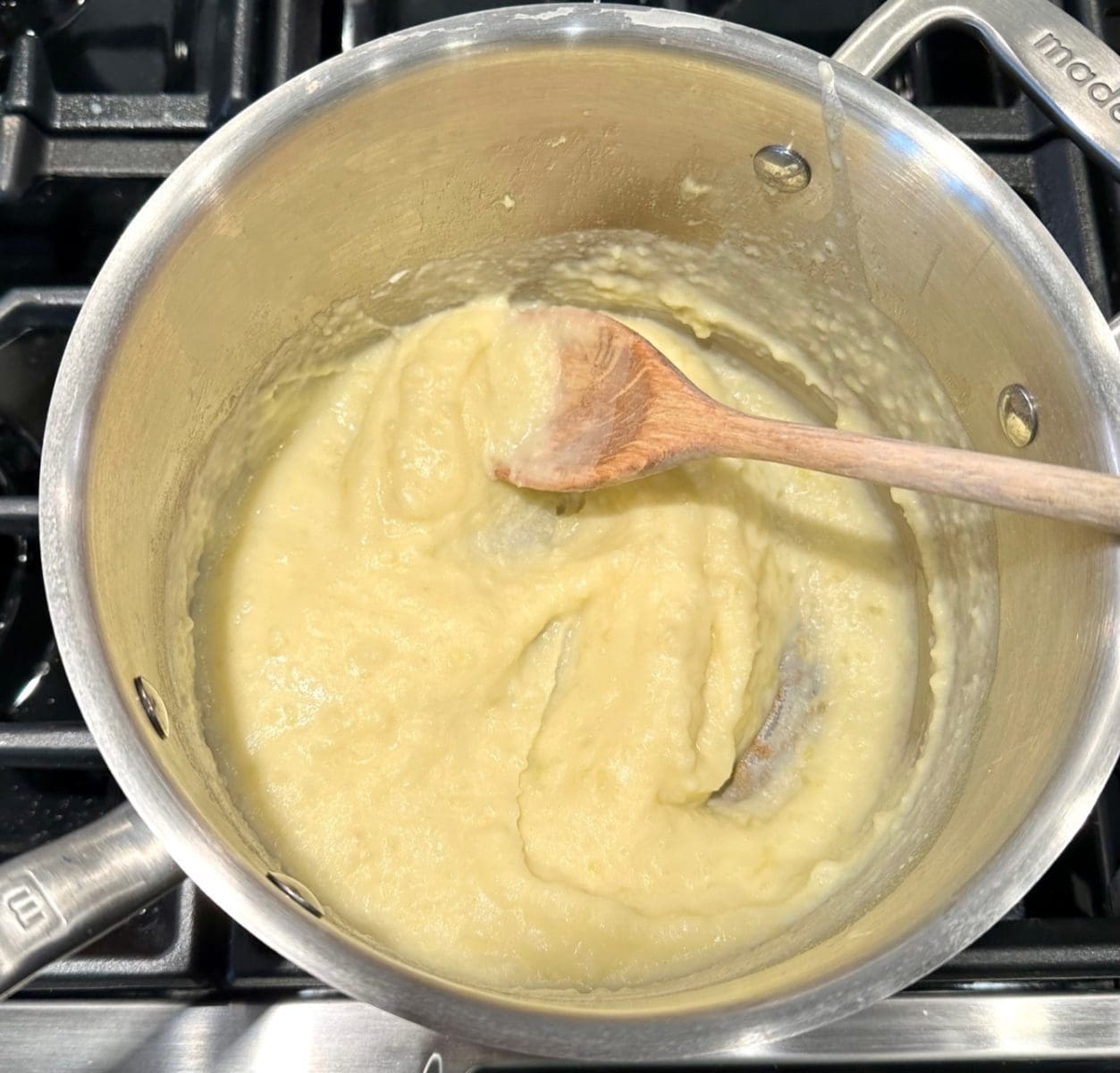 Pour the hot milk in a slow stream, a little at a time until the potatoes reach your desired consistency. Beat and mash until it fully incorporates to a smooth, loose consistency ready to sieve.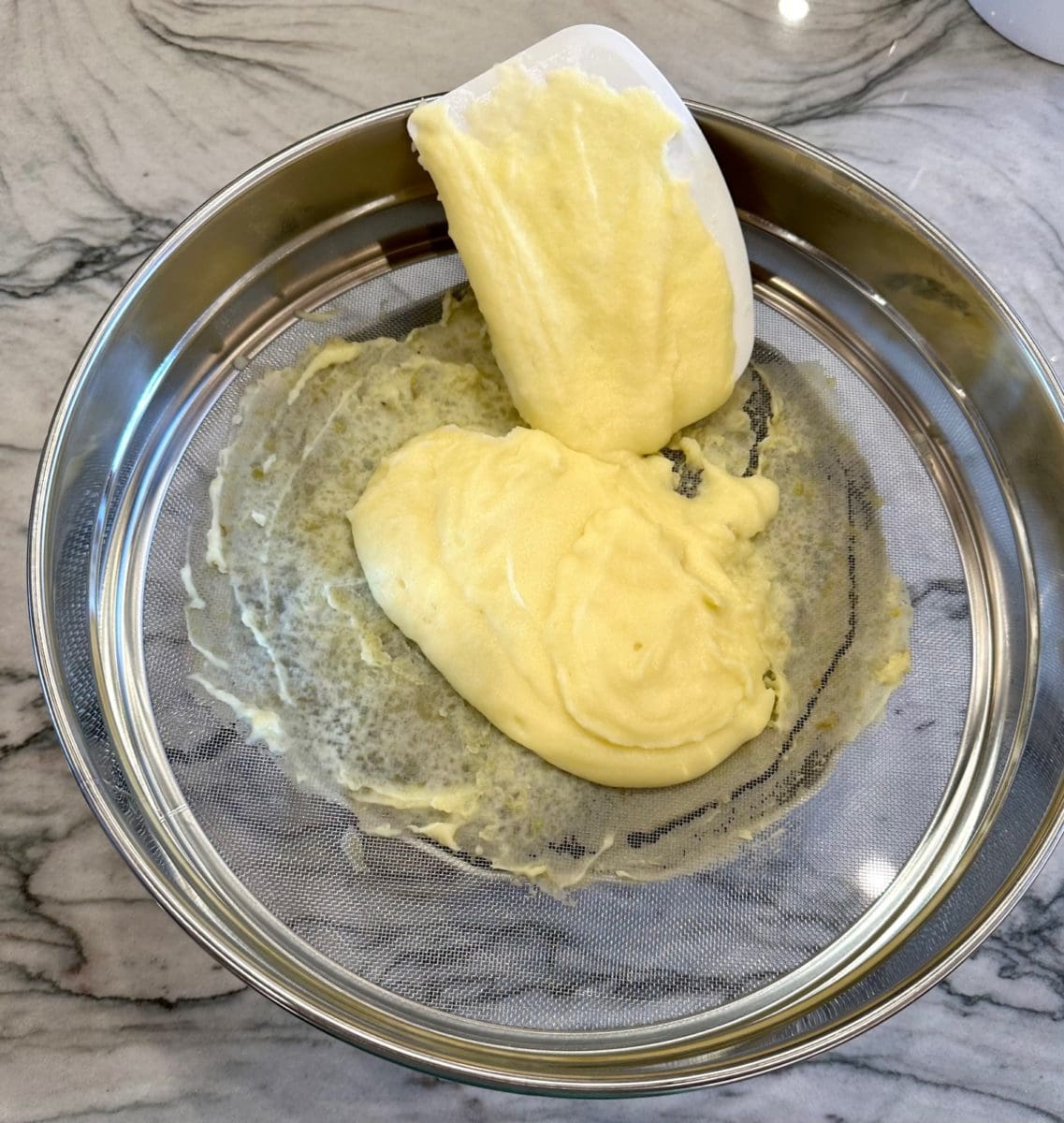 Transfer the potatoes to a drum sieve and force it through with a spatula for smooth, silky purée.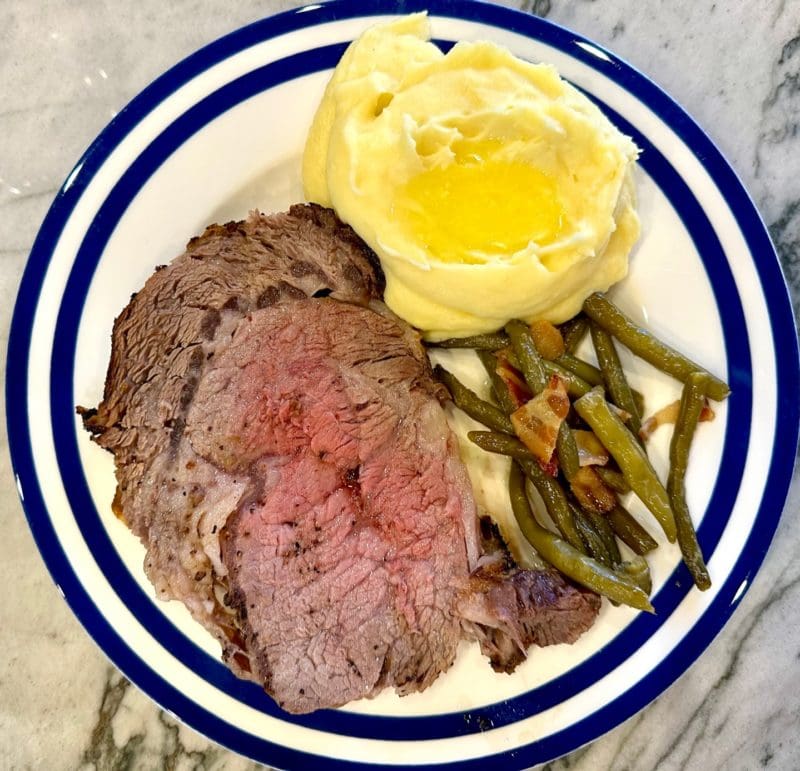 Christmas dinner with prime rib, green beans and Joel's pommes purée!
Print
Joel's Pommes Puree
The creamiest, smoothest, silkiest buttery potatoes!
2.2

pounds ratte, yellow fingerling or yukon gold potatoes

1

TBL coarse kosher salt

2

sticks salted butter – cubed and chilled

1/2

stick salted butter melted – for serving

1

–

1/4

cups whole milk

2

pinches sea salt and white pepper to taste
Instructions
Put the potatoes in a pot and cover with cold water. Add the coarse salt then cover and simmer for about 25 minutes until a knife will easily penetrate and come out cleanly
Drain the potatoes and peel them. Process them with a potato ricer back into the empty pot. Turn them with a spatula over lowest heat to remove excess moisture – about 2-3 minutes. Be careful not to scorch the potatoes
Meanwhile, rinse a small sauce pan, pour out excess water, but do not dry the pan. Add 1-1/4 cups milk and bring to a boil, then turn off the heat
Incorporate the chilled butter a few cubes at a time, stirring vigorously until its all in
Drizzle in the hot milk in a slow stream while stirring briskly until it is all absorbed by the potatoes and reaches your desired consistency
Turn off the heat, stir in the salt and pepper and  taste. Adjust the salt and pepper if necessary and you should have a loose puree that can barely hold its shape. If not stir in the remaining milk. Remember if the potatoes are too stiff they will not go through the drum sieve
Transfer the potatoes to a drum sieve and force it through with a spatula
Serve plated or in a small crock with a dab of melted butter on top