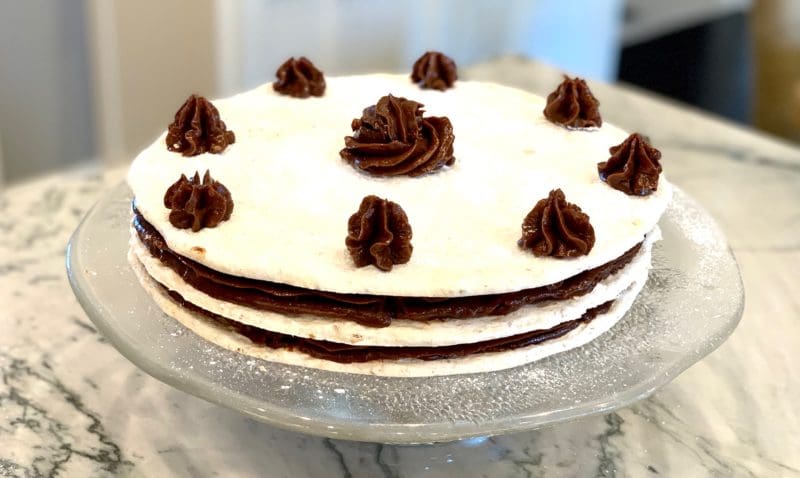 Mocha dacquoise is my favorite dessert, that once upon a time was a frequent indulgence at Nancy Shephard's Café Metro. Pastry chef Gina would prepare one for my good friend Philip and me that we would sometimes share with other patrons. Nancy retired and sadly the restaurant closed. My mocha dacquoise was poised to disappear with it until Gina came to the rescue. She invited me to her kitchen and taught me how to make it.
Thanks again Gina!
What is a Mocha Dacquoise?
This is a French pastry named for the town of Dax, made with toasted almond meringue crusts. The crust is lined with a wall of mocha chocolate buttercream and filled with infused chantilly cream. Dust it with powdered sugar, decorate with more buttercream and get ready for something special. Yes, it's sweet. Yes, it's chocolatey, and yes it's so very, very good! The gentleman below, experiencing the rapture of his first dacquoise says it all.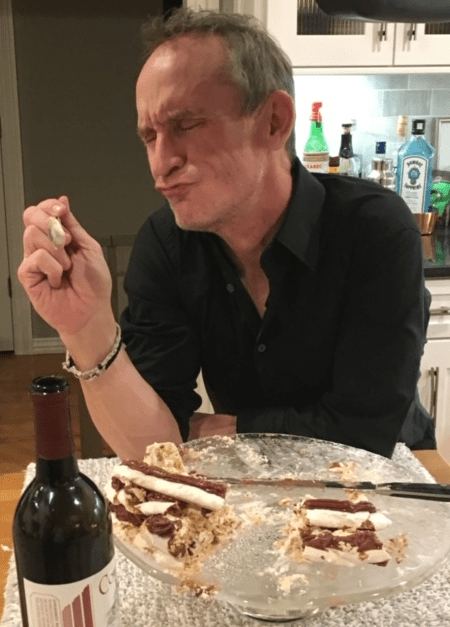 Making the Mocha Dacquoise
Begin making the meringue crusts by toasting and coarsely grinding the almonds.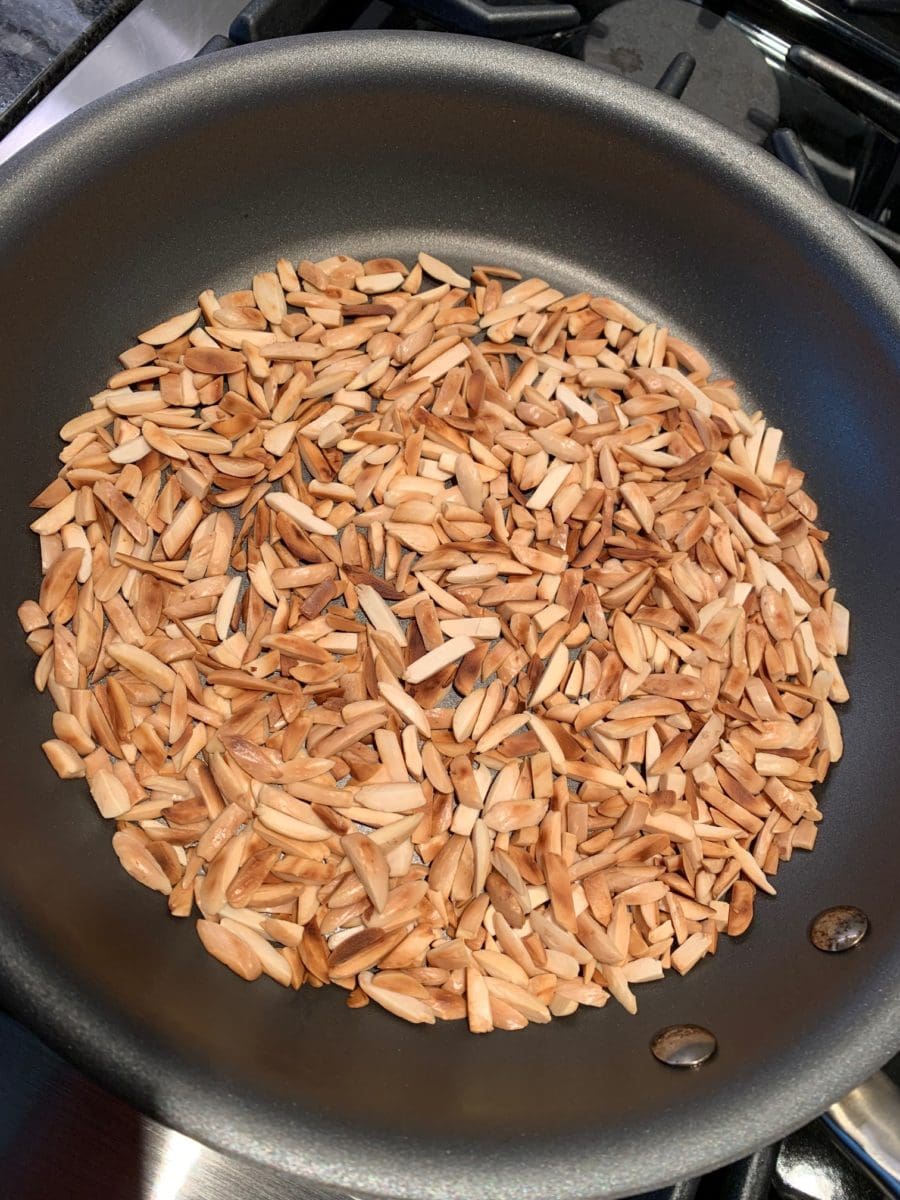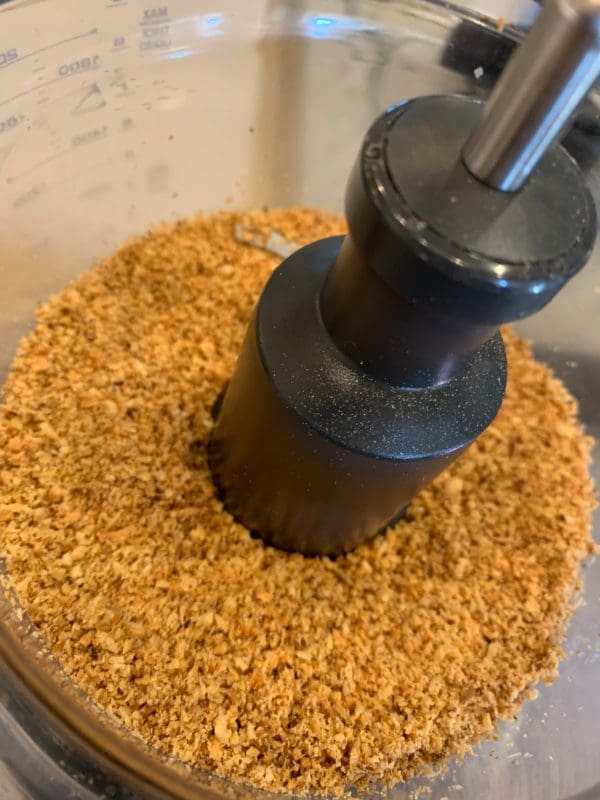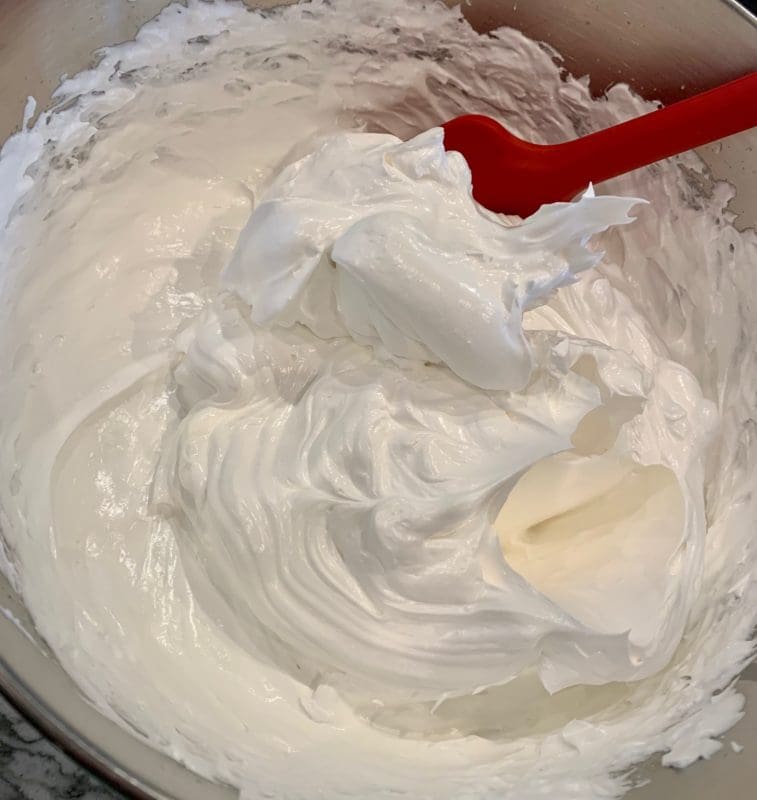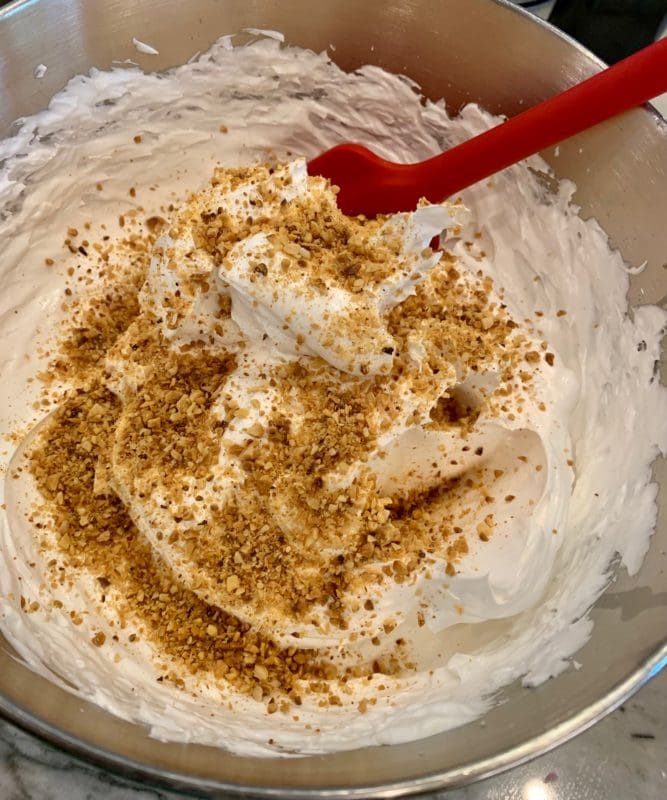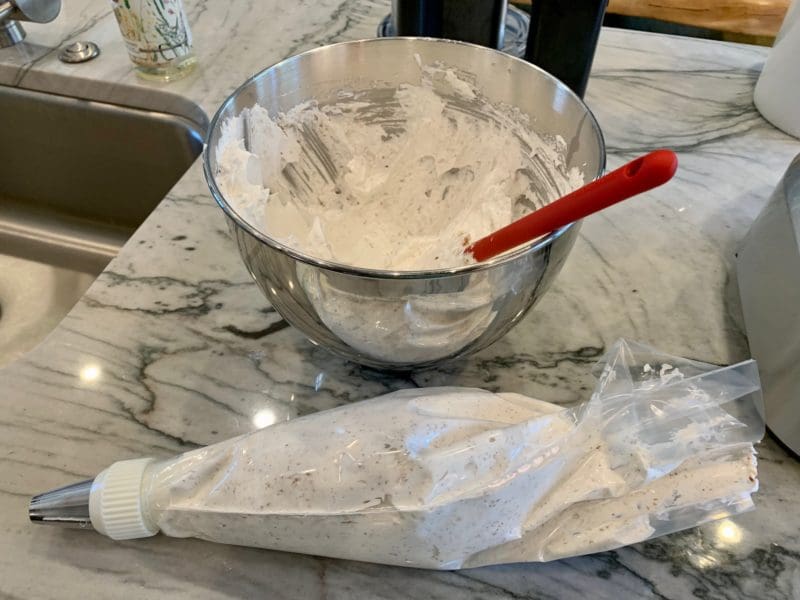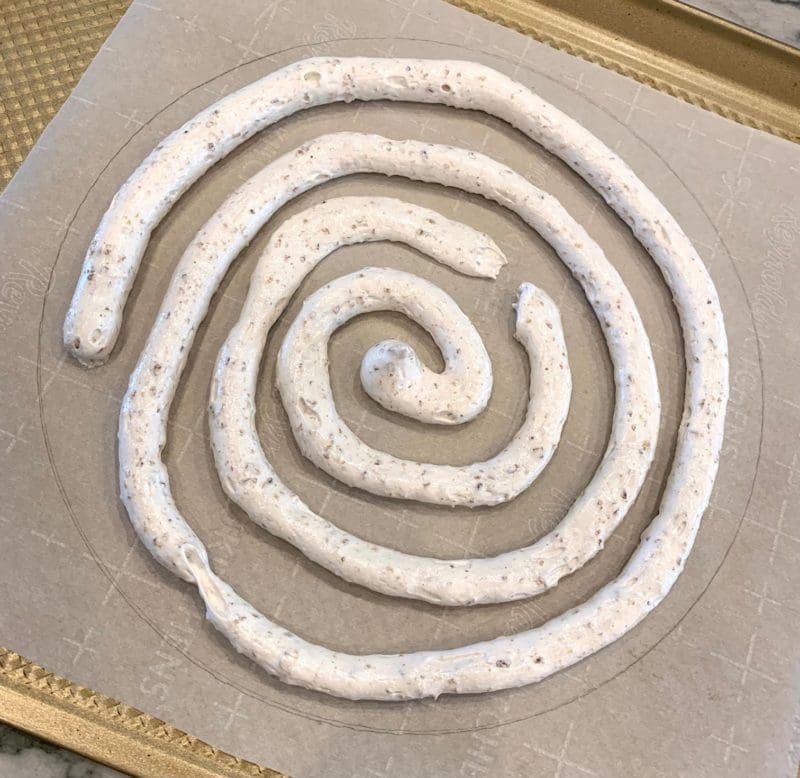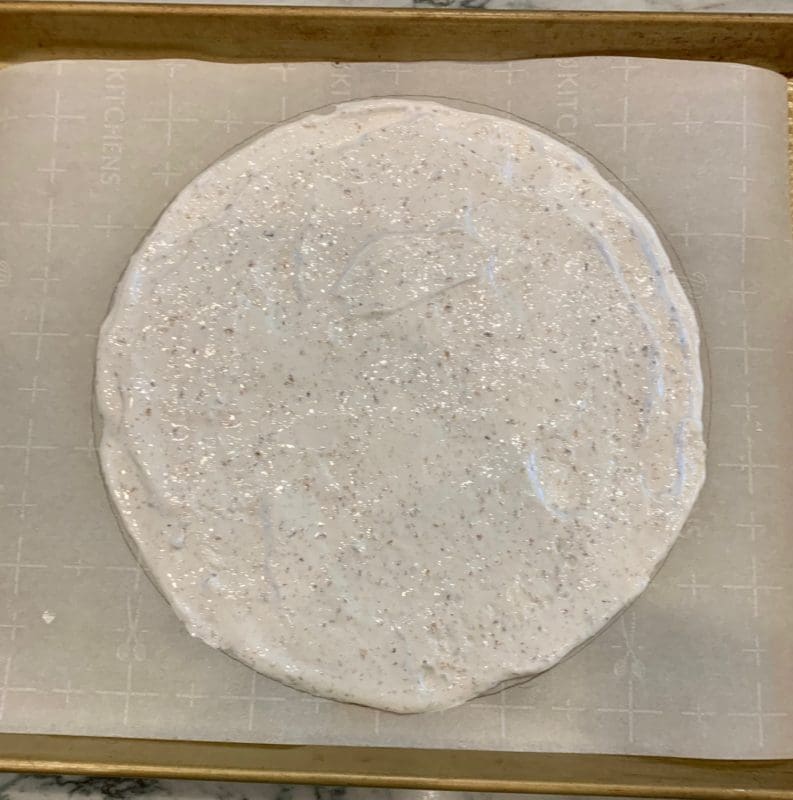 Print
Step 1 – Meringue Crusts
Toasted Almond Meringue Crust
Author:
Prep Time:

30

Cook Time:

150

Total Time:

3 hours

Yield:

4

1

x
6

egg whites

1

–

1/2

cup granulated sugar

1/8 tsp

salt

1 tsp

vanilla extract

1/4 tsp

cream of tartar

1 cup

almond slivers – toasted and ground
Instructions
Line 2 baking sheets with parchment paper and draw (2) 9″-10″ circles on each piece of parchment
Preheat oven to 225
Beat egg whites on high until foamy, then add the salt, cream of tartar and vanilla extract, and beat until soft peaks form
Gradually add the sugar while beating until stiff peaks form, about 8-10 minutes
Stop beating and gently fold in the toasted, ground almonds
Pipe the meringue onto the parchment in a circular fashion with a pastry bag and smooth with a cake icing spatula to make the round crusts with even thickness
Bake for 2-1/2 hours and leave in the oven to completely cool. Do NOT open the oven door until ready to use because the meringue will quickly absorb any moisture in the air. You want them to remain crisp.
Notes
Don't make them too thin or they will crack and break
Don't make them too thick or they will be soft instead of crisp
Divide the meringue evenly between 4 crusts and they will be fine
I usually make the crusts the evening before and leave them in the oven overnight. It speeds the finishing process for the dessert.
Make the mocha buttercream first. Make the chantilly cream immediately before assembly of the dacquoise.
Print
Step 2 – Mocha Buttercream
Chocolate Coffee Buttercream
Author:
Prep Time:

20

Cook Time:

15

Total Time:

35 minutes

Yield:

3 cups

1

x
3

TBL hot espresso coffee

2 tsp

strong instant coffee

1 cup

semi-sweet chocolate – finely chopped

2

sticks unsalted butter – softened to room temp

3

egg yolks

3/4 cup

powdered sugar
Instructions
Dissolve the instant coffee into the espresso – completely
Pour the coffee mix over the chocolate in a glass bowl and heat in the microwave about 30 seconds and mix with a spatula until you have a smooth mixture
Transfer to a mixing bowl and allow it to cool until it's just slightly warm, but not solidified
Mix with a paddle attachment on low speed, adding 2 tablespoons of softened butter at a time, then add the egg yolks and after they are integrated, add the powdered sugar
Mix until you have a smooth mixture and stop. Do not overmix
Fill a piping bag with a medium star tip and chill in the refrigerator while you make the Chantilly cream filling.
Notes
Make this when ready to make the chantilly cream filling and finish the Dacquoise. If it sets in the fridge too long it will set up too hard to pipe.
Print
Step 3 – Chantilly Cream Filling
A delicious rum infused, almond flavored whipped cream filling
Author:
Prep Time:

20

Cook Time:

20

Total Time:

40 minutes

Yield:

4

-

5

cups

1

x
1 qt

heavy whipping cream

1 cup

powdered sugar

1

TBL dark rum

1/3 cup

chopped toasted almonds
Instructions
Chop and toast the almond slivers in a non-stick skillet on low medium heat, stirring with a spatula  until the edges just begin to turn golden. Remove and set aside
Use your frozen mixing bowl and paddle to whip the cream on high speed until soft peaks form
Slowly add the sugar and then the rum
Whip until you have stiff peaks
Gently fold in the almonds with a spatula and refrigerate until ready to use
Notes
Freeze your mixing bowl and paddle attachment overnight for the best whipping results
Mocha Dacquoise – Final Assembly
When ready to assemble, the crusts are baked and cooled and the buttercream is in a piping bag and chilled. The Chantilly filling is resting in the fridge waiting to be spooned into the center. Have a shaker of powdered sugar handy and get started.
Feel free to decorate the dacquoise as artfully or utilitarian as you wish. I am not a skilled cake decorator, so it is likely yours will look much better than mine. Gina's was absolutely gorgeous, but you can't teach a steady hand or better eyesight. You have it or you don't.
I will guarantee that regardless how it looks, it will taste divine.
Print
Mocha Dacquoise – Assembly
Author:
Prep Time:

15

Cook Time:

15

Total Time:

30 minutes

Yield:

1-2
Meringue crusts
Chocolate mocha buttercream
Chantilly cream filling
Powdered sugar
Instructions
Remove a crust from the oven, gently dislodge it from the parchment paper with an icing spatula and transfer onto a cake dish. Be careful, they are fragile
Pipe the buttercream around the outer edge of the crust
Spoon-fill the center with Chantilly whipped cream to the top edge of the mocha buttercream and smooth with the icing spatula
Carefully place the second crust on top. Do not press and use the crust to level the filling! They are fragile.
Repeat steps 2,3 and 4 if making a double layer dacquoise (optional)
Dust with powdered sugar
Decorate with more chocolate mocha buttercream
Notes
This recipe will make (2) single layer dacquoise, or (1) double layer dacquoise using (3) crusts.