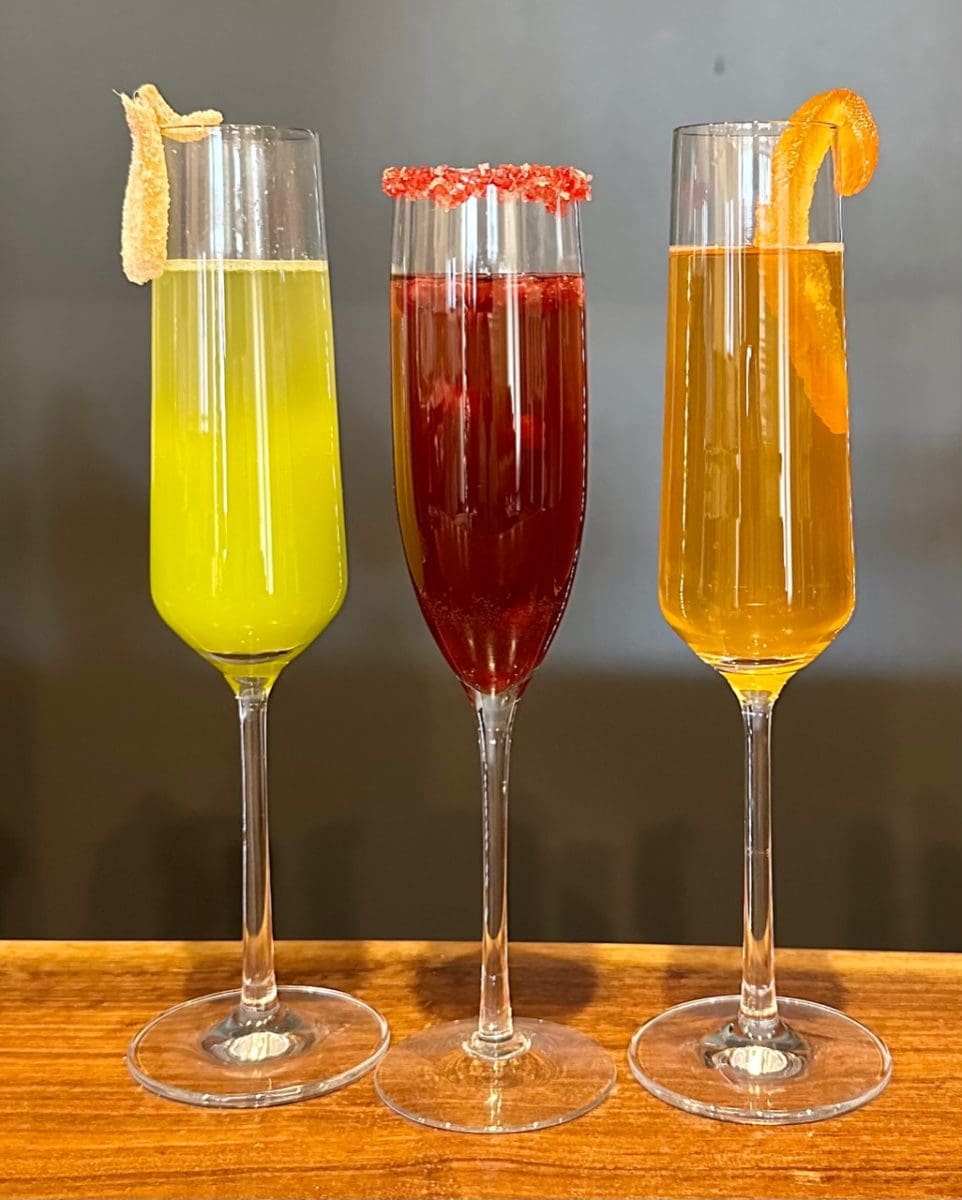 There's something about bubbles that make mimosas perfect for the holiday season. These are versatile, delicious drinks anyone can make at home for celebratory occasions – like the holidays.
The formula is simple. An ounce of spirit, ounce and a half of juice or soda topped off with Italian prosecco, Spanish cava, French champagne or American sparkling white wine. Garnish with sugared rims or fruits to finish and enjoy.
These came together easily with things on hand from the bar, pantry and fridge and you can do the same exploring on your own. Focus on your favorite spirit and go from there.
There's Something About Bubbles
Left to right above is a Midori Mimosa, a Gin Mimosa and a Bourbon Mimosa.
Have fun and Happy Holidays!
Print
There's Something About Bubbles
Midori Liqueur, Orange Juice and Spanish Cava Mimosa
1 oz

midori liqueur

1

–

1/2

oz orange juice
Top with Spanish cava
Candied ginger garnish
Print
There's Something About Bubbles
Gin, Pomegranite Juice and Sparkling White Wine Mimosa
1 oz

london dry gin

1

–

1/2

oz pom juice
Top with Sparkling White Wine
Garnish with pom averils and a colored sugared rim
Print
There's Something About Bubbles
Bourbon with Orange Soda, American Sparkling White Wine and Candied Orange Peel
1 oz

wheated bourbon

1

–

1/2

oz orange soda
Sparkling white wine
Candied orange peel – garnish