Print
Tomato Sorbet
Sorbets are delicious and easy to make from any fresh fruit. I needed a palate cleansing sorbet when planning the "Offal Good Dinner" and I wanted something closer to our theme than your typical amuse-bouche.
Most "pieces and parts" fall into the savory category like our first two courses. With another savory main course, my guests and I needed a break. We accomplished that with a bold sorbet.
One of my favorite chefs is Jose Andres. He introduced me to tapas and tasting menus at his D.C. restaurants Minibar and Jaleo . While searching for inspiration I found his tomato sorbet. It tastes just like a mouthful of garden fresh tomato right off the vine – with a spicy kick.
This recipe required a couple of test batches before working out the kinks. Chef Andres' original sorbet has almost no fat, no sugar and a lot of water content. Because of that the freezing point is pretty high. It can turn into a block of ice if left in the freezer too long. You can deal with this by adding more olive oil, but the more you add the further away you are from pure tomato flavor. The high water content also contributes to a faster melting rate, so you can't let it set out to soften like you would ice cream.
In the end it's a balancing act that you have to pay attention to.  This recipe works for the best fresh tomato flavor, but you must serve it shortly after freezing.
4

large ripe tomatoes, chopped skins and all

1/2 cup

water

3/4 cup

tomato juice

1/2 tsp

olive oil

1/2 tsp

vegetable oil (optional – to lower the freezing point)
Juice of

1

ripe lime

1 tsp

Tabasco sauce

1/4 tsp

sea salt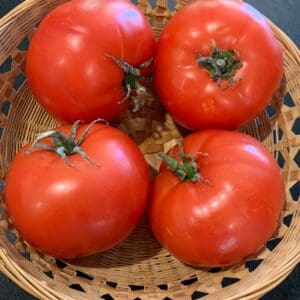 Instructions
Blend tomatoes, tomato juice, oil, lime juice, hot sauce and water in a blender or food processor until smooth
Strain through a fine-mesh sieve and discard the solids
Add salt and stir
Place in the refrigerator for an hour to chill
Freeze in an ice cream maker per manufacturers instruction
Store in freezer until ready to serve, but not overnight! The high water content will freeze it into a solid block!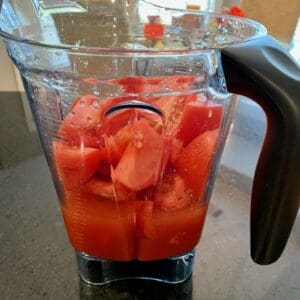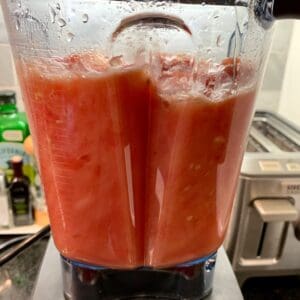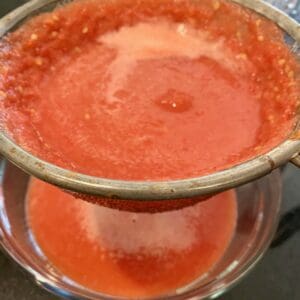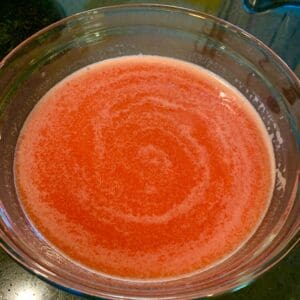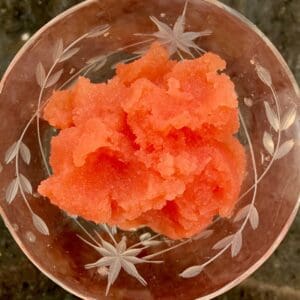 Serving
Serve in a frozen coupe or cocktail glass
Notes
And just one more thing… 
For any budding agricultural geneticist out there. If you can engineer a tomato that tastes like this, fresh off the vine, you will become a wealthy person.