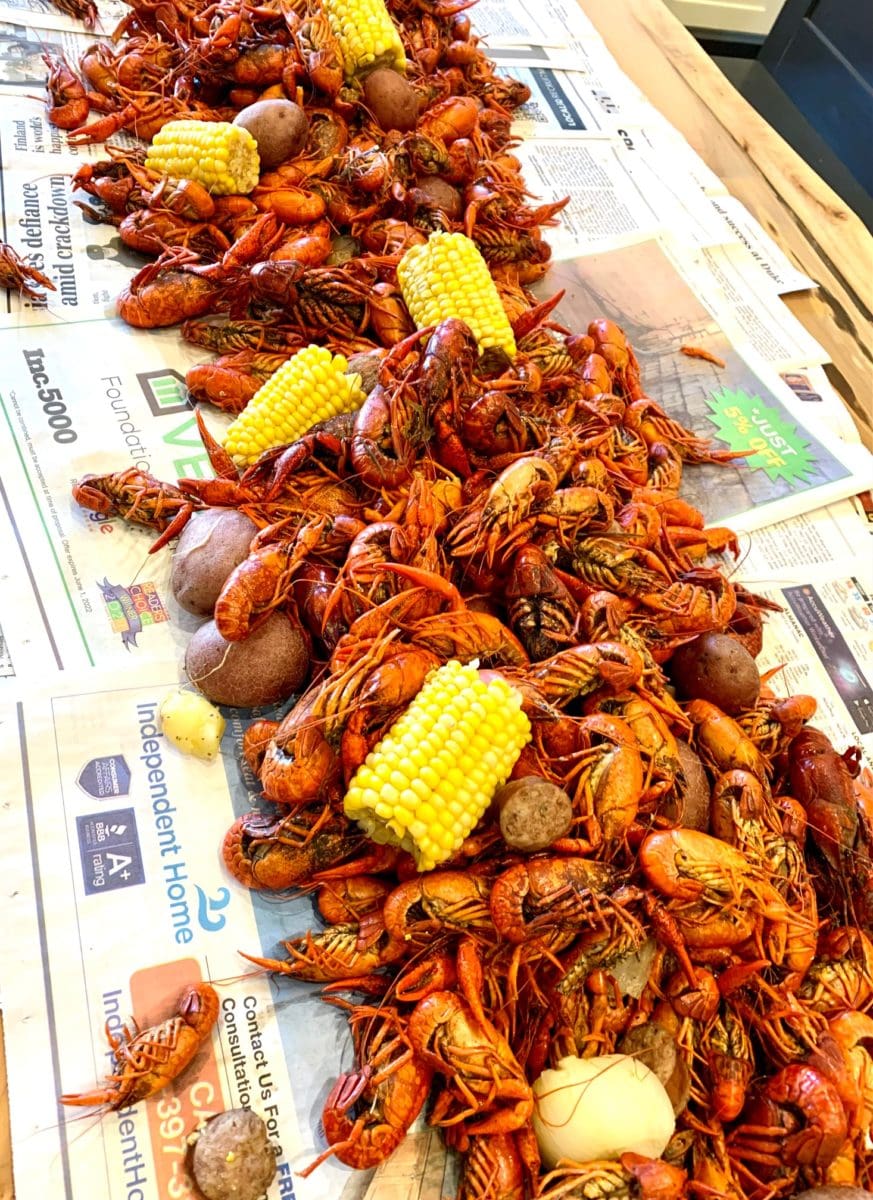 While posted in L.A., also known as Lower Arkansas, members of the Honest John deer camp taught me the joy of a crawfish boil. It's a celebration of spring, which comes early there and deer camp parties featured dozens of pounds of crawfish with all the fixins and kegs of beer.
Crawfish – The Original Diet Food
The effort required to extract that delicious tail meat exceeds the caloric content. Think about that. An excellent morsel of shellfish meat that you can gorge upon without worry of weight gain.
To achieve that nirvana however, you must forego the fixins like sausage, corn and potatoes. Then there's the beer. Can you resist? I betcha can't!
How to Clean and Purge Crawfish
Crawfish live in dirt and mud, so you need to clean them. It's done by washing and purging them to force them to expel the mud and waste in their digestive system.
Place them in a big container large enough to separate them like a water trough or an inflatable swimming pool. Fill with water and gently stir to wash off the mud and debris from their shells and gills. Stir until the water is murky. For small batches  5 pounds or less, throw them in a sink and run clean water over them until it's clear
Discard any dead crawfish that float to the surface, just as you would a mussel or clam that won't open when cooked.
Keep the water hose running and stir gently until the water is clean
Pour a liberal amount of regular table salt over the submerged crawfish. Leave them for about 5 minutes but no longer, because extended submersion in salted water will kill them. The salt water will cause them to purge their digestive tracts of waste
Stir them again, then drain and rinse one last time. Cook them as soon as possible!
Peeling Crawfish
Hold the head with your thumb and forefinger of one hand and the tail in the other
Gently twist the head until it separates from the tail, but don't throw the head away. It contains delicious juices and fat that are there to suck out, or save them to make crawfish stock
Start peeling the widest part of the tail with your thumbs to loosen the meat, then pinch the tail at the bottom while pulling the meat from the top to squeeze it out. Patience is a virtue
Like shrimp, some crawfish that did not completely purge may have a mud vein down the back. It's not really mud, it's poo. While unsightly, it won't kill you and it's easily removed with a fingernail or scraping with a spoon.
How Much Crawfish Do You Need?
Obviously it depends on your guest list and how many "sides" will be included or served, but for a mixed group of men and women, order 1-2 pounds per person. Then order extra because you will need it for other Cajun and Creole specialties that require tail meat like crawfish salad, crawfish cardinal, crawfish rolls or crawfish bisque. When you're finished saving the tail meat, use the heads, shells and claws to make crawfish stock.
Crawfish Boil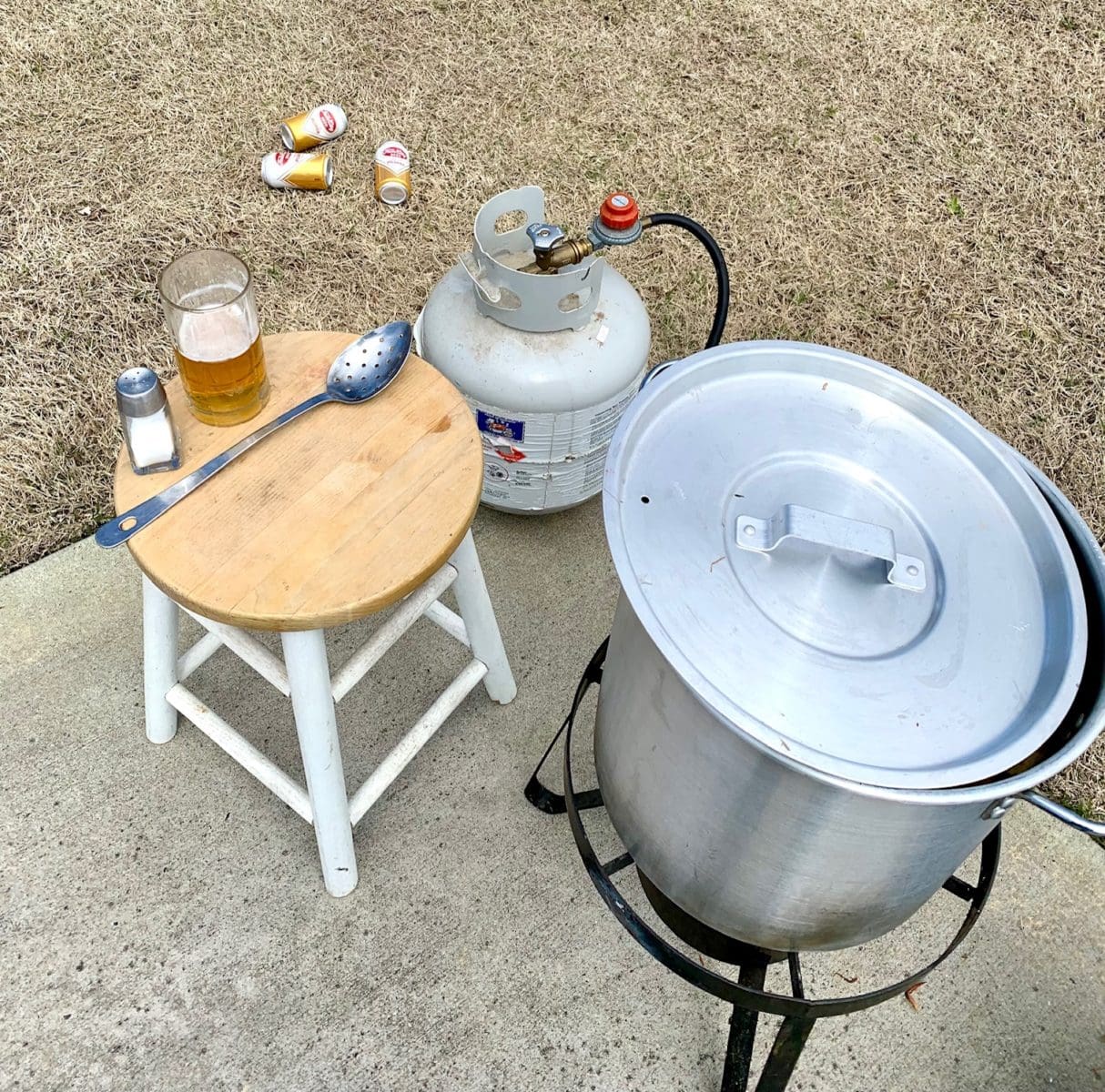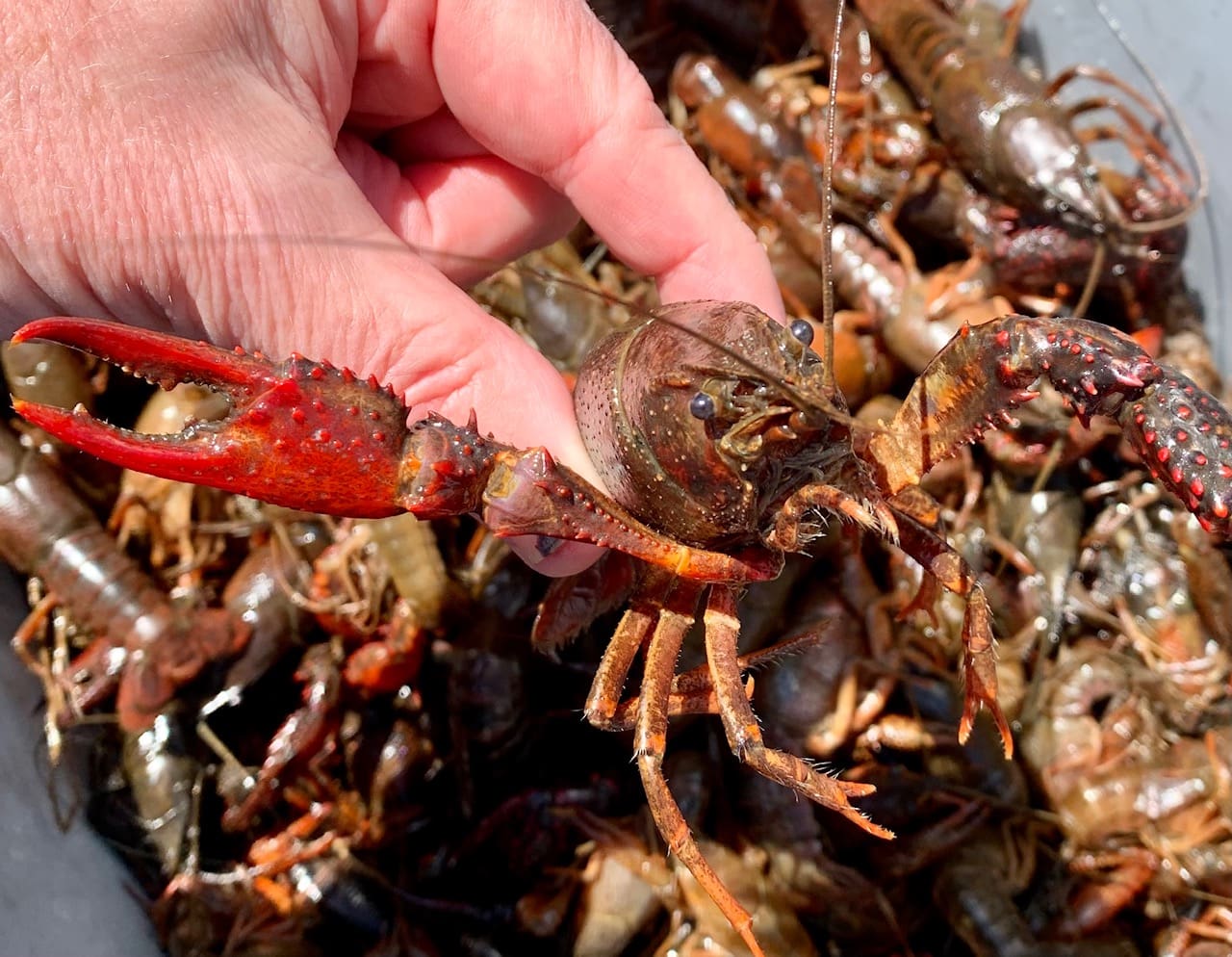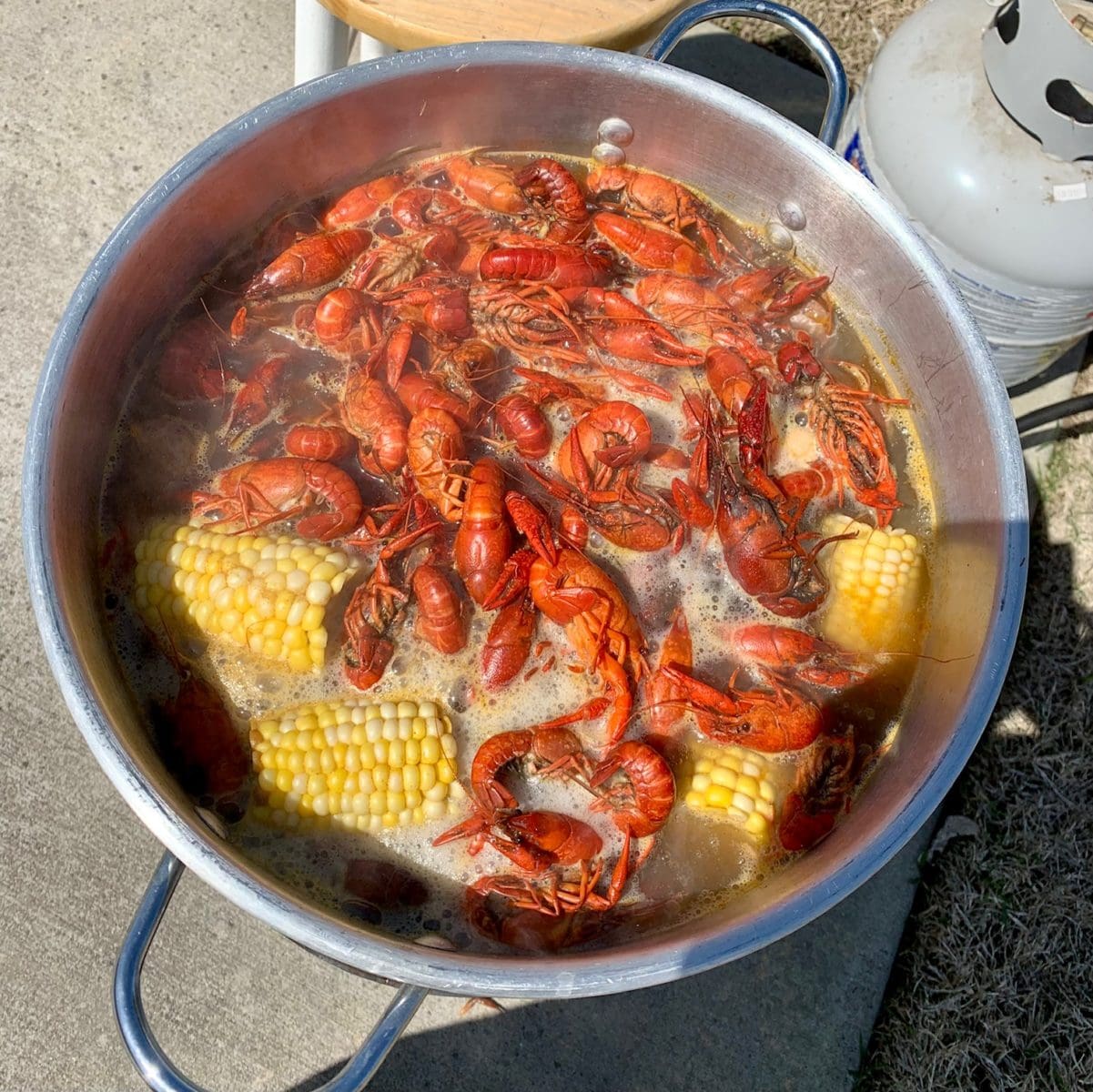 Print
Crawfish Boil
L.A. Crawfish Boil with Sausage, Corn, Mushrooms and Potatoes
Author:
Prep Time:

60

Cook Time:

30

Total Time:

1 hour 30 minutes

Yield: About

13

pounds

1

x
10

lbs cleaned, purged live crawfish

1

head garlic – peeled and smashed

1

lb smoked sausage – coined into

1

–

1/2

" slices

1

large lemon – halved and squeezed into the pot

1

seafood boil spice bag

1 cup

ground cajun spice mix

3

small red potatoes – per person

1

half ear of corn – per person

1

carton whole mushrooms – washed

1

large yellow onion – quartered

3

–

4

beers: For the cook!
Instructions
Fill a large 20 gallon pot half full with water on a propane burner
Add the garlic, lemon and seasoning to the pot. Bring it to a rolling boil over high heat
Stir in the onion, potatoes and mushrooms and boil for 15 minutes
Add the crawfish and increase to max heat. Boil for 5-7 minutes until shells turn bright red
Turn off the heat and let everything soak for 5-10 minutes
Strain out the crawfish, sausage, corn and mushrooms and spread on a thick layer of newspaper on the banquet table