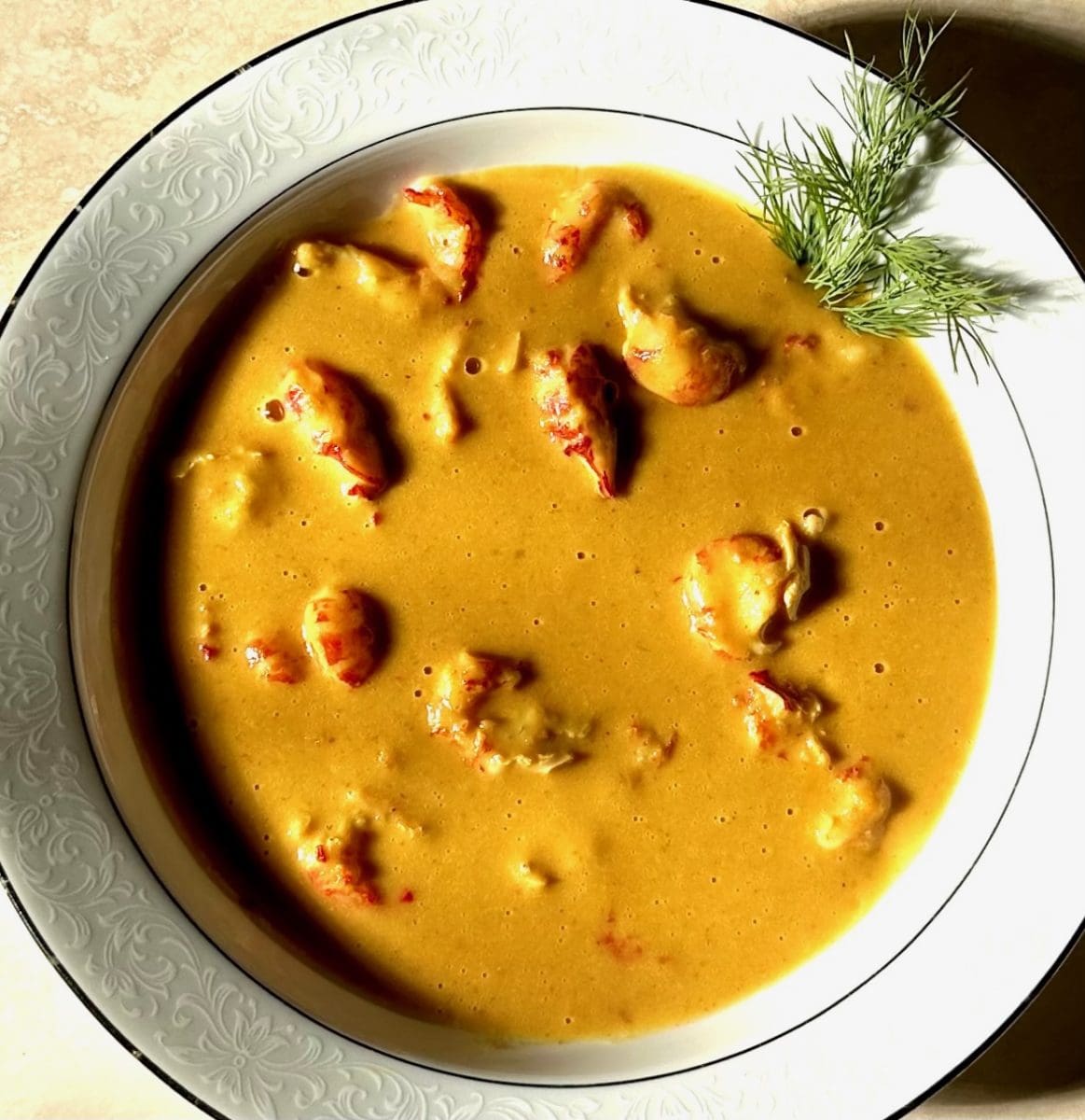 Saffron Crawfish bisque is my homage to Erling Jensen of Memphis, Tennessee. I chose to recreate his signature bisque because I love it so much, despite dining with him for two decades I never tasted his other soups. It's that good.
Creating My Recipe
I asked Erling if he would share, but it's a closely guarded secret and I understand his reluctance. I know he uses fresh ingredients, so I followed suit. Another assumption is using crawfish stock to maximize the flavor and infused it with saffron like his menu description. His French training led me to choose leeks instead of onion and because crawfish is a Cajun/Creole specialty, I thickened my bisque with roux.
I start with live Louisiana crawfish. The boil begins the seasoning process with spices, sausage, mushrooms, corn, onion and potatoes. Following the sumptuous feast we have a peeling party, saving the tail meat, heads, claws and shells separately for other crawfish dishes like crawfish cardinal, crawfish salad and rolls.
The heads with their succulent juices, claws and shells become the stock. We use typical ingredients like leeks, celery, carrot, wine, herbs and peppercorns, but the secret is the infused saffron. It lends an unmistakable sweet, floral component that can't be replicated any other way. When finished I parcel it into quarts and freeze for future use.
Making the Bisque
When you have tail meat and stock, it's time to make the bisque. Here is how I do it step-by-step.
Slice the carrots and leeks with a mandoline so they cook quickly and evenly.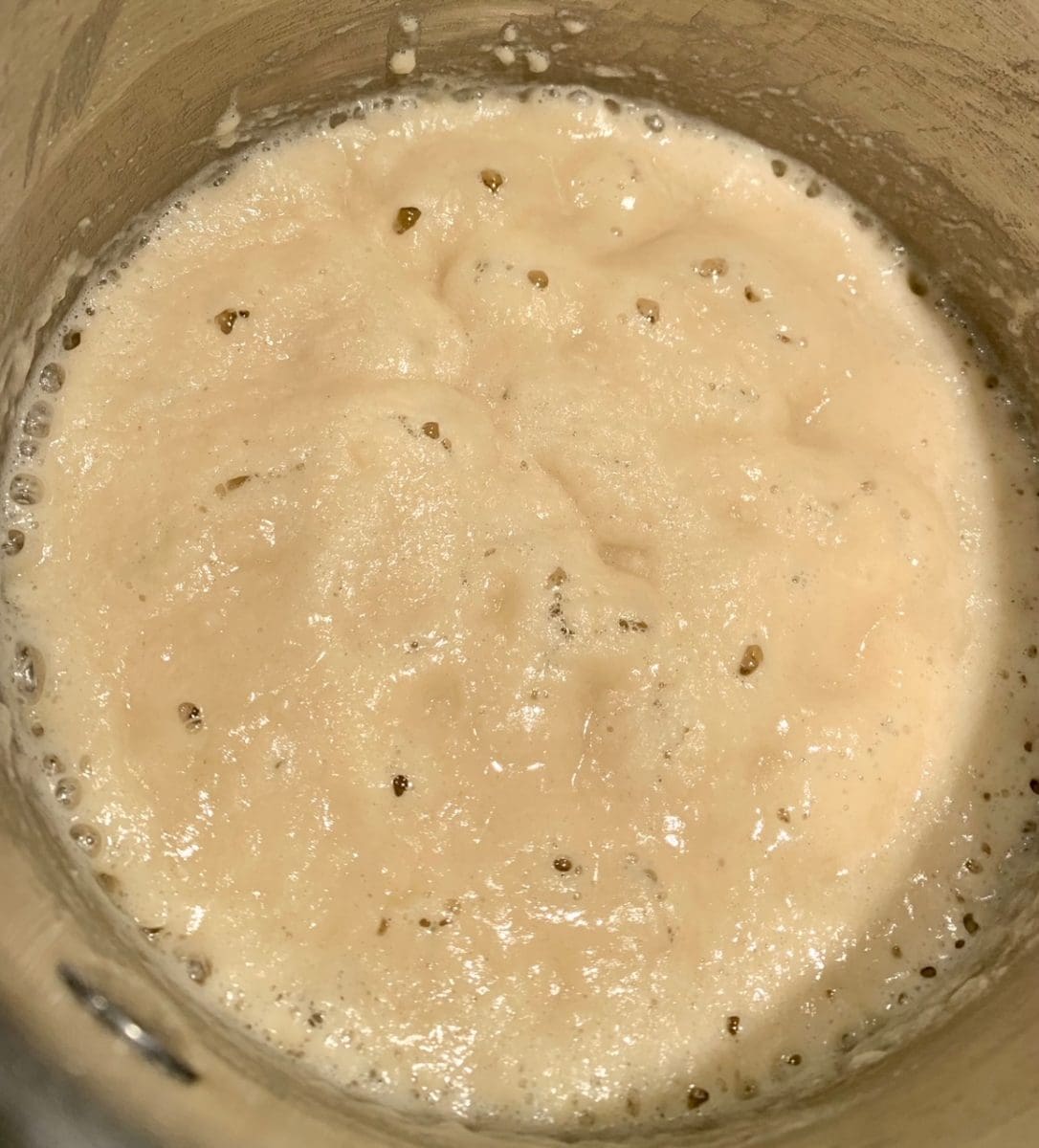 Make the roux and set aside until ready to use.
Season the tail meat.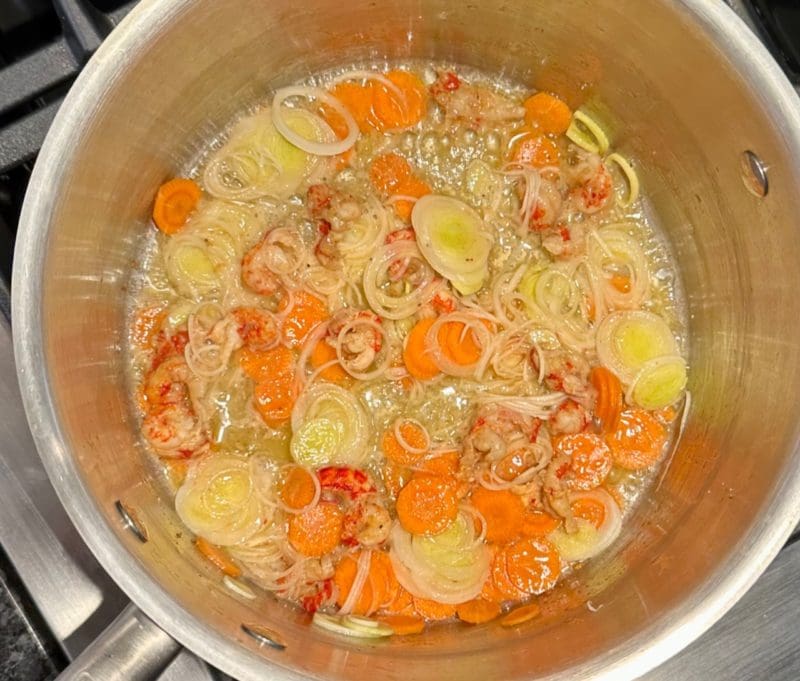 Cook the carrot, leeks and tail meat until the vegetables are soft.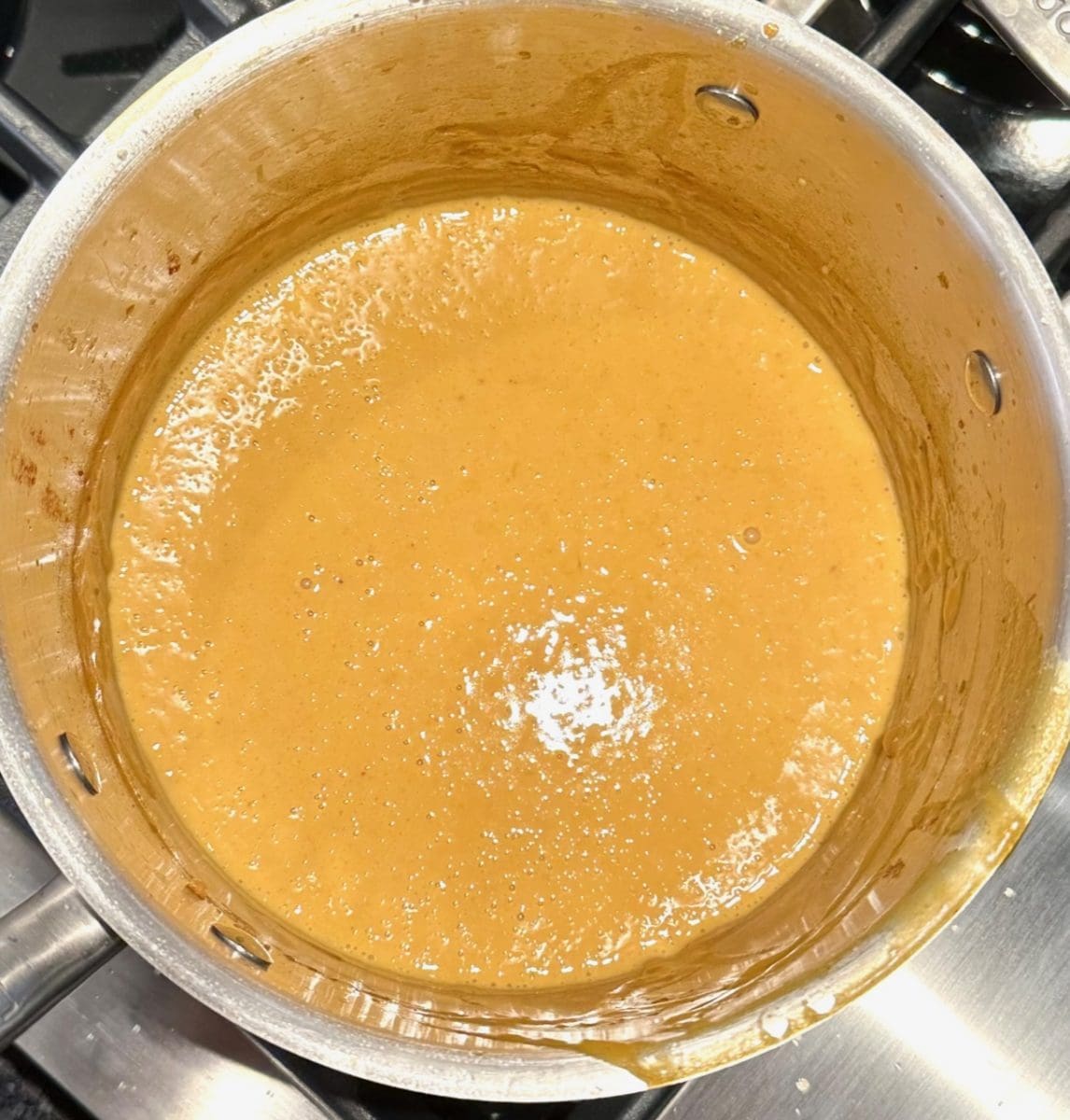 Add the cognac, tomato sauce, the hot crawfish stock and whisk in the roux. When it simmers, whisk in the seasonings. Blend everything in a high speed blender until it is silky smooth.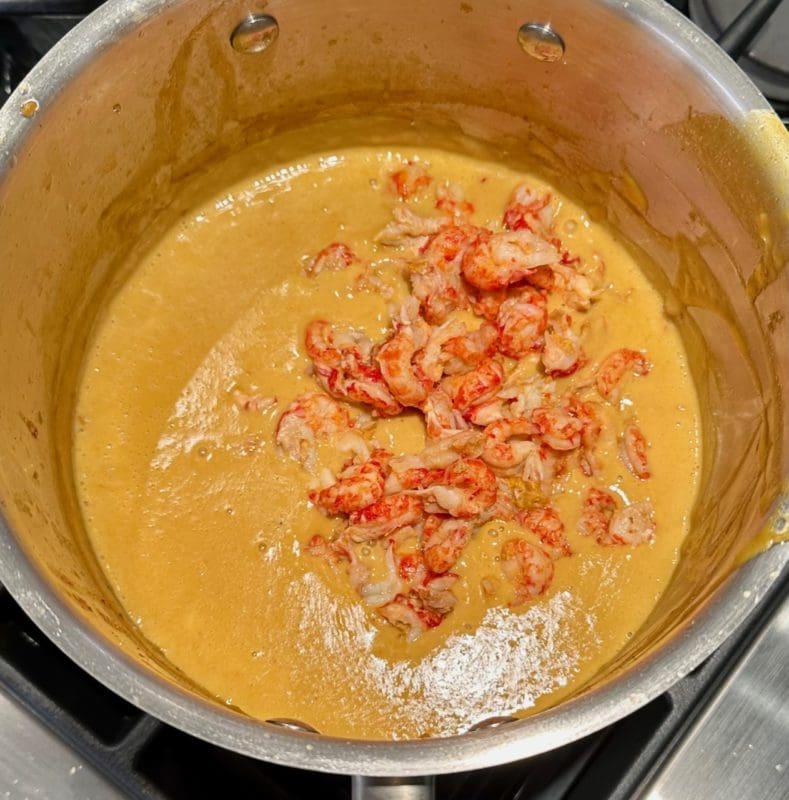 Add the whole crawfish tail meat, stir it in and continue to low simmer until the meat is hot. Serve and garnish with fresh dill weed.
Tim and Erling's Saffron Crawfish Bisque
The photo immediately below is Erling's wonderful bisque and the following image is mine. Don't just take my word for it, make mine and discover it's Erling-worthy. Perhaps now I can try one of his other soups when I dine there!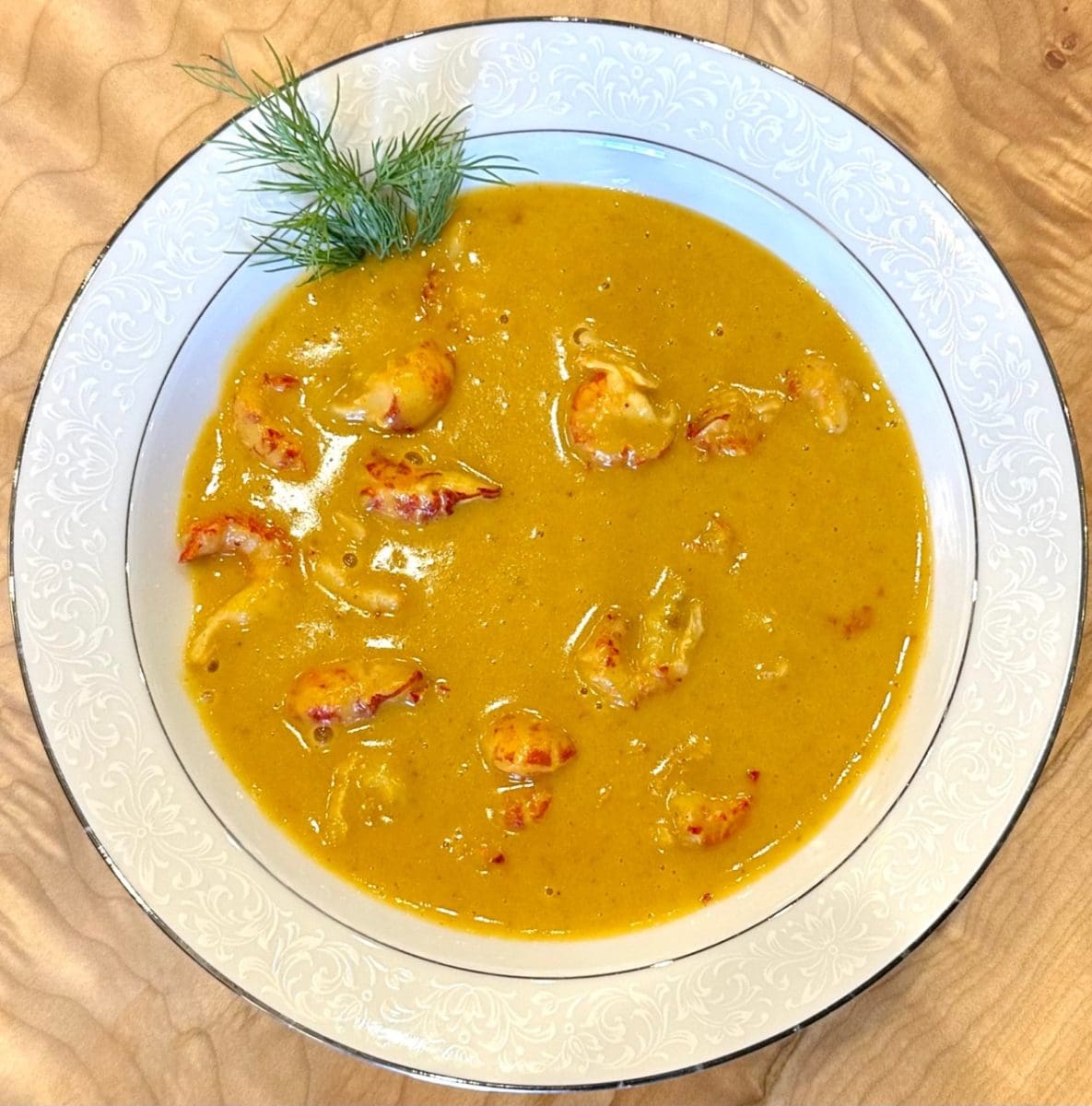 Print
Saffron Crawfish Bisque
Saffron Infused Crawfish Bisque
Author:
Prep Time:

15

Cook Time:

60

Total Time:

1 hour 15 minutes

Yield:

8

-

1

0

1

x
1

lb cooked crawfish tails – divided

2 quarts

saffron crawfish stock

2

sticks butter – divided

1/2 cup

flour +

1

TBL

1 cup

leeks – thinly sliced

1 cup

carrot – thinl sliced

1/4 cup

cognac

2

TBL tomato sauce or puree

1 tsp

kosher salt

1/4 tsp

cayenne pepper

1/2 tsp

ground white pepper

1 tsp

old bay seasoning

1/4 cup

cream
Fresh dill weed – garnish
Instructions
Heat crawfish stock in a pot until hot and hold, meanwhile make the roux
Heat 1 stick of butter in a pot on medium heat. When the butter bubbles whisk in the flour to make a blond roux – about 3-4 minutes and set aside
Melt the remaing stick of butter in a large pot, add 1/2 cup of chopped crawfish tails and sprinkle with the old bay seasoning.
Stir over low heat until the butter melts, then add the leeks and carrots
Raise the heat to medium low, stir and cook until the veggies soften and turn color – about 4-5 minutes
Add the cognac, stir and cook until the alcohol evaporates – about 1 minute
Stir in the tomato sauce and cook 2 minutes more
Raise heat to medium, add the hot crawfish stock and whisk in the roux
When it begins to boil, immediately reduce to a low simmer and season with the salt, cayenne and ground white pepper
Low simmer for 20-25 minutes, then transfer to a blender and blend on high speed for a few seconds, pause ans scrape down the sides, then blend on high speed again until it's thoroughly pureed and silky smooth
Return to the pot, whisk in the cream, taste and adjust seasoning with salt and pepper if necessary to taste
Add the remaining whole crawfish tails and warm on low until they are hot, stirring occasionally – about 10 minutes
Ladle into a bowl and garnish with a sprig of dill weed
Notes
This recipe can be made a day in advance, stopping before adding the whole crawfish tail meat. Tightly cover and refrigerate, then warm slowly with the crawfish tails before serving. Thin with additional stock or water if necessary