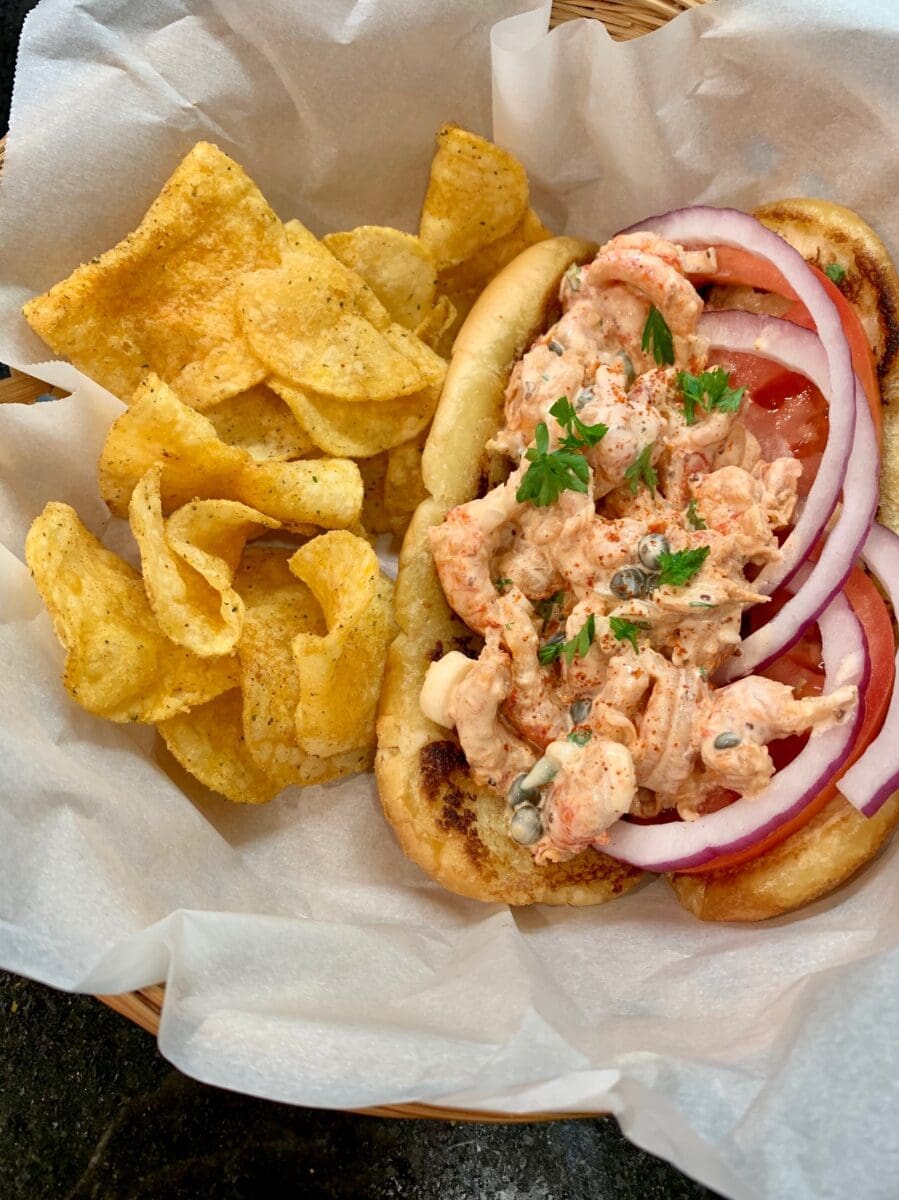 A crawfish roll is one of the reasons I love leftovers. Don't get me wrong, because freshly cooked tails are mighty fine, but this is the way to finish them off. Some people buy just enough to feed their guests when hosting a crawfish boil, but that's the wrong strategy. Buy extra, a lot extra, because then you can reap the benefits for weeks to come.
Once the feeding frenzy has died down, recruit your guests to join you and peel leftovers. That shouldn't be too hard, if you have enough cold beer on hand. Six to seven pounds of crawfish will yield about a pound of tail meat and they freeze well in vacuum bags. Package them in one pound portions which is the perfect amount for future use.
Don't forget to collect the heads that haven't been sucked dry by guests. Yes, there are people that don't understand how good they are and you can use them to make crawfish stock. It requires pre-planning with a separate collection bucket, but it's worth the effort. When the stock is ready freeze it in one cup packages and about right for recipes like etouffe and bisque.
I prefer using leftover tails for crawfish rolls, etouffe, cardinal and thermidor, because they're better pre-seasoned. It also reduces the prep time for an easier, faster meal. Here is the recipe for my favorite crawfish sandwich. It pairs perfectly with a cold Abita beer, dry white or rose' wine.
Print
Crawfish Roll
Crawfish in Special Sauce on a Toasted Roll
1/3

lb cooked crawfish tails per roll
Crawfish salad sauce – get the recipe HERE
Fresh baked brat or sausage rolls
Tomato – thinly sliced
Red onion – thinly sliced
Parsley leaves – for a little color on top
Softened, salted butter
Romaine lettuce leaves – optional
Jalapeno kettle potato chips
Salt and pepper to taste
Instructions
Frozen pre-cooked tails: Thaw overnight in the refrigerator
Fresh crawfish: Boil in well salted water with a table spoon of old bay seasoning for 5 -6 minutes and drain well for 2-3 minutes to cool
Make your sauce, taste and adjust seasoning if necessary
Fold the crawfish tails into the sauce and warm together on low while prepping the rest of the ingredients
Slice your tomato and onion
Wash, tear and dry the lettuce leaves (optional)
Open the roll(s), coat with butter and toast on a griddle or cast iron skillet
Line the bottom of the roll with lettuce, sliced tomato and onion
Fill the roll with the sauced crawfish
Serve with potato chips and enjoy!